Serre Chevalier
One of the best resorts in France. Great freeriding with powder and full-on, freestyle terrain. Shame it's pricey and packed with skiers.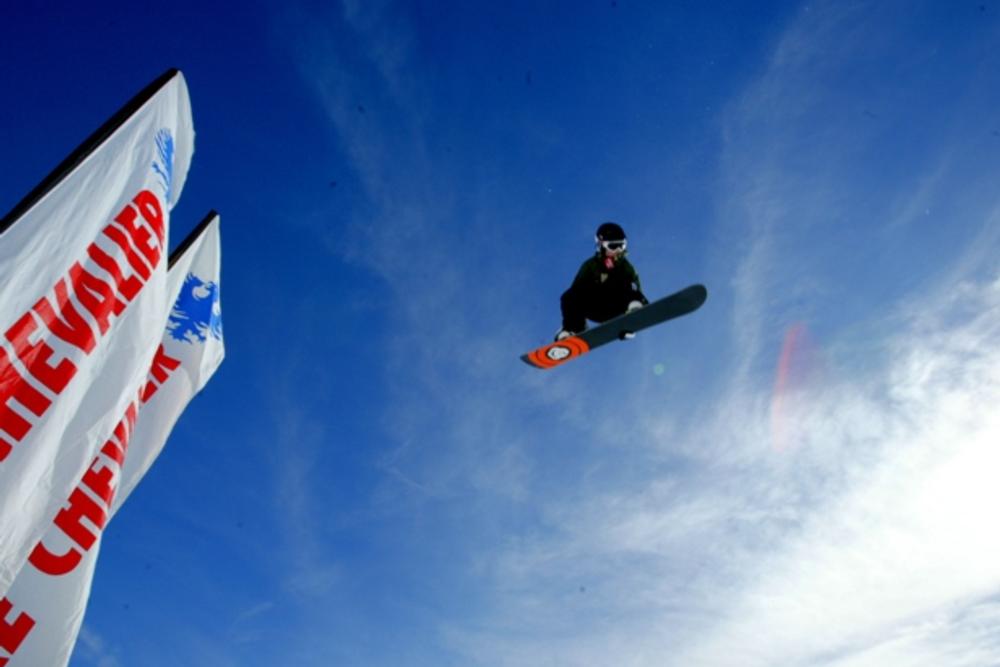 Serre Chevalier Main / Serre Chevalier
Freeriding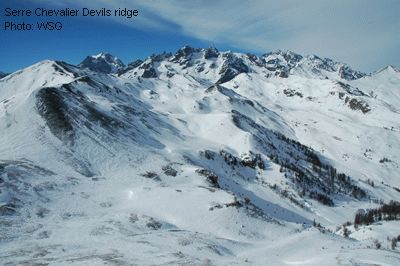 Freeriders
get to shred plenty of open, tight trees, gullies and deep bowls, as well as some long steeps, where advanced riders can busy themselves for weeks on end.
Serre Chevalier
is perfect soft boot territory, and those riders wanting wide expanses of powder without having to hike should check out the stuff off the
Balme
chairlift. When its open, the
LEychauda
t-bar is the place to head, with plenty of powder spots off the Isolee black run and some huge cliffs. In
Le Monetier
theres some challenging terrain under the
Yret
chair that you can access off the Col du Vent black, but watch for slides.
Freestyle
Freestylers should basically session the whole mountain as there are too many hits to mention - it will take most riders at least a season to hit each jump only once. The place is a super-big, natural funpark, with lots of logs to grind,and loads of big jumps everywhere.
Theres a terrain park and an icy halfpipe located in Villeneuve, the halfpipe is located at the foot of the mountain on the Mickey run above the Yeti bar. The terrain park is squeezed into the Plateau de la Rouge, but was moved higher and expanded for the 2006/7 season. Theyve earth-shaped the big booters and the basic layout for the boardercross, so you can expect a permanent intermediate and pro-line of kickers running alongside the Grand Serre chairlift and depending on conditions, theyll be adding the beginner jumps and rails .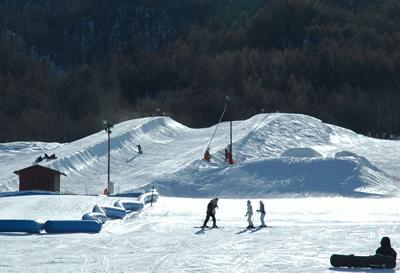 Pistes
PISTES. Riders are presented with as much alpine terrain as they could possibly need. Theres plenty of top-to-bottom runs that can be taken a mach-1 speed. The black Olympique trail that runs to the base of Chantemerle is a full-on eye waterer when taken at speed.
Although advanced riders and competent intermediate boarders will manage, novices should give this run a miss (unless they have a death wish).

Beginners
Beginners should find the runs around Frejus more suited to their needs, with a number of long, easy runs that bring you back down the mountain into the village of Villeneuve, via some tree-lined trails.
Serre Chevalier has some super-fast drag lifts, often travelling a long way at speeds more suited to riding down, not up. Watch out for the sharp turns that some of the drag lifts make through the trees.
Remember though, if you can master Serre Chevaliers drag lifts, you shouldnt have any trouble in the rest of the world. Thankfully, there are plans to slowly remove them and they can easily be avoided until this occurs.