Aomori Spring
A little known gem, getting some major investment at the moment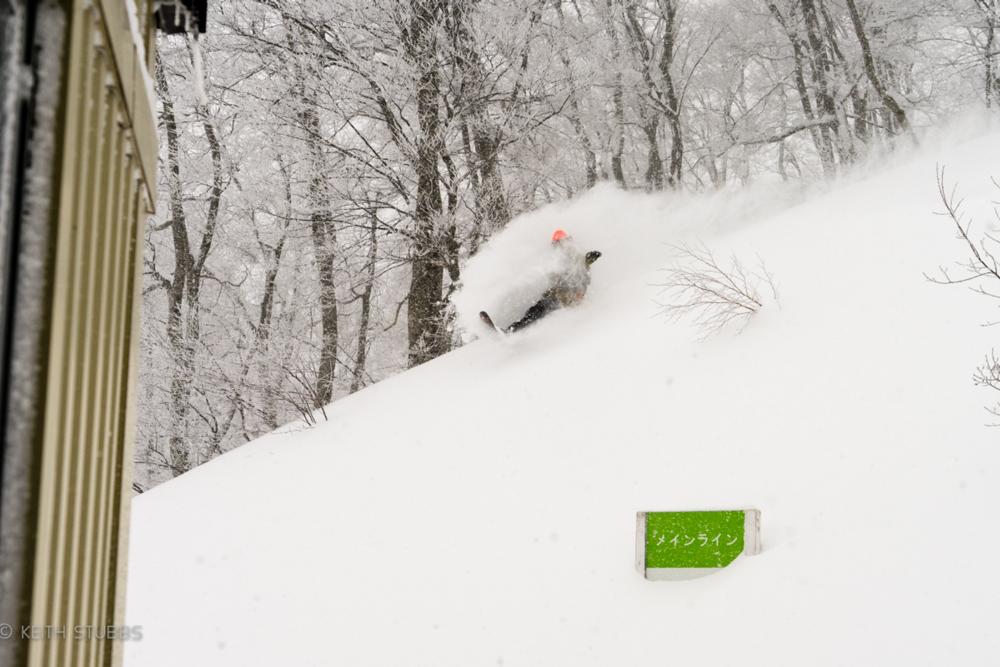 Aomori Spring / Photo: Keith Stubbs
Freeriding
The best lift-accessed freeride terrain is found off the Diamond double chair, rider's right of the resort. Here, intermediate powder seekers will enjoy nicely-spaced trees and some fun gullies, with barely another person in sight. 
Other than that, the in-bounds freeride terrain is a bit limited here. Not necessarily limited in its access, although there are a few no-go areas like under chairlifts, but just limited in terms of pitch. There are a number of fun tree riding options for intermediate snowboarders learning to ride pow and beginning exploring off-trail, but advanced powder hounds will find the terrain a bit bland.
That being said, Mt Iwaki breaks through the 1625m mark and, as the resort's lifts only reach 921m, keen backcountry missioners are presented with many options for easy day trips. Currently, the resort management aren't officially allowing unguided access to this terrain but they do have a qualified mountain guide on staff who can show you the spots - highly recommended for a day or two. Watch this space however, as plans are shaping up for greater access to this terrain in the future.
Aomori certainly gets the good snow, but there's actually no cumulative annual snowfall measurement, which is pretty crazy considering they get very similar levels to well-known Hokkaido resorts.
Freestyle
Since new management took over in 2014, they've been pumping the cash into park and pipe facilities, using the highly-reputable skills of Kiwi company Development Snowparks. The current setup is just a fraction of the plans to come, yet it's still impressive. And it's even open at night!
The park offers jumps of almost all shapes and sizes, with every feature being well-maintained and positioned well to allow for speed, even on the regular powder days. Ever hit a park jump with a powder landing at night? Here's your chance!
The small jump line found at the top of the park progresses in size from 3-5 metres approximately (10-15ft) and is ideal for learning new tricks or just getting in the air for the first time. The big line found further down the park typically ranges from 10-15 meters (30-50ft), with three or four jumps total, depending on the time of season. But if that's too big and the mini line is too small, you also have a number step-ups and hips to play on, plus a whole series of brand new rail and box features. It's actually possible to hit 13+ features from top to bottom (as of Feb 2017) and they're still in the early stages of park development.
The icing on the cake for this park is the behemoth 22ft (7m) halfpipe. This bad boy is unreal! The gradual transition from the flat bottom to the vertical wall provides pipe riders with the smoothest flow possible. It is regularly shaped, not as icy as most pipes of this size, open at night (when possible) and there's never a line waiting to drop in. This might change with the 2018 Winter Olympics in South Korea though.
Pistes
The groomers here are long, wide and consistent. Whilst they are on the tamer side of things when compared to Europe's corduroy offerings, they present an ideal location for beginner and intermediate riders to develop and perfect their skills.
The Aspen Course on the rider's far left of the resort is the most interesting trail, with a few steeper pitches and a number of pleasant rollers and banks to play on. 
Beginners
Beginners will be content here with easy terrain and soft snow conditions to flounder around in. The resort has a few English-speaking instructors and has a Burton LTR programme - one of the most proven learning systems around.
The only thing they're missing is a magic carpet, but that might change very soon.