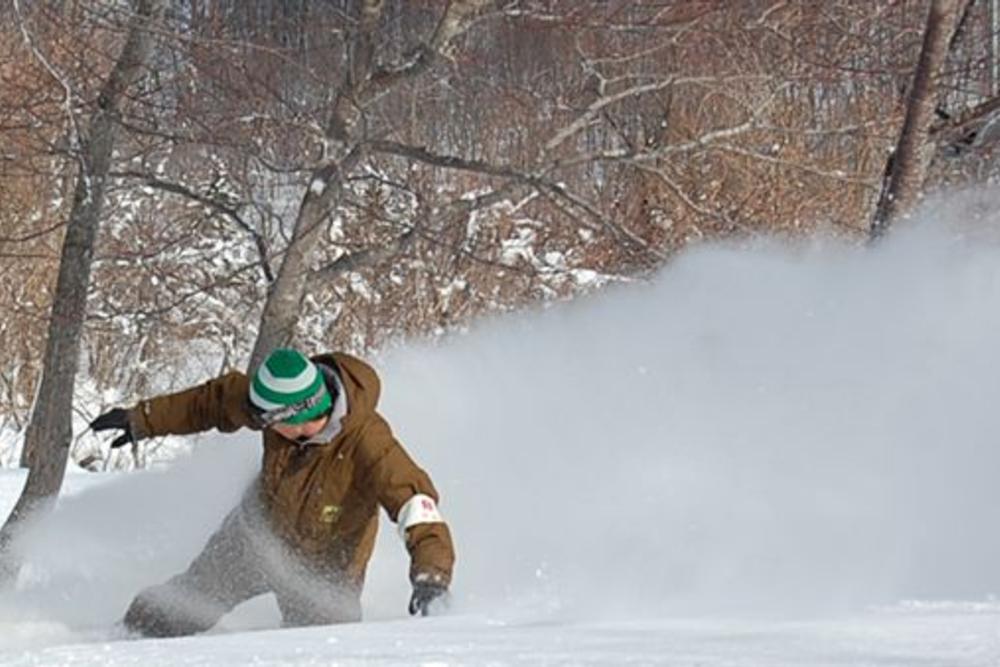 Kamui Ski Links, rider Keith Stubbs / Photo: Raegan Tipping
Freeriding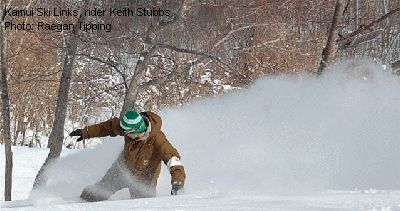 Freeride Unlike the 'big brother' resort of Furano, Kamui's management have a great approach to riding in the trees and backcountry. There are really no restrictions as long as you pass through the correct gates and heed the signs. The Panorama Course and the terrain found below the gondola is always fun on a powder day. The area next to Shinsetsu Course, found off of chair 5, is also good - don't wait too long though, it is popular with the locals and can get tracked quickly. Check out the trees either side of the Shirakaba Course for some late-in-the-day freshies.
Freestyle
Freestyle The terrain park at Kamui is pretty limited. Near the bottom of the gondola you will find a small-to-medium sized double entrance tabletop and a few boxes and rails - there's a real nice flat-down kink rail just waiting to be pressed. There are quite a few natural hits to be discovered in the off-piste area next to the Shinsetsu Course. Also, keep your eyes peeled for the mighty step-up built into a bank - it's not too hard to find.
Pistes
Piste From Kamui's gondola you can access a nice variety of groomed courses. If you like them steep hit up the Silky Course accessible from the top of the gondola or the Dynamic Course off of Chair 5.
Beginners
Beginner The lower half of Kamui Ski Links has a nice selection of easy green runs accessible from both Chairs 1 and 4. When you're feeling confident, head up the gondola and give the Crystal Course a whirl. There's enough options here to keep beginners content for a good few days.