Mt.Tomamu
Something for almost every type of rider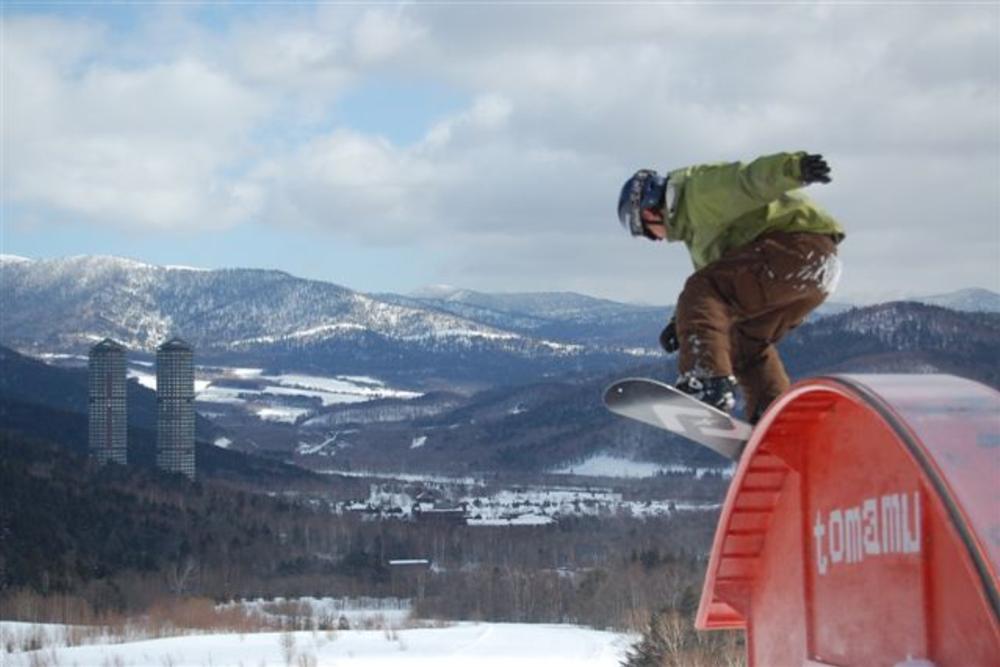 Tomamu, rider Keith Stubbs / photo: Raegan Tipping
Town
Tomamu town isn't really a 'town', as most Westerners would know it. It's basically a resort complex with a nice selection of hotels, self-contained apartments, restaurants and leisure facilities. Head to the Viz Spa House after a hard days riding and relax in the wave pool or spa baths. Also take some time to explore the wonders of the Ice Village - an incredible selection of igloo-style sculptures that includes a bar! Like most Japanese resorts, but unlike those in Europe, the same company that runs the mountain owns the whole resort complex as well. This has its down sides but it does mean you can find some reasonably priced package deals.
Food options
Food here can be a little pricey, although the selection of eating establishments is reasonable. Within the area known as Forest Mall you will find a good seafood restaurant under the name of Ippuku, or an interesting mix of offerings at Yamase - try the Chicken in Japanese Plum Sauce for a tasty starter. If you're keen to sample some traditional Japanese cuisine and culture head to the Matsuriya for an entertaining evening of good food, Japanese beer and performance dancing - it's guaranteed to put a smile on your face. Unfortunately the breakfast options at Tomamu are not quite as extensive. You are limited to just two options and they're located at either end of the resort complex.
Accommodation
Accommodation options at Tomamu Resort are reasonable. As mentioned previously the whole resort is all owned by the same company, so most accommodation prices come with lift tickets and breakfast included. A standard twin/double room costs about ¥12,600 per night, per person and comes with breakfast and plus 2 days of lift tickets. You can find some more inexpensive options on a web site called Rakuten, with the cheapest room at the cheapest period costing around ¥8,500.
Nightlife
Nightlife in Tomamu is pretty much non-existent. There is the odd bar in some of the hotels, but they're really just a 'sit-down-and-relax' kind of place and are rather over-priced. If you're looking for good party resort Tomamu is not the one to choose.
Location