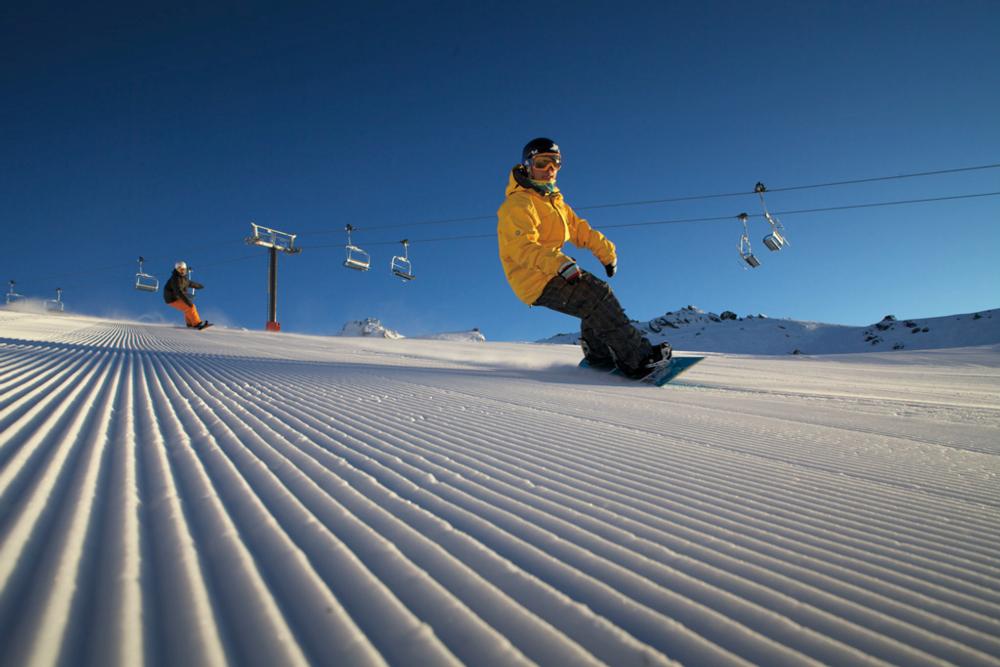 Cardrona Snowboarder / Cardrona
Freeriding
Freeriders will love it here. There is a fantastic variety of snow-gathering gullies and plenty of rocks to throw yourself off. Keg and Arcadia are the areas where Cardrona holds it's National Extreme Championships. Records have been set by dropping down the 30 metre plus Eagle Rock in Captain's Basin, so if you're feeling suicidal this one is for you. If the runs within the boundary don't satisfy you, you could go heli-boarding in Cardrona's expansive back bowls.
Freestyle
Freestylers are provided with an 800m boardercross course and a cool 1000m terrain park that comes loaded with a large table top, spines, jumps and rails. There are also two halfpipes including a 22ft superpipe. Cardrona's 22 foot Olympic Halfpipe is the only one in the Southern Hemisphere to have been homologated by FIS as World Cup standard. The pipe is 18 metres wide, 6.8 metres high and has an 18 degree pitch.
In 2011 Cardrona relocated a platter lift from the beginner's area to run alongside the 22ft Olympic Superpipe.Cardrona is alsothe only ski area in the Southern Hemisphere offering a dedicated mechanised lift to access its halfpipes. This means no more 'hiking to the pipe', providing athletes more training laps each day.
Pistes
Carvers will find either of the two main faces ideal for laying out some big turns on. The Sluce Box is a great carvers run.
Beginners
BeginnersIn 2011 Cardrona redeveloped the learner's area. This redevelopment increased the size AND quality of the novice terrain on offer.  A new state of the art "Sunkid" surface conveyor lift was installed to improve accessibility and ease of learning for beginners. 
Easily accessed from the McDougalls Quad is Cardrona's famous Skyline trail. Skyline gives beginner skiers/riders epic views across the Wakatipu basin making them feel on top of the world.