Betterpark Hintertux to Open in October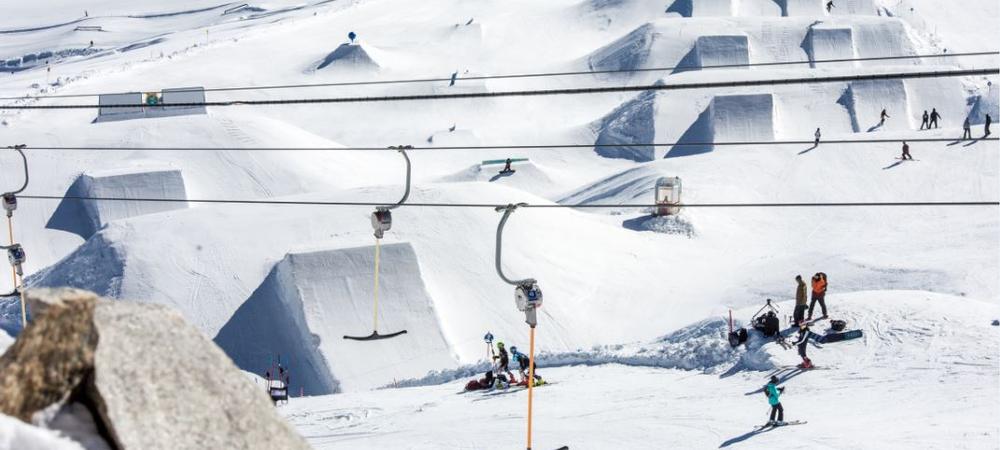 The Betterpark Hintertux presents its best side at the Hotzone.tv Park Opening Hintertux 2018 from October 4th – 7th
In a month the snowboard community will gather at the Hotzone.tv Park Opening (Oct. 4th – 7th, 2018) in Hintertux in the perfectly prepared Betterpark Hintertux. The park itself opens already this upcoming weekend on Saturday, September 8th. A visit at the Opening is worthwhile: a top park, the united snowboard industry with their brand-new test material as well as fun contests and parties attract numerous snowboard enthusiasts to make the trip into the Zillertal valley.
Park
Since years Betterpark Hintertux is the very first glacier snow park ready to shred in early autumn. This year it celebrates its 15th anniversary. Wille Kaufmann (Betterpark company) has been responsible for building and planning the park since then. Again Wille adapted the park for this season and will present a high-quality park as usual thanks to this extensive experience. Highlight of the park will be the big jump with either a 18 or 24 m table. A one kilometre long playground with jumps, jib-elements and a Halfpipe are surely arguments enough to visit Betterpark Hintertux this autumn. (*Please note: The Halfpipe will not be ready for the Opening).
Contests & Riders
Fun contests and sessions in the park will take place daily during the Opening kicking off with the "Alarm Clock Battle""on Friday. Goal is to show your best trick on the Opening-feature in form of an alarm clock. "The Session of the Dudes" is the center of attention on Saturday. Pro's and amateur riders will battle for the awards for "Best Opening Rider, Best Trick and Best Rookie and can win € 1.000 prize-money in total. Last but not least everyone can earn some pocket money on Sunday at the Transform Cash for Trix Session showing off the most creative tricks.
The Kids Shred is planned for both Saturday and Sunday. Ästhetiker veteran Steve Gruber as well as Burton team rider Marko Grilc themselves will coach the riders of tomorrow. Registration for kids can be found here: https://opening.hotzone.tv/kids_shred_anmeldung.html. Next to Marko Grilc, riders like local hero Werni Stock, Roope Tonteri, Seppe Smits, Klaudia Medlova, Rowan Coultas and more are expected to attend.
---
Related Pages