CairnGorm Mountain Bags the UK's First Halfpipe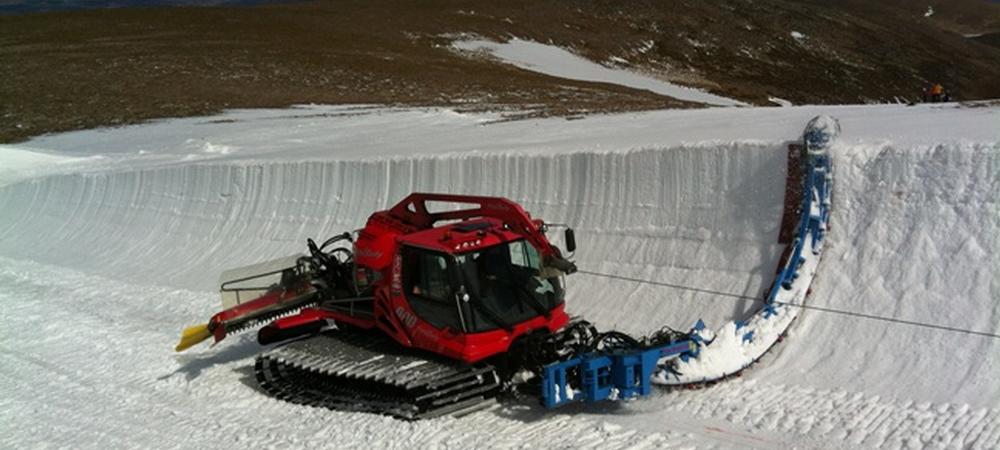 On Saturday the 19th April CairnGorm Mountain will be hosting the first ever halfpipe competition to be run in the UK on a machine-cut pipe.
The 18ft halfpipe has been constructed above the Ptarmigan Bowl using the same model of Pipe Cutter used to cut the halfpipe for the Salt Lake City Winter Olympics back in 2002. Open to both snowboarders and skiers, Bag the Pipe is destined to be a great event for competitors and spectators alike with a licensed bar, BBQ and DJ setup all within the freestyle area.
Organisers of the event are thrilled that Great Britain Olympian Ben Kilner who competed at Sochi (and prior to that at Vancouver) has confirmed that he will be coming to CairnGorm to Bag the Pipe as will current British half pipe champion Lewis Courtier- Jones from Coventry. Lewis said: "Really looking forward to coming up for my first time to snowboard in Scotland! Awesome to have a halfpipe in UK, and as current British Halfpipe champion I would love to help you promote it and encourage more people in UK to ride pipe."
The event format itself will consist of competitors putting down two judged runs on the day. Skiers and boarders will be competing side by side in a variety of categories and with four CairnGorm Mountain season passes for 2014/15 up for grabs on the day, competitors will need to bring their A-game! Other prizes for the day have been generously donated by Bolle, Ripalpha, Manbi, Pizzariach and CairnGorm Hotel. Entry to Bag the Pipe is free but all competitors will need to have a valid snowsports ticket for the day and will also need to pay a refundable £10 cash deposit for a bib in order to compete. Registration on the day will be in the T-Bar between 9.00am and 10.00am but spaces for the competition may be limited, so competitors should pre-register online to avoid disappointment. The competition itself is expected to start at 12 noon depending on the size of the entry.
Commenting on the forthcoming event, Marketing Manager Colin Kirkwood said:
"We have been looking forward to holding this inaugural event ever since we acquired the pipe cutter at the beginning of the season. It was always going to be a late season event and it is great that conditions have held up to enable us to run it on Easter weekend. With interest in this type of event having been fired up by the Sochi Olympics we are expecting lots of participants and spectators. We are particularly pleased that Olympian Ben Kilner and British champion Lewis Courtier-Jones are going to be taking part.
Looking beyond Easter weekend there is plenty of skiing and boarding left in the Ptarmigan Bowl and the Cas and there is still a lot of snow in the park. The White Lady is still complete but the entry to it is becoming more difficult."
---
Related Pages