The 10th edition of FREESKI & SNOWBOARD WORLD CORVATSCH SILVAPLANA from March 23 - 26, 2023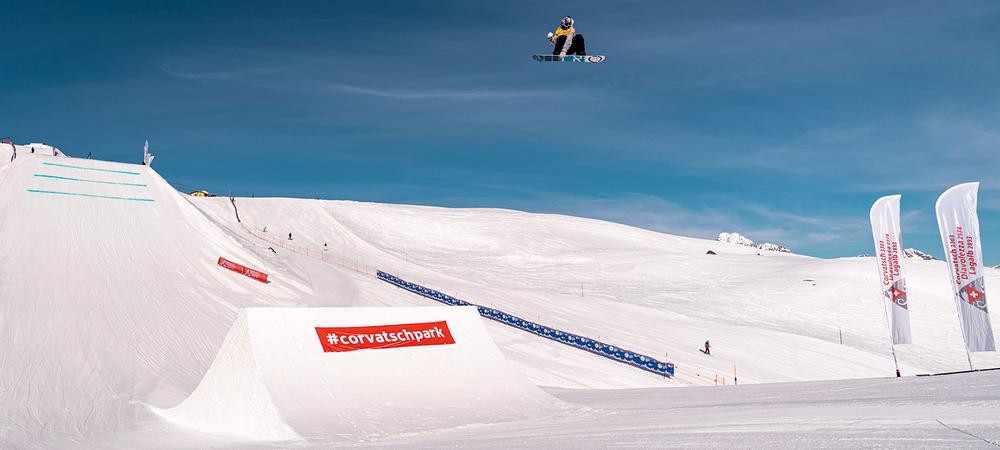 The world's best freestylers are looking forward ending their contest season at the 10th edition of the FREESKI & SNOWBOARD WORLD CUP CORVATSCH SILVAPLANA from March 23 – 26, 2023
Preparations are in full mode as the 10th jubilee edition of the FIS Freeski & Snowboard World Cup in Silvaplana is scheduled for March 23rd – 26th, 2023. Who will take home the glorious Slopestyle titles from Corvatsch Park in 2023?

FLYING HIGH - Slopestyle course at Corvatsch Park, 2.705 m a.s - Kobi Würsch as long-term responsible for the course design and the course-build, is planning once again a supreme Slopestyle setup with features to surprise and challenge the riders. The 500-meter-long Slopestyle course kicks off with the first rail feature with three options, followed by a second rail feature before heading into the kicker line consisting of three jumps in various sizes and finishes off with two quarterpipes at the end. Kobi states: "I am looking forward to the 10th edition of the event. It's year after year an exciting challenge to plan a progressive and innovative course setup which is rideable as well and guarantees fun for the riders. I believe this year's course has it all – transitions, rails and jumps. It will be fun."

WORLD CHAMPIONS join final season comp - Silvaplana is excited to welcome the newly crowned World Champions at the end of the month. Both male Corvatsch title defenders just claimed Slopestyle Gold at the FIS Freestyle World Championships. In snowboarding Marcus Kleveland from Norway secured back-to-back gold, he also claimed both Snowboard Slopestyle victories in Silvaplana in 2021 and 2022. Will he be able to score the hat-trick in 2023? His fellow countryman Birk Ruud – most fierce competitor of Swiss hero Andri Ragettli – is the new Freeski Slopestyle World Champion, also he is returning Corvatsch title defender. In the women's comp all eyes will be on 16-years-old snowboarder Mia Brookes (GBR), who just became Slopestyle World Champion. As youngest rider ever to win this title she is the future of freestyle snowboarding. At her first appearance at Corvatsch Park, will she be able to lay the foundation for the World Championships 2025 in Engadin? On the Freeski side Swiss Olympic Champion Mathilde Gremaud just crowned herself to the new Slopestyle World Champion, so with this title finally ticked off from her bucket list, she is ready for her first Silvaplana victory and will enjoy the season finals on home soil in Switzerland in front of the local crowd.

Corvatsch Park and Silvaplana are the freestyle heart and soul of Engadin and are also the host for the upcoming FIS Freestyle World Championships in 2025 – together with Sils, St. Moritz and Pontresina.

A decade of Freestyle dedication! To celebrate 10 years full of freestyle highlights, live concerts by Delinquent Habits (16h00) and Pat Burgener (15h00) will entertain spectators at Murtèl middle station directly after the Freeski finals on Saturday (25.03.2023). All events are free to watch with a valid lift ticket.
More information is available on the website