Top snowboarders are getting ready for the Hintertux Park Opening '22 from September 30th – October 3rd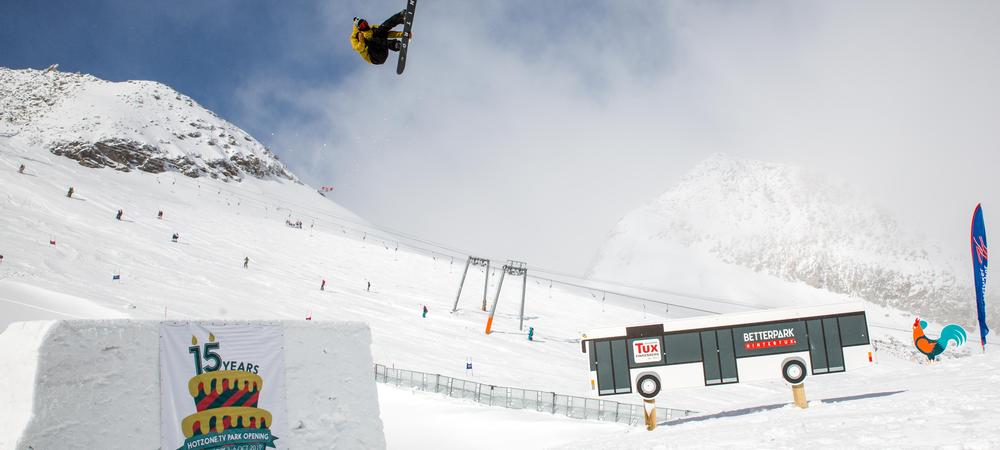 Top snowboarders are getting ready for the Hintertux Park Opening '22 from September 30th – October 3rd
In a few days the snowboard-community gathers in Hintertux for the very first park opening of the season. For the 18th time pro-riders, amateurs and members of the snowboard industry meet to kick off the new winter season with the Hintertux Park Opening. The snowboarders take over the Tux valley from September 30th – October 3rd. Winter has returned just in time with first fresh snow on the mountains of Tyrol.
MOUNTAIN EVENTS – Betterpark Hintertux is the place to be on the mountain. Werni Stock, local pro snowboarder and Opening ambassador, unites international top riders for Werni's Big Air Session by Quiksilver, among them Stale Sandbech (NOR), Halldor Helgason (ISL), Ethan Morgan (GER), Fridtjof "Fridge" Tischendorf (NOR) and Mons Roisland (NOR). The session on the big jump is open for everybody who is up for challenging the pro riders. Also the Burton Quarter Cash for Tricks Session is an open session for everybody to attend. The style-factor will be key. Jibbers should make sure to attend the Cash for Tricks Session on the rails, as this also serves as qualification for the Metal Battle Rail Contest on Saturday evening. Also the youngest riders are taken care of, as the Kids Shred with riding and coaching by pro's like Wolle Nyvelt and Gigi Rüf, accompanied by a photo-shooting and a DJ workshop at the end, provides everything to become a day of making memories for the kids (

registration KIDS SHRED

). The snowboard industry gathers at the Fernerhaus with a free demo for all visitors, who are keen to discover the new W22/23 hardgoods.
VALLEY EVENTS – The Ride Movie Premiere Night at Tux Center ist back! With great films like Ride's newest team movie "Sincerely Yours". Highlight in the valley is the 2nd edition of the Metal Battle Rail Contest presented by SANE! Snowboarding. The jib-community, among them the young Brit Mia Brookes, shows their skills on the features directly in front of Hohenhaus Tenne. Thrill and crazy action are guaranteed watching the reckless tricks of the freestylers! Party people continue then directly to the Opening Party at Große Tenne with finest beats (

party tickets

)
Thanks for the support to all sponsors of this's year's Opening:
Burton, Deeluxe, Nixon, 686, Soundsboks, Aleck, Ride and Quiksilver.
Further details and updates for the Hintertux Park Opening 2022: