Inghams Ski Launch New Train Route with Eurostar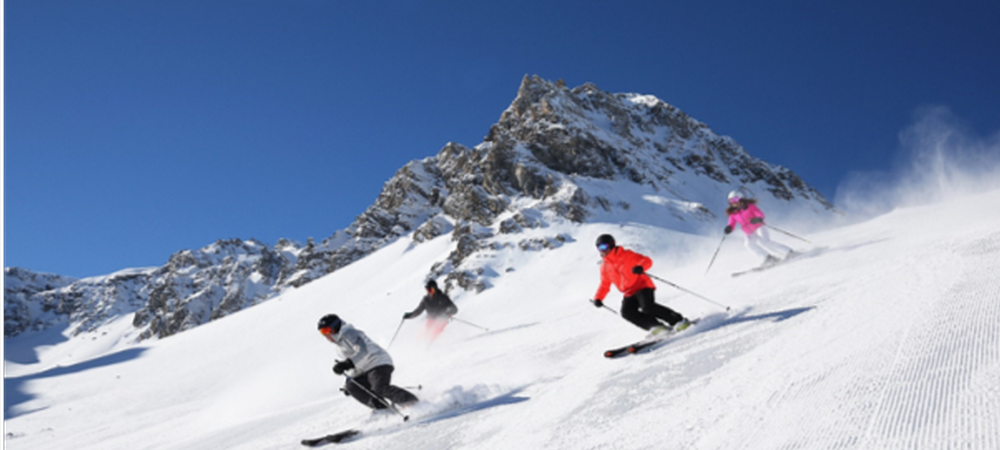 Inghams Ski have today launched a new ski package for the 2023/24 season by train.
Inghams Ski have today launched a new ski package for the 2023/24 season by train, offering a low hassle, sustainable option for customers travelling to France. Operated by Eurostar, the new Inghams Ski packages will serve the Val d'Isère, Tignes and Les Arcs ski areas.
As a leading voice in the campaign to bring back the original long running 'Ski Train' which ceased operations due to the Covid pandemic, Inghams Ski have committed to support the new Eurostar route by purchasing an allocation of 10 seats per week throughout the coming season, with the option to sell more on request.
Open for bookings from 31st August 2023, the new train will run for eight weekends from December 16th 2023, from London Kings Cross to Bourg-Saint-Maurice, with one easy platform change at Lille. Previously, the only option for customers wishing to travel by train to this area of France was a station change in Paris. On arrival in Bourg-Saint-Maurice, Inghams Ski guests will be transferred to their chosen resort.
Operating from Saturday to Sunday, the new train not only offers skiers and boarders a more sustainable travel option, but also an extra day to enjoy the slopes. With traditional ski packages running Saturday to Saturday, Inghams Ski have arranged seven-day lift passes for the price of six for customers returning by train on the Sunday, with the option to store luggage in their hotel or chalet. Customers will then be transferred on Saturday night to accommodation next to the station in Bourg-Saint-Maurice, ready for their return journey on Sunday morning.
Krissy Roe, Senior Sustainability Manager at Hotelplan UK and Inghams Ski said:
'We are so excited to be able to offer our customers a new, more sustainable travel option after a frustrating few years of debate around the ski train. We are proud to be one of Eurostar's partners at the launch of this service and are committed to supporting them on this venture.
Flying is the fastest growing source of carbon emissions and has the largest slice of the pie when it comes to the carbon footprint of our customers holidays. To be able to offer a lower carbon alternative that is convenient and competitive on price is hugely welcomed. We're expecting the train to prove popular with guests this coming season as people seek out more sustainable holidays.
As a business, the Hotelplan UK group of brands which includes Inghams Ski, has committed to cutting our emissions by 50% by 2030 so offering rail alternatives to our favourite destinations is a key priority for us. We want to make it as easy and accessible as possible for our guests to enjoy experiencing train travel - travelling through the landscape, soaking it all in as they go.
I'm writing this comment from a train between Zurich and Innsbruck in Austria, having travelled by Eurostar from London. It's been a relaxing and care-free journey and the scenery on this last leg in particular is stunning. Travelling through, rather than above these special places is going to be a big part of the future of travel.'
Lead in Price:
8 nights half board at Hotel Ducs de Savoie, Val d'Isère. Departing 6th January 2024 from Kings Cross St. Pancras from £1298 per person including rail travel, transfers and overnight stay in Bourg-Saint-Maurice. Based on 2 adults sharing.
Example Itinerary:
Outbound:
Train departs Kings Cross St Pancras Saturday, 09:00
Platform change in Lille 11:30 | Depart Lille 12:15
Arrive Bourg-Saint-Maurice 18:20
Tignes/ Val d'Isère customers taxi, Les Arcs customers board funicular to resort.
Enjoy a fantastic 7 nights in resort
Inbound:
Hit the slopes on Saturday (7th day lift pass and ski hire included for price of 6)
Tignes/ Val d'Isère customers taxi, Les Arcs customers funicular to Base Camp Lodge Hotel, Bourg-Saint-Maurice
Dinner at Base Camp Lodge Hotel
Sunday morning taxi from hotel to Bourg-Saint-Maurice train station
Train departs Bourg-Saint-Maurice 08:11
Arrive Lille 14:30 | Depart Lille 15:30
Arrive Kings Cross St Pancras 15:57