Les Arcs makes further commitments to a sustainable development strategy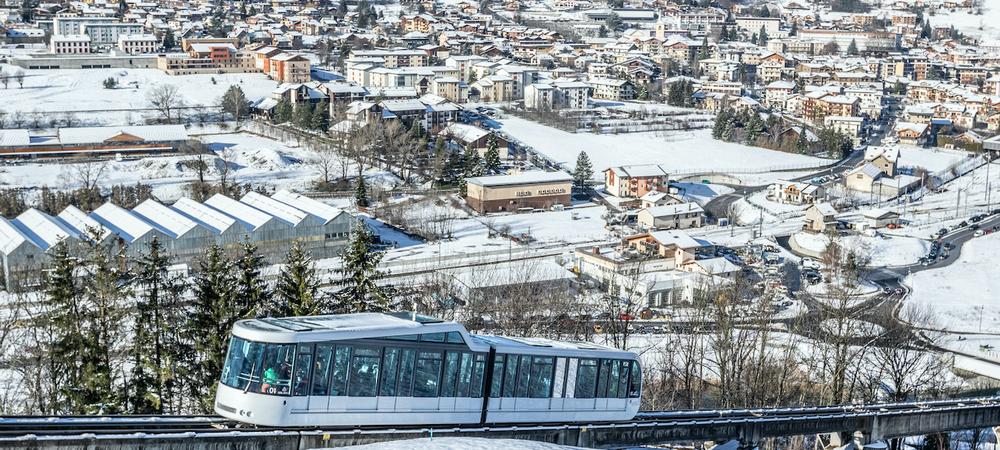 The resort of choice for eco-conscious skiers. French ski resort Les Arcs-Bourg Saint Maurice has made further commitments to its sustainable development strategy and continues to be the resort of choice for eco-conscious skiers as one of the few high altitude European ski resorts which can be reached fully by train.
These new commitments include a target to self-produce 25% of energy for the ski area by 2030, a goal of becoming carbon neutral by 2030 and the production of a new road map for sustainable tourism and responsible economic development which will run until 2030.
Train Travel
Les Arcs is one of the few French ski resorts which can be reached fully by train. British skiers can take a train from London St Pancras to Bourg Saint Maurice (either directly on the new Travelski Express (www.uk.travelski.com) or indirectly via Paris, then change to the funicular which takes seven minutes from Bourg Saint Maurice to Arc 1600. There, free shuttle buses meet skiers to take them to their chosen village. With 57% of CO2 emissions from ski resorts coming from skiers travelling, choosing the train should be one of the first decisions for eco-conscious skiers.*
New commitments in the ski area
Les Arcs has made a commitment to reduce the energy consumption of the ski area and self-produce electricity. Its target is to self-produce 25% of energy and to become carbon neutral by 2030. To achieve these objectives, the ski area is implementing measures such as utilising photovoltaic panels, using hydroelectricity which has been produced by the snowmaking system, improving snow grooming practices, using alternative fuels and continuing to implement eco-driving practices.
For this season, the new Vallandry gondola has been designed with a sustainable vision, including photovoltaic panels on the roof which will power the lift, plus rainwater collection and heat capture from the machinery which will both be used at the site. The cable car also plays home to the new Mountain Animal Museum set up in conjunction with the Vanoise National Park to educate visitors about the mountain biodiversity and the ways of preserving it.
New commitments in the resort
Les Arcs – Bourg Saint Maurice have committed to work on a 2030 roadmap around sustainable tourism and responsible economic development. They have also recruited a project manager who will work with all stakeholders to ensure Les Arcs is a 'responsible destination'. The manager will set up a programme of energy renovation and the development of renewable energy supplies.
Les Arcs have committed to continue the Stop Waste tour – a waste collection event which takes place every June. Bourg Saint Maurice also switches off its public lighting at night to reduce light pollution. This helps protect the reproductive cycle of the insects essential for bio-diversity.
Les Arcs - Bourg Saint Maurice have also created the 'Cap Energie' plan. This programme has already reduced the emission of carbon by 39% by public buildings (removing 660 tonnes per year).
A resort with the Flocon Vert
In December 2020 Les Arcs was awarded the Flocon Vert (Green Snowflake) label, the first resort in Savoie to attain the mark which shows a commitment to sustainable development.
The 'Flocon Vert' (www.flocon-vert.org) was created in 2011 by the 'Mountain Riders' association, which has been working for over 20 years to help support mountain resorts work towards more sustainable operations. The label is issued based on fulfilling 20 criteria divided into four themes: local economy, social & cultural, governance and destination, environment and natural resources. For more information visit www.flocon-vert.org
Drink Local Campaign
Launched last winter, Les Arcs' #Drinklocal campaign has started the resort's journey towards "zero plastic". Visitors to Les Arcs are encouraged to drink tap water, and new water fountains have been installed in the ski area. Local hotels, bars and restaurants have also been encouraged to offer tap water as opposed to plastic mineral water.
Considering that more than 1,000,000 plastic bottles are consumed each year in the area of Les Arcs – Bourg Saint Maurice, and that these polluting bottles travel on average 300 km, the environmental impact of water in a bottle is 450 times that of tap water.
For more information about Les Arcs - lesarcs.com