NZ 2022 - Halfpipe & Slopestyle champs crowned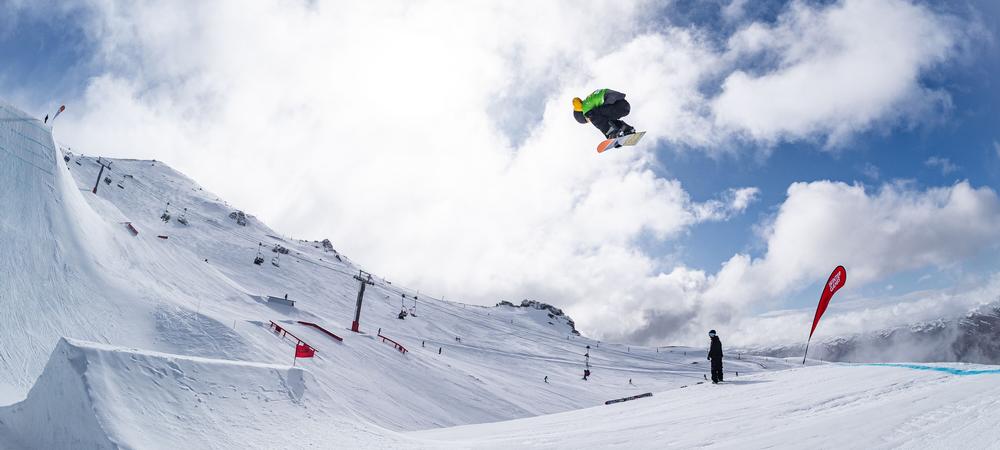 NZ 2022 - Halfpipe & Slopestyle champs crowned
The US Freeski Team made a clean sweep of the women's Freeski Halfpipe Podium, with Hanna Faulhaber taking the top spot with an impressive score of 92.67, 13 points clear of her teammate Carly Margulies in second place. Riley Jacobs rounded out the US podium sweep in third.
Cardrona local and Beijing 2022 Winter Olympian 16-year-old Gustav Legnavsky took the win in the Men's Freeski Halfpipe category with an impressive run that included three double corks, scoring 94.33. Gustav was disappointed that the finals were cancelled, but nonetheless was stoked to take the win.
Gaon Choi of Korea was a standout competitor in the women's Snowboard Halfpipe category from the second she dropped in. Choi impressed with judges with her amplitude and her ability to hold her grabs for the duration of her tricks.
Chaeun Lee, also of Korea, took the win in the men's snowboard category, with Konosuke Murakami of Japan right on his heels. The judges explained that Lee and Murakami had huge amplitude, almost twice as big as the rest of the field and landed super technical runs.
| | |
| --- | --- |
| Results Halfipipe Men Ski | Results Halfpipe Women Ski |
| 1| GUSTAV LEGNAVSKY (NZL) | 1| HANNA FAULHABER (USA) |
| 2| BEN HARRINGTON (NZL) | 2| CARLY MARGULIES (USA) |
| 3| MATT LABAUGH (USA) | 3| RILEY JACOBS - USA |
| | |
| --- | --- |
| Results Halfpipe Men Snowboard | Results Halfpipe Women Snowboard |
| 1| CHAEUN LEE (KOR) | 1| GAON CHOI (KOR) |
| 2| KNONSUKE MURAKAMI (JPN) | 2| TSUKI YAMAZAKI (JPN) |
| 3| CAMPBELL IVES (NZL) | 3| NA YOON LEE (KOR) |
Local athletes Ruby Andrews and Luca Harrington topped the women's and men's Freeski Slopestyle with results from qualification on Saturday used as the final results.
Jesse Parkinson of Australia, winner of the Men's Snowboard Slopestyle, was a standout competitor in his field. The judges were really impressed with the backside triple 1440 he was stomping, the only competitor performing this massive trick.
Mari Fukada, Japan, claimed to top spot on the Women's Snowboard Slopestyle podium. She was the only woman throwing down back-to-back 720s with good execution on the large jumps.
| | |
| --- | --- |
| Results Slopestyle Men Ski | Results Slopestyle Women Ski |
| 1| LUCA HARRINGTON (NZL) | 1| RUBY ANDREWS (NZL) |
| 2| GEN FUJII (JPN) | 2| YUNA KOGA (JPN) |
| 3| FINELY IVES (NZL) | 3| MADELEINE DISBROWE (NZL) |
| | |
| --- | --- |
| Results Slopestyle Men Snowboard | Results Slopestyle Women Snowboard |
| 1| JESSE PARKINSON (AUS) | 1| MARI FUKADA (JPN) |
| 2| TAIGA HASEGAWA (JPN) | 2| LUCIA GEOGALLI (NZL) |
| 3| HIROAKI KUNITAKE (JPN) | 3| AVA BEER (NZL) |