The BRITS Snow & Music Festival, which hits Laax, Switzerland this weekend, 21st – 28th March 2010, are excited to announce that world renowned DJ, A SKILLZ and twice DMC World Champion, DJ Switch will be wrapping up the BRITS Music line-up in style when they headline the BRITS final night at the Riders Palace on Saturday 27th March.
Record label owner, producer and DJ extraordinaire, A SKILLZ incredible deck talents fuse funk, soul and hip-hop with D'n'B, dub-step and breaks, all sliced, mashed and cut together with a unique style of scratching and mixing. His reputation as a true party rocker has won him prime-time slots across the world at a who's who of major events, festivals and music industry parties including FabricLive (London), The Hit Factory (New York), WMC (Miami), Shambhala (Canada) and Field Day (Sydney).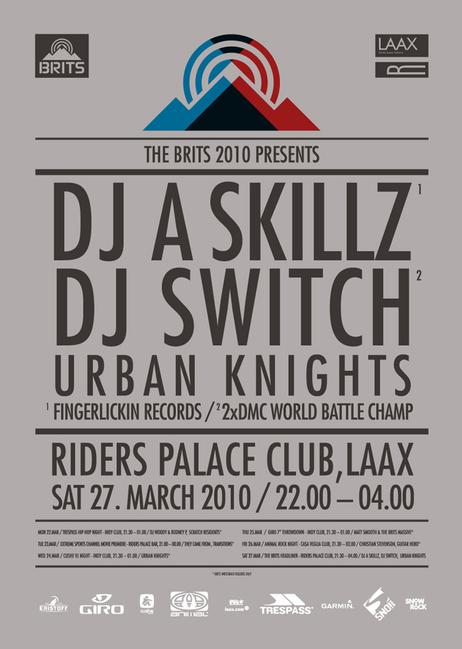 Two times DMC World Battle Champion, scratch master and musical freak, DJ Switch serves up Hip Hop, jazz, soul, funk, rock, house, garage, breakbeat and drum & bass – all cut, sliced, mixed and layered to make a very tasty musical lasagna, that will keep you coming back for more! With international status and highly regarded reputations in the music industry, A SKILLZ, DJ Switch and special guests, Urban Knights, are guaranteed to leave a trail of exhausted but ultimately satisfied party goers in their wake, finishing off the BRITS week in true style!
To recap over the BRITS musical menu on offer during the week, we've got: Trespass Hip Hop Night in Association with Natives, featuring DJ Woody and Rodney P Kicking off the BRITS music week in true British Hip Hop style on Monday night will be top DJ collective, SCRATCH. Fresh, fly, bold and wild – is the legacy, encompassing all forms of Hip Hop culture from djing, rapping and breaking. Extreme Premiere Night in Association with Metrosnow, 'THEY CAME FROM' & 'TRANSITION' A night of sweets, popcorn, a large coca-cola and top-notch movie action of incredible, unique and un-human like abilities will leave you paralysed in your seat on Tuesday night at the Riders Palace.
Cushe Dub-Step and Breaks Night in Association with SCUK, featuring, Urban Knights With their refreshing blasts of audio visual delights, the Urban Knights will be sure to create the most dazzling and contemporary show which will leave you on the dance floor in a state of exhausted wide eyed amazement! GIRO7" Throwdown night in Association with Ski Club Find that inner DJ and come along to mix with the best on the 7"Wheels of Steel. For all riders, dj's and general dudes and dudettes.
It's your time to shine in the spotlight! Animal Rock night and Guitar Hero in Association with Whitelines The stage has been set for you to unleash your inner guitar hero and rock star on Friday night as Animal presents the ultimate 21st century karaoke! Groups of up to four band members can rock out on guitar, drums and vocals with the best two bands fighting it out in a final 'rock-off' at the end of the night. Prizes from Animal and Guitar Hero are up for grabs so make sure you sign your bands up and pick your tracks at the Animal tent during the week and Rock Fancy Dress is compulsory so make sure its spandex tight!
For more nformation visit www.brits10.com