The Western Saab Challenge, Scottish Snowcross Championships is set to run this weekend (Saturday 5th and Sunday 6th March 2011) at Glenshee Ski Centre. Taking place over two days Skiers and Boarders will once again race head to head on a specially designed course at Glenshee's Meall Odhar slopes utilising its extensive natural features and terrain as well as man-made rollers, jumps, kickers and turns!
Sponsored by Saab and supported by Salomon, Zaini Hats, Red Bull, Tierney Strachan and, of course,Glenshee Ski Centre, the event is the only one of its kind to be held in the United Kingdom.
Snow conditions on the course are excellent with a dedicated team from Aberdeen Snowsports Club working hard to deliver a top class event shifting tons of snow with staff from Glenshee. Clear skies are forecast for the weekend so it's sure to be a great event for spectators!
In support of Aberdeen Snowsports Club Olympians Alain Baxter and Ben Kilner will both be attending the event to support the riders and award prizes!
Local rider and Olympic Snowboard Super-pipe finalist in the 2010 Vancouver Olympics Ben Kilner said: "Snowcross is a great event and I'm stoked that Aberdeen Snowsports Club have brought this to Glenshee where I learned to ride all those years ago! It's really exciting for spectators and competitors alike, bringing together alpine and freestyle skiers and boarders in the same event."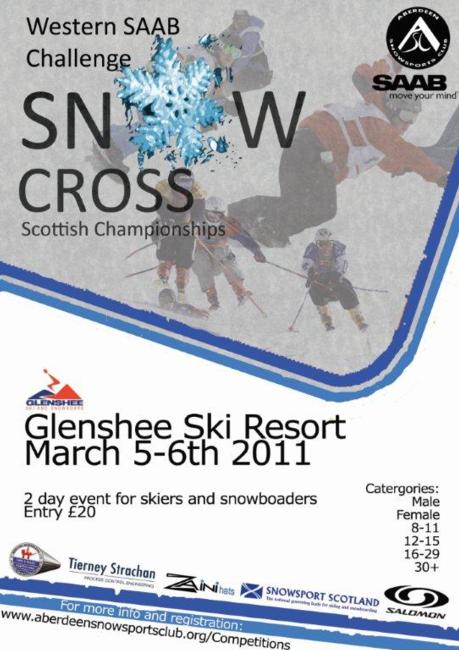 Former Olympic Skier and BBC wintersports pundit Alain Baxter added: "Last year's Championships were a great addition to the Scottish and British snow sports scene and it is fantastic to see such a prestigious sport coming to the UK. It is also great to see the continued support from Saab who were a key supporter of Scottish skiing during my development and their support is really important to Scottish and British Snowsports. I can't wait to see the action at Glenshee for myself and absolutely delighted to support Aberdeen Snowsports Club with the Western Saab Scottish Snowcross Championships
With age categories of 8-11, 12-15, 16-29 and 30+ there is a definite opportunity for all to compete. Competitors who pre-register will receive a £5 discount on the cost of a lift pass.
For more information and entry details go to www.aberdeensnowsportsclub.org/Competitions