Today, the last day of competition here at the 2014 Burton European Open presented by MINI, saw the Men and Women finalists working their magic in beautifully shaped LAAX pipe. In the Women's contest Swiss girl Ursina Haller (SUI) stoked out the home crowd by with a well deserved win, while Iouri Podladtchikov (SUI) took the center spot on the Men's podium.
With Enni Rukajärvi (FIN) injured in yesterday's slopestyle practice the start list in the Women's finals was cut from 6 to 5. In the first run the girls chose to put scores on the board rather than go all in straight off the bat. That said we were treated to a great display of multiple 5s and 7s, with Ursina Haller's final front 7 at the bottom of the pipe securing her an early lead over fellow Swiss Verena Rohrer.

In the early stages of round two there was little change in the rankings, until Verena earned a massive Trick Score of 46.9 with a run that included two 7s and two 5s to prise Ursina off pole position. But Ursina, who is a coiled cobra before her appearance at the 2014 Winter Games, struck back with a front 9, back to back 5s, a Method and her signature front 7. In combination with a great Flow score she again took the lead.

Starting the final round in reverse order 16-year-old Zoe Kalapos (USA) was unable to break out of fifth place, and after falling Lucile Lefevre was not able to breaking into the Swiss dominated podium. Carla in turn was unable to better third after bailing on her Alley Oop Mctwist, leaving Verena the task of unseating Ursina but her back to back 5s and closing front 7 were unable make the cut.

Victory in hand Ursina could have used her last lap to showboat but instead she treated it like a final run in the Olympics, landing a beautifully grabbed front 9, back to back 5s, backside air and front 7 to up her score to an astounding 92.2 and win the BEO pipe finals. "This has always been my favourite event" she said after her win "and I have never won it until now so I am so stoked".

The competition in the 10 man pipe finals was always going to be tough, especially with a strong contingent of Swiss dominating the top three spots including Iouri Podladtchikov, Christian Haller and Markus Keller. As in the Women's contest the first run was an opportunity for the riders to get scores on the board while saving their best for the next two runs. That said, Shuhei Osanai (JPN) came out of the gates with the first double of the contest. 15-year-old Jake Pates also put in a stunning show and for a while held the lead until a perfect medley of tricks from Iouri knocked him out of first position.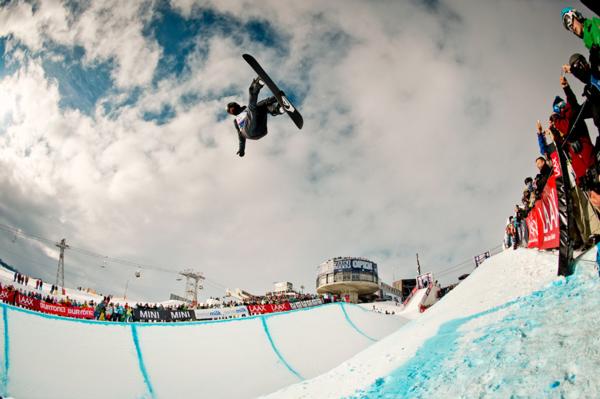 Round two saw the guys upping their game to secure safe standings before the third and final run. Markus Keller (SUI) who had vowed to not spin over a 7 in the finals, a rarity in these days of double, dialled a stunning display of pure snowboarding, including an Alley Oop 5, Melon to fakie, Haakon flip, back Alley Oop 3, fakie Method and a Chicken wing 7, but was unable to secure a spot on the podium. Janne Korpi (FIN) landed a meaty clutch of bangers and leapt into 4th, while Kosuke Hosokawa put in
a strong showing on behalf of the Japanese contingent and moved into second, before being bumped down first by the young Jake Pates and then by Christian Haller.

Iouri went into the third and final round in first place having upped his score in the previous run; he would drop last followed by Christian and Jake Pates. Janne Korpi, the second oldest competitor in the finals after Keller, landed a Melon to fakie, Cab double 10, Alley Oop back 5, back 5 Mute and front 10 and shot up into third place, forcing Jake into 4th from where he was unable to escape with his final run. Only Christian Haller could now beat Iouri but he couldn't finish his run cleaning, leaving Iouri in first place to throw down what had to be the best display of wholesome snowboarding this week. "I was never riding at such a high level as I am now and LAAX is a good place for me as it seems like I'm a specialist in this pipe".

The World Snowboard Tour Women's Halfpipe ranking top 5 hasn't changed with today's result, but Ursina moved into sixth place with her win. Christian Haller moved into first on the Halfpipe ranking with his second place today, and Iouri is now ranked seventh after with his win. Janne Korpi moved up to eighth place.

With the 2014 Burton European Open presented by MINI now complete we would like to thank all the sponsors of the event including MINI, Swissmilk, anon., The World Snowboard Tour and LAAX as well as all the riders who made the event so great and the spectators who showed up for all the action.

Results Halfpipe Finals Women:
1. Ursina Haller, SUI, Protest, 92,20
2. Verena Rohrer, SUI, O'Neill, 84,90
3. Carla Somaini, SUI, Never Summer, 66,70
4. Lucile Lefevre, FRA, Rip Curl, 61,10
5. Zoe Kalapos, USA, Monster, 57,50

Results Halfpipe Finals Men:
1. Iouri Podladtchikov, SUI, Quiksilver, 86,30
2. Christian Haller, SUI, Burton, 84,90
3. Janne Korpi, FIN, Kissmark, 83,90
4. Jake Pates, USA, Burton, 78,80
5. Kosuke Hosokawa, JPN, Kissmark, 75,10
6. Ikkou Anai, JPN, Gush, 74,20
7. Tim-Kevin Ravnjak, SLO, Oakley, 62,80
8. Markus Keller, SUI, Nitro, 59,30
9. Michael Schärer, SUI, Nitro, 53,80
10. Shuhei Osanai, JPN, Kissmark, 5,50