Technology is fundamental to a sustainable ski industry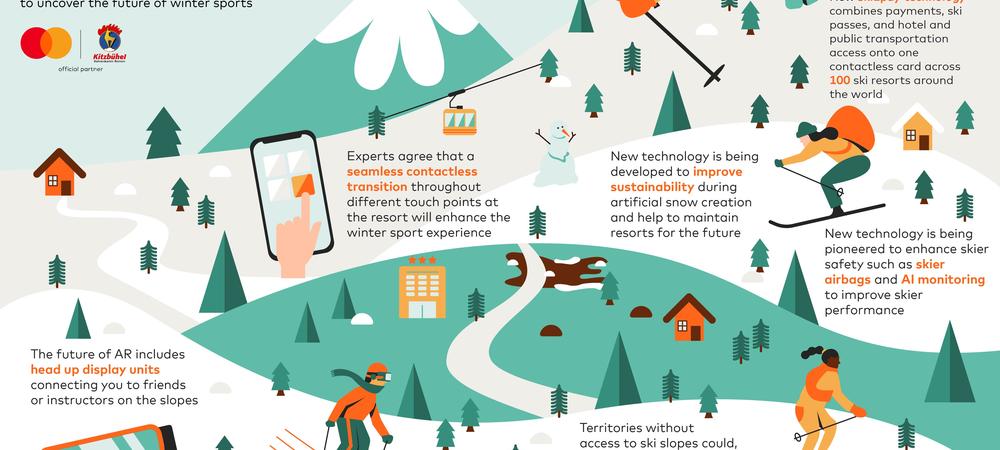 Winter sports experts discuss technology, sustainability and gender parity in sports ahead of the legendary Hahnenkamm Races 2020
A new independent Delphi study from Mastercard, authored by Prof. Dr. Sascha L. Schmidt, Director of WHU-Center for Sports and Management, Düsseldorf[1], and 46 international alpine industry experts agree that technology is vital for a seamless experience within winter sports in the future.
Mastercard's technology developments have turned the Hahnenkamm Races from a cash-only event to one that welcomes innovative payment solutions. Experts agree that by 2025, most ski resorts will have followed suit and introduced cashless payments improving safety, convenience and accessibility for tourists and residents. Connected apps and seamless contactless transitions through ski hire, hotel bookings and ski lift passes are all points the experts agree, will enhance the skiing experience and increase the opportunities in the sport.
As a partner of the Hahnenkamm Races, Mastercard is continuing to invest in Kitzbühel, empowering the resort to evolve with cutting-edge technology. This year, the advancements will see a first-of-its-kind hybrid card, produced by LAKS Pay, which combines payment, ski passes, and hotel and public transportation access onto one contactless card. The new pre-paid card allows consumers to pay, ride ski lifts, and get into their hotel rooms – enabling one seamless experience on the mountain. The Ski2Pay wearable can be used at over 100 ski resorts and hotels around the world.
Along with a seamless payments experience, the preservation of skiing environments is an acute priority for the industry, whilst temperatures continue to rise due to climate change. Experts support the creation and use of artificial snow to help bolster natural snowfall and ensure the season won't be shortened. However, the experts are in agreement that innovation is vital to ensure less environmental impact and improve sustainability for the sport in the long-term e.g. through the use of renewable energy and recycled melt water from the slopes.
Another area of continual innovation is injury prevention on the slopes, with experts calling for further technological advancements to reduce risks. For example, advanced protection equipment that reduces the risk of spine rotation will help prevent career ending injuries and skier worn airbags are in development, to protect the bones of both professional athletes and tourists on the mountain.
The research cited technology as essential for the improvement of athlete performance. AI (artificial intelligence) and performance monitoring systems are being pioneered as a way to improve the form of world class athletes. Further, AR (augmented reality) is being introduced to ski sports at a lower level and being incorporated within helmets, showing live data on a head-up display for users to see stats and connect with instructors and friends whilst on the slope.
Sarah Lewis, Secretary General, International Ski Federation, said: "As an industry, winter sports has always strived to be at the forefront of technology, ensuring a convenient and seamless experience for consumers, making it more enjoyable is a priority. Advancements such as one-stop shopping help to speed processes and allows people to reach the slopes quicker.
"However, the attention of FIS is also focused on sustainability and how we can contribute to protecting the mountains for the future. Technology is a key part of this activity and we are looking into and supporting new projects including advancements in artificial snow production, electric alpine vehicles and carbon neutral resorts. We look forward to the next few years during as technology continues to develop further and better serve the mountain environment."
Winter sports experts see the potential in computer-aided training to improve the performance of professional athletes and reduce risk of injury through simulations. However, e-sports at a younger level, isn't seen as a gateway to the sport, with the most significant driver for young people taking up skiing being their parents. Conversely, experts do envisage e-sport skiing as a gateway for the Chinese market, that has limited access to the sport.
Alongside technology, gender parity is a key topic of discussion when it comes to the future of the ski industry, with experts focusing on competitive racing for female athletes and boardroom equality. However, the experts believe there is only a fifty per cent chance of gender parity becoming a reality within five years.
Jeannette Liendo, Head of Marketing and Communications, Mastercard Europe, said: "The Hahnenkamm Races have been at the forefront of technological development within skiing since it started. Since our partnership with The Hahnenkamm Races began, we have been investing in the event and turned it into an innovative cashless payments' solution. However, while technology and sustainability are at the top of the agenda, the progression of equality within sport is still a key priority for Mastercard. We want to enable fans from all walks of life the opportunity to connect with their passion and look up to their heroes."
Mastercard hosted the #RaceToTheFuture Sports Talk ahead of the Hahnenkamm Races. Professor. Dr. Sascha L. Schmidt, author of the Delphi study, presented the results and took part in a panel discussion. The panel was moderated by Jeannette Liendo, Senior Vice President, Head of Marketing Europe at Mastercard and consisted of former alpine ski champions Aksel Lund Svindal and Daron Rahlves, Paralympian biathlete Verena Bentele and game and simulation designer Johanna Pirker.