Zakopane
Cheap with a pioneering feel. Kasprowy Wierch easily the standout area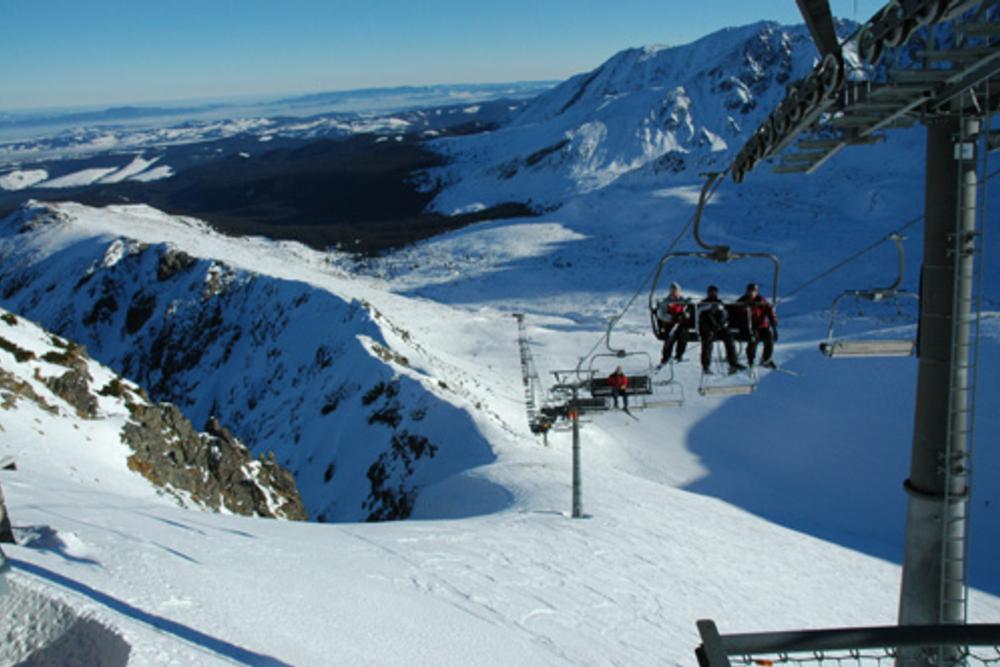 Kasprowy Wierch / Photo: Steve Dowle
Freeriding
See Kasprowy Wierch, Polana Szymoszkowa, Nosal and Bialka
Kasprowy Wierch

Kasprowy Wierch, set in a national park is the by far the best area. An old cable car, built in the 30's, takes you in two stages up to the largest and steepest pistes in the area. The cable car can be mobbed in the mornings, leading to long queues. There is the option if you really hate queues to pre book a timed ascent; but it must be done two or three days in advance. A new cable car is due to be built in the summer, but if progress of the new road from Krakow to Zakopane, paid for with EU money, is anything to go by don't hold your breath.

Freeriding. Once away from the jammed cable car Kasprowy Wierch is a really great spot for the freerider. There's two chair lifts one on each side of the mountain. To the left is a black run that leads down to the shorter of the two lifts, which makes for a good warm up and some great views on the way back up. But the real place to head is mountains other side, after a 50 meter walk, from the cable car, you can strap your board on and head to a black run in the first bowl. If you stay high to the left and walk along a ridge you can access a further two off piste bowls, with some great big powder faces. If you don't fancy a walk then cut directly right under the longer chair and keep heading right, watch out for corniced cliffs at the top and rocks, this area has some real steep powder stashes and a few natural half pipe areas. You can shred it up through the trees, but remember to cut left or you'll end up below the chair.

Beginners. Two pistes which are fine to progress onto after you've graduated from the nursery slopes of the other areas. One has a narrow path and the other has a steep drop in so not great for total beginners.

Polana Szymoszkowa
You will never see such fantastic lifts gracing such a small area, but thank god they do or you'd be so pissed off with queuing you'll whack someone, which is a real bad idea as most of the Poles are huge and will easily rip your head off. A brand spanking six person high speed chair runs alongside an equally new 4 person one. Below is a frenzy of snow ploughing mayhem on two very short runs. The slopes are open till 10pm most nights but they close the lifts around 4pm to let the groomers loose for half an hour. The area is great for beginners, who don't want to experience a drag lift, but little else.

Nosal
Nosal has a very steep narrow Black with a single seater chair, the run is often icy. The rest of the area is little more than a collection of very short green slopes accessed by drags, coved in little helmet wearing ski scools.

Gubalowka
Consists of a funicular train running from the base to the top with a couple of t-bars serving the same terrain. There's a long blue run and that's about it

Butorowy Wierch
No funicular this time, but a single chair serves the main slope with a couple of beginner tows. There's no real piste as such, just an open face of easy gradient.

Freestyle
See Kasprowy Wierch, Polana Szymoszkowa, Nosal and Bialka
Pistes
See Kasprowy Wierch, Polana Szymoszkowa, Nosal and Bialka
Beginners
See Kasprowy Wierch, Polana Szymoszkowa, Nosal and Bialka