Freeriding, terrain parks and pistes
in Big Sky
Freeriding
Freeriders will find this is a great place to get a fix. A good trail is the Big Horn which begins as an unchallenging trail that passes through woods, before dropping sharply into a bowl with banks and some good hits. Some of the most challenging terrain can be found if you first take the Lone Peak chair, and then hike up to reach the ridge off the south-facing summit. For those who know what they're doing, you get the option to go for it down loads of chutes.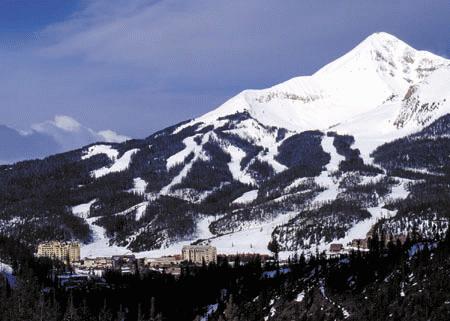 Freestylers
Freestylers
looking for some natural hits, would do well to check out the gully formed down the side of Lower Morning Star, which is pretty cool. And if this is not enough, then Big Sky has a wheel-carved halfpipe and a good series of hits in the two terrain parks, Swiftcurrent and Ambush Park, which will both keep grommets happy for days on end.
Pistes
Riders of the piste should get a good buzz out of these slopes, with plenty of wide open groomed trails that allow for some serious cranking it over turns. Check out the stuff off the Ram Charger quad, where you can descend at speed. Intermediates will dig the wide terrain on Elk Park Ridge, where you can crank some wide turns and take some easily stoppable spills.
Beginners
Beginners will find plenty of easy terrain to practice their first moves, with the best novice stuff on the south side of Andesite, off Southern Comfort chair lift. The local ski-school handles all levels of tuition with full beginner programmes.
READ NEXT: Village life, accommodation & nightlife
Resort Information
Location
Advertisement