Dombai
Overall the place is very interesting and has a very pioneering feel to it. If you are planning a trip to Russia bring your snowboard with you and have an adventure in the Caucussus.

Lift count : 1 x Gondolas 5 x Chairlifts 6 x Drag-lifts
OF PISTES (10 PISTES)

Pass (Low/High Season) :
Introduction
Set amongst the Caucasus Mountains near the Georgian border is Dombai with its unique atmosphere and visited by your average Russian tourist, many of whom are from the surrounding towns and villages, who tend to go up the mountain to eat, view the peaks and drink Vodka as opposed to boarding. The riding is good with plenty to suite all. The lower slopes provide some runs through the trees which are gentle and ideal for beginners. Even though the mountain has three piste bashers grooming is infrequent and piste markings generally range from poor to non-existent. There are lots of hiking options available although Russians are not big on going off-piste.
The chair lifts and cable cars are from the bygone era and nothing is new. You will see some of the most ingenious repair work undertaken. Take for instance the broken perspex windows of the gondola car, they've had drilled holes either side of the crack and then sewn it together. The lifts are interesting with a "pay as you ride" system. When lifts are down, some of the piste basher drivers charge each person to ride on a Cat Track tour. Safety is not high on the list of priorities, but it has to be remembered that this is Russia and anything goes.
Piste map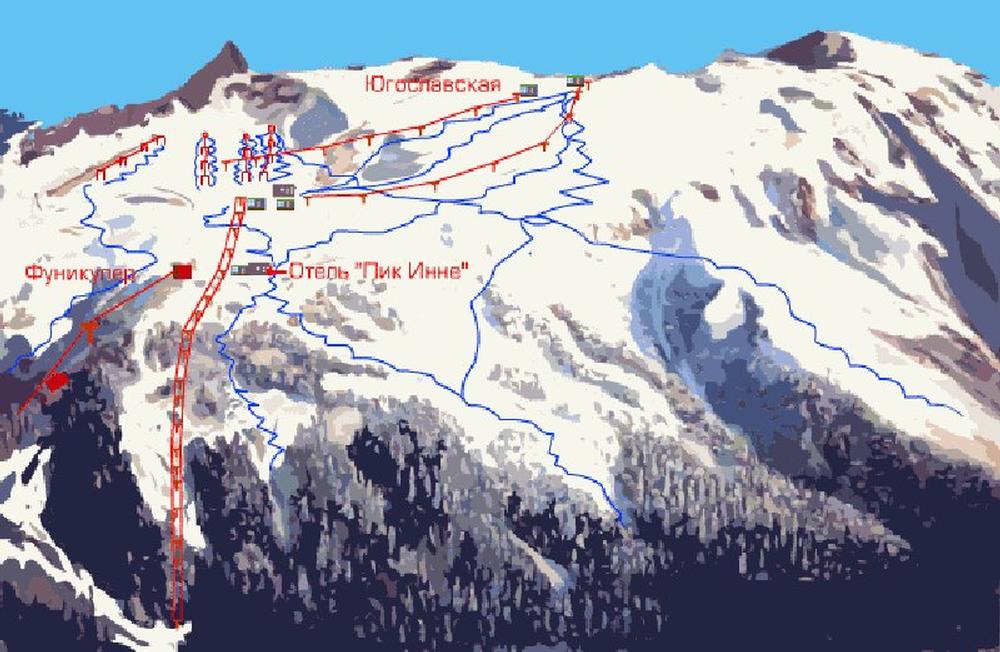 Location