Elbrus and Cheget
Freerider's dream: lots of perfect and unexplored off-piste terrain. The only letdown is the long lift queues and badly maintained runs, but you won't notice if there's lots of snow.

Lift count : 2 x Cable-cars 2 x Chairlifts 2 x Drag-lifts
35 km OF PISTES (21 PISTES)

Pass (Low/High Season) :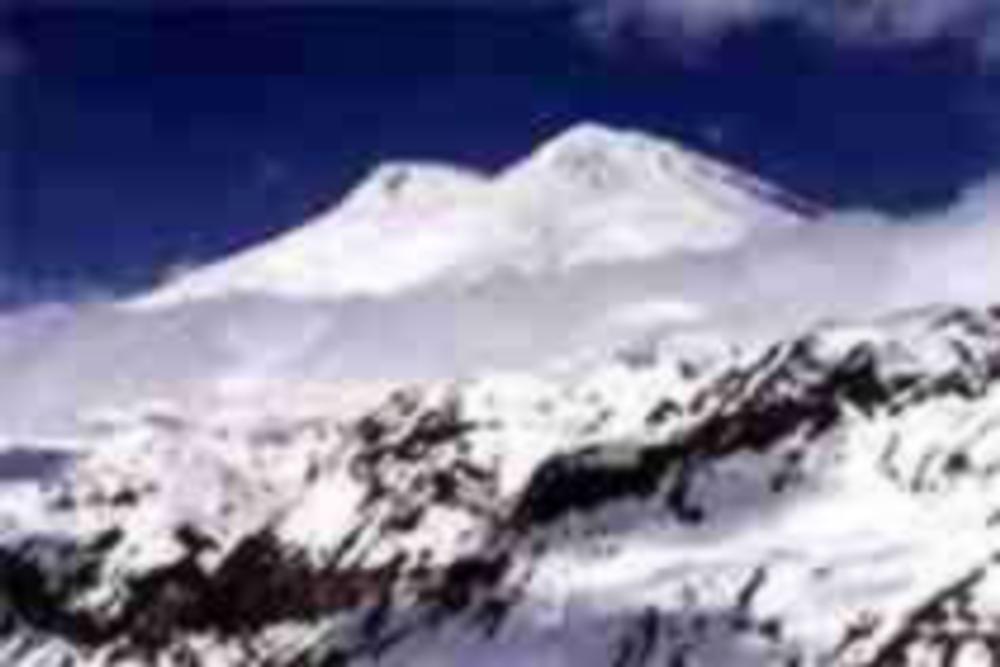 Elbrus and Cheget / Photo: Elbrus and Cheget
Introduction
Elbrus is the highest ski & snowboard resort in Europe (Val Thorens eat your heart out). It's located in Kabardino Balkaria republic in Russia, between Black and Caspian seas at Elbrusie National Park, close to the Georgian border. The center of it all is the famous mountain Elbrus, which with its 5643 m is the highest in Europe. This place is the local freeriders' mecca, offering lots of clear, powder snow terrains, as well as the opportunity to snowboard until as late as August (on Elbrus). Elbrus actually has two main riding areas: Elbrus itself, and the lower Cheget, which is about 2 km to the south. You should try both, but Elbrus usually has more snow and the runs are unmarked. Cheget has less runs than Elbrus, and terrain is very different too: steeper angles and technical trails prevail as opposed to limitless snowfields at Elbrus. Most people are simply scared to explore unmarked trails at Elbrus, the stakes are high. Known to be a skier's paradise, Cheget is much underestimated as boarder's heaven, which it is. Great but dangerous backcountry type of riding down southern & northern slopes is fantastic but for intermediate & advanced riders only. Some runs at Cheget can be quite interesting, unless the locals smoked too much grass and left all the stones and bumps on the slope. The main problem of the resort is the long lift queues (especially on Elbrus people may spend in queues up to 2-3 hours sometimes) and bad maintenance of the piste runs (ice, stones, bumps). However, both problems may be eradicated if you get to the lifts as early as 8am and ride off piste. New lifts at Elbrus is a fairytale (which is 3 years old now) as people working on existing lifts are not exactly interested parties. Cash flows to their pockets as long as the old lift is the only way up. It's a mafia thing, no less. The local service is improving each year and now you can find a lot of accommodation offers there: from luxurious hotels and winter chalets to run-down tourbases and horrible Soviet-style apartments, so whatever is your budget, you'll find the right option. The food here is superb and there's lots of cafes at Terskol as well as Azau and Cheget tourbases and on the mountain itself. The local people are very friendly and hospitable, but have the southern temperament, so if you are nice to them, they will be nice to you. If you look like an arrogant rich foreigner showing off your latest gear, you'll get it all broken against your head. So, if you think you might run the slightest risk, it's better to come in a group of a few people, so you can fight off. Officially, the season starts in December and ends in May, but it's recommended to go in February as it is the most snow.
Piste map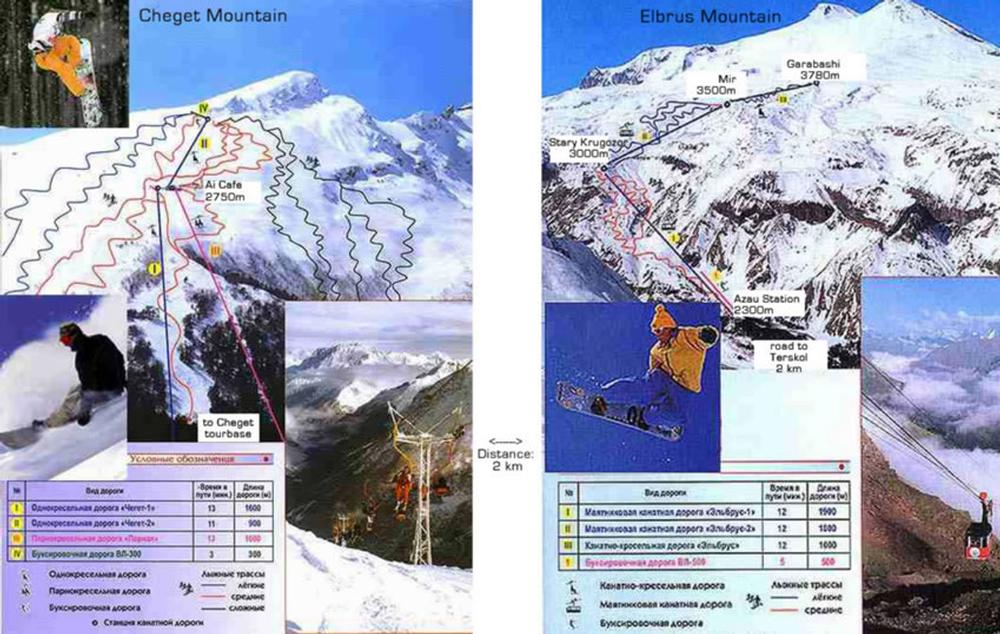 Location