Sierra Nevada
Not bad for some no frills riding, with okay terrain for carvers and easy going freeriders but little for freestylers. Good value local services.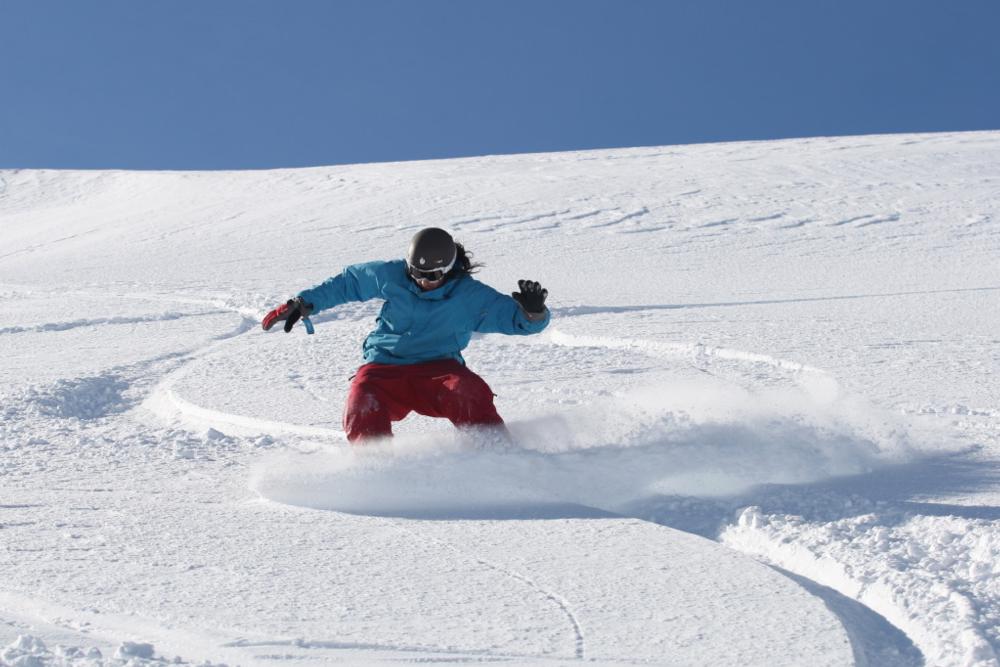 Sierra Nevada Snowboarder / Sierra Nevada
Freeriding
Freeriders should check out the stuff just below the peak of Veleta at 3398m. To do this, traverse to the Olimpica and where this crosses the Diagonal, kick hard to your left and travel off piste on an itinerary known as Tajos de la Virgen. The view above you is truly stunning, (a bowl edged with dramatic cliffs). The Dilar chair takes you towards the Radio Telescope, where after a walk along the ridge you can see below a huge expanse of off-piste which you have just travelled over on the chair. Take any line, the slope is a good safe angle with an easy traverse back to the Solana piste and the Dilar chair.
Freestyle
The resort have really pumped a lot of time and money into building a park that matches anything in Europe over the last few seasons. Joining up all the zones, in the 2013-14 season you'll be able to ride the full 2.5km length hitting 46 features in a row in the parks which at full construction has 70 features including a large halfpipe.
For natural hits, if you ride over to Tajos de la Virgen run, you'll find rolling jumps verging into vertical kickers. Kick back again towards the Cartujo piste and make use of the piste edge with it's many varied banked sides to gain more air time.
Pistes
Carvers are much in evidence here as the slopes lend themselves really well to edging a board over at speed, especially on the fast black trails. Particular good blacks for this are down from the Borreguilles.
Beginners
Beginners; the Borreguilles area is full on for learning the art of hurtling down a mountain on a board, but not the only place to go.
Much of this resort is excellent for novices with good snowboard instruction facilities.