Riksgransen
Midnight freeriding near the artic circle, beat that
Summary
Freeride - 75%
No trees but great off-piste
Freestyle - 52%
No park, but good natural
Pistes - 40%
Short & sweet

Lift count : 2 x Chairlifts 4 x Drag-lifts
15miles (24km) OF PISTES (16 PISTES)

Pass (Low/High Season) :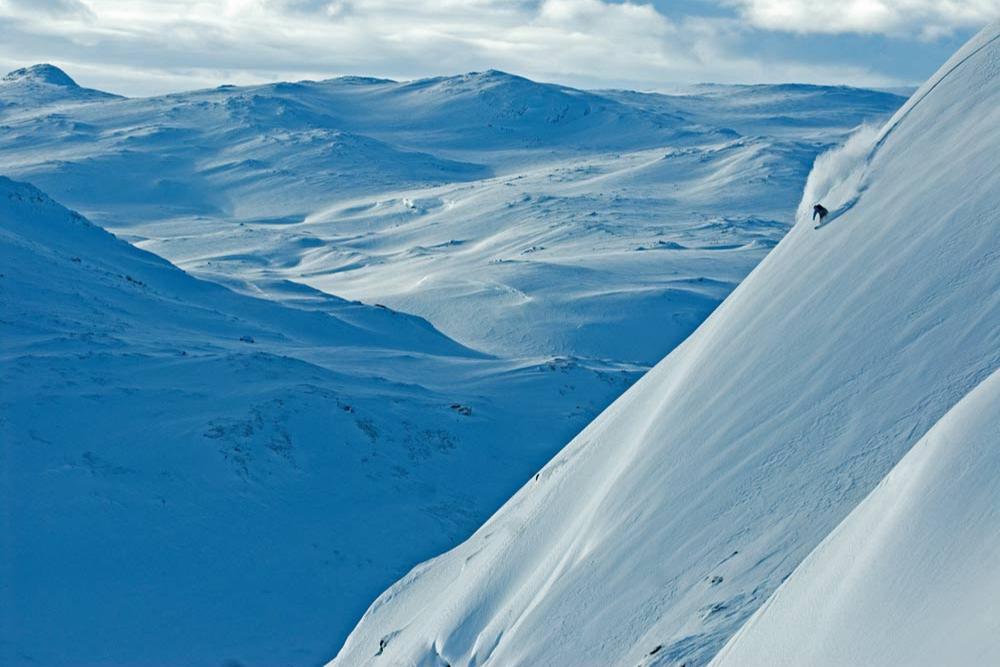 Riksgransen / Markus Alato
Introduction
In a land far far away there is a resort called Riksgransen and if you're very very lucky you might just be able to make it there one day, and if you do you'll be in for a big surprise. Locally known as heaven and hell, and it won't take you long to find out why, this place rocks with huge rock drops, big powder faces, rolling pistes and never any queues at the lifts. That's the heaven part the hell is the weather - it can close out here for days on end and there really is nothing else to do here other than ride the hill.
A hotel, a youth hostel, a shop and a mountain cafe all sit next to the railway line which was built to take iron ore from Kiruna to Narvik on the Norwegian coast, and provide all the off mountain entertainment. It's not exactly kicking, but the hotel has a cool bar with views over the valley and often hosts bands from Stockholm but bring some duty free as its £7 a pint.
The Scandinavian Big Mountain Championships is held here in mid May and if you're planning an end of season visit it's well worth coinciding it with this, the last event for some of the world's best freeriders. There's not too many snowboarders riding here but the skiers really do take some stupidly large air off big cliffs on a 50 degree slopes. The end of event party kicks off big style, you'll find yourself drinking with Finnish Laplanders and reindeer farmers and if you like your ladies or men blonde then you're in luck; well you're in Sweden after all.
The other pulls here are the heliboarding, the ski touring and the fact that on a Tuesday and Friday night they open the lifts for midnight boarding. The heliboard operation is surprisingly competitively priced compared to mainland Europe and with no flight restrictions the drop area is the size of Holland. They even offer a three drop midnight trip for about £280 which is very cool.
The options for off piste over the border in Norway are limitless but you will need either a splitboard or snowshoes and a guide.
The resort opens in February and closes at the end of May, with March and April being high season. It opens again for a weekend in June so you can board on the longest day of the year well into the wee small hours.
When the mountain is closed out, your cabin fever will be telling you that you should have never made the effort to travel 300 miles north of the Arctic Circle. However when the sun shines, often for 24hrs a day, and the rest of Europe has long had their snowboard kit packed away for the season you'll think you've died and gone to freeride Heaven.