Heavenly
Its American! On a normal snow day well groomed trails and easy to follow maps, although not that much in terms of steeps on piste. However on a powder day almost ridiculous in terms of off piste riding both in terms of quality and accessability. 4 snowboard parks all well maintained ranging from Groove at Cal Base for beginners to High Roller off Canyon chair for some seriously large features.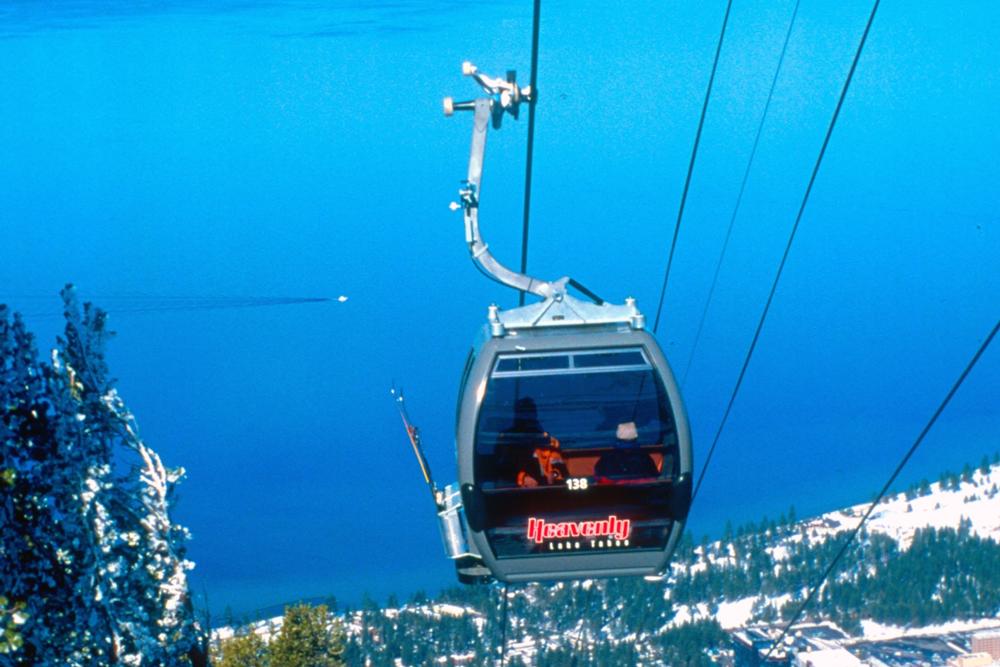 Heavenley / Heavenley Mountain Resort
Freeriding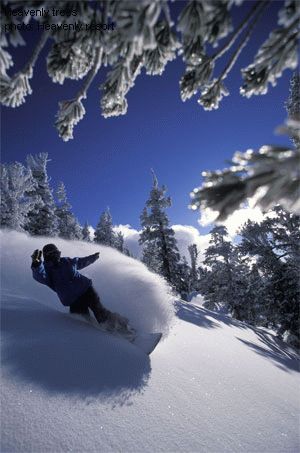 Freeriders will find the most challenging terrain is located on the Nevada side of the resort in the Milky Way bowl. However, it does become tracked out very quickly and would be best left until just after a fresh dump. Still, the Milky Way Bowl is major and offers some great powder. Advanced riders who like their slopes steep and covered with trees should check out the North Bowl. But for those who really want to fill their pants should make for the white-knuckle rides on the Mott & Killebrew Canyon area. Here you will find a series of expert double black diamond runs through a series of chutes. On the California side Maggies Canyon and Powderbowl trees are well worth checking out on a powder day, as is Hogs Back just above Cal Base. However the best use of powder would be to stop a friendly local and ask about Firebreak, a gated run that stretches all the way back to South Lake Tahoe.For something a little less intimidating try the blues off Tamarack and Sky chairs, Canyon offering some easy in/out tree runs.
Freestyle
Freestylers. Well kick my free style arse into space , freestylers are not only provided for but are welcomed with a big hug. Four claimed to be new but really just improved parks where opened last year. Spreading out across both sides of the mountain the parks can offer all level of riders a place to hang out and progress slowly. The Groove Terrain Park is the perfect stomping grounds to learn the basics. Cascade Terrain Park and Powderbowl are the intermediate parks and the stepping stone between the Groove park and the huge hits on High Roller Terrain Park.Snow permitting the resort builds a half pipe on California side with 22 foot walls, yes bigger than the X games or Olympics! Step up to that if you can!The only criticism of the parks may be that they arent as progressive as neighbouring resorts, although Heavenly is attempting a micro park for budding freestylers. The gaps between Groove-Powderbowl-High roller remain however!
Pistes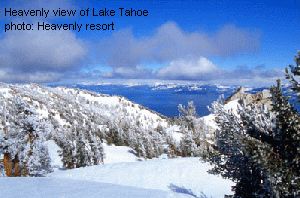 PISTES
. Riders of the piste are not to be outdone, since Heavenly is a highly rated as a groomed resort. There are plenty of well prepared pistes for laying out big tracks on, such as Liz's and Big Dipper. The runs down to Stagecoach lodge on Nevada side are great carving motorways.
Beginners
Beginners may at first feel a little left out with the lack of green runs. However, there are plenty of excellent blue trails to check out. Be aware that in various areas there are a number of blacks that turn off and drop away from some of the easier trails, so check your piste map. The cluster of greens off the Waterfall lift, on runs like Mombo Meadows, are good for whetting the appetite before trying the blues off Ridge and Canyon lifts.
Off the mountain, local action is lively and plentiful. The choice of accommodation, eating and booze joints is massive and many within easy reach of the slopes. However, local services are a bit spread out and having a car here is a must. Locals make you feel at home and services are of a very high standard. However, the popularity of the area does mean that the place can be excessively busy, especially at weekends. South Lake Tahoe has heaps of shops and loads of sporting facilities