Jackson Hole
Great resort with lots of challenging terrain offering some excellent backcountry freeriding. Good and friendly local services, although a bit spread out.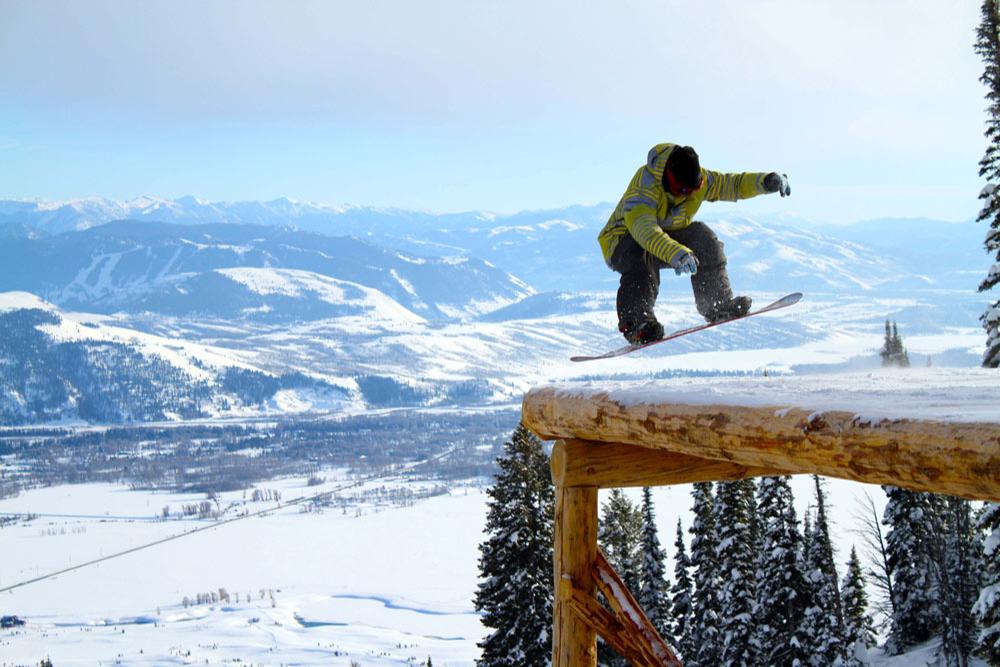 Jackson Hole Snowboarder / Jackson Hole
Town
Immediately at the base area of the slopes lies the resort of
Teton Village
which is more or less your typical horrid ski resort all in set up. That's not to say it's not welcoming, it is, and locals will make your stay a good one. However, the town of Jackson which is a 20 minute bus ride away operating on an-all day basis, offers a more sedate time with a heavy dose of pure outback Americana. Around town there is a lot of activities and not all costing the earth, which makes the place cool and worth it. There is a number of good snowboard shops to check out: such as the
Hole in the Wall
, or the
Bomb Shelter
.
Food options
If you don't leave here over weight, then see a shrink. The place has dozens of places to get food from, whether it be a supermarket, fast food joint or an up-market restaurant frequented by fur clad clueless city slickers. Prices to suite all are possible but on the whole, dining out is not a cheap experience here. However,
Bubba's
is comes highly recommrnded and serves some great chicken dishes. The
Snake River
and
Otto Brothers brew pub
are also noted for their good food.
Accommodation
The area has a vast array of lodging. There isplenty near the slopes in
Teton Village
where you can kip close to the slopes at the Hostel for around $5 a night. For a bigger selection and cheaper prices check out the offerings in Jackson, 10 miles from the slopes.
Nightlife
Night life here is just how it should be, with something for all with a snowboard flavour. Options for some night action exist in either
Teton Village
or
Jackson
itself. Tretton is a lot quieter than Jackson, with
Mangy Moose
, the
Stagecoach
or the
Rancher
all being popular hangouts. As for local talent, the place seems a bit of a guy place but there is some skirt to be had.
Location