Whitefish
Top resort that is a riders dream and very welcoming. The riding is excellent especially for freeriders and novices.
Freeriding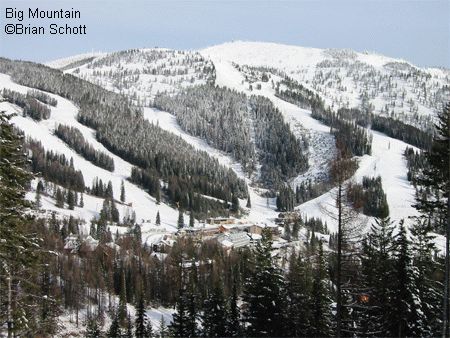 Freeriders
are in for a major treat at this place with a fantastic offering of deep powder, big bowls, lots of trees and great natural terrain features. Basically, the mountain splits into three marked out areas. There's the Main Mountain, which has the most trails and something for every level, the North Side, which has a splattering of tree line black and blue runs and the Hellroaring Basin, which is an area mainly suited to advanced freeriders with riding on black and double black trails.
Freestyle
Freestylers can have lots of fun here and any rider that doesn't appreciate this mountain should give up boarding and become a girl guide. This place is ideal for freestylers. Apart from lots of natural features, there is a massive terrain park off the Silvertip chair complete with table tops, berms, gap jumps etc.
Pistes
The pistes are long and wide corduroy trails, that can be found all over the mountain. It's ideal for riders who want to turn into white van man, or just fancy some easy cruising.
Beginners
Beginners have a great mountain with lots of easy trails especially at the lower sections. There's a number of the blues are suitable for quick learners and novices to ride from the top of the mountain all the way to bottom.