Freeriding, terrain parks and pistes
in Livigno
Freeriding
Freeriders with some history are not going to be too tested here, although the black down from the Della Neve is worth a go and should appeal. There's some nice bowls to ride if you're prepared to hike for a little while, but some areas may take you a long way from the resort. There are some hikes and traverses from the Della Neve to the valley floor but its always best to hire a guide.
There are plenty of stream and gulley lines that run into the lower forested areas, but the tree's do get quickly tight. Runs under the Mottolino gondola into the lighter trees can be fun, but you'll need to be careful crossing the road if you venture too far down.
Between the pistes is pretty fun if not very demanding, and you geography of the mountain means there are plenty of banks and small drops.
Freestylers
For the freestyling park monkey, Livigno should already be on your radar. The Burton European Freestyle Open competitions used to be held here, and plenty of freestyle events still are, and you only have to look at the crazy course the build for the Nine Knights to know these guys know how to build the sickest parks, and the commitment they give to freestyle sets this resort way above the vast majority of European destinations.
There main expert park is on the Mottolino, with monster-sized cheese wedges, and on a good day up to 25 different rails. The superpipe and halfpipe are usually built up here also.
There is a more intermediate park on the Carosello, complete with a boardercross track, several tabletops, a funbox, and over ten rails of varying shapes, lengths and difficulties, this place is a jib monkey's dream playground.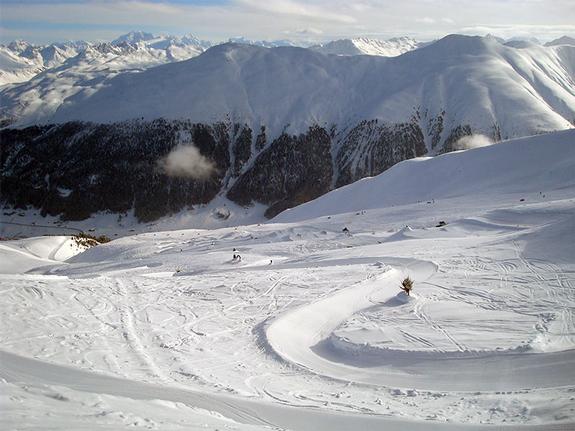 There are a number of beginner park features located around the San Rocco area. Its mostly nice and simple rollers, but there is a small park called the American Park, which has 2 nice kickers and 6 or so boxes.
One thing to note is the main parks require you to wear a helmet, no helmet and you won't get far. The park on Mottolino will lend you a helmet in exchange for your passport.
Pistes
With 110km of pisted terrain, the place isn't huge and intermediates can cover it all in about three days, however there are plenty of wide motorway runs perfect for cruising and you can easily spend a week here without getting bored.
Some of the slopes on the Carosello side of the valley are pretty undulating and it can be tricky to see over the brow when tanking it down the slopes, so keep you wits about you.
If you want some really steep slopes then head to the Della Neve
Beginners
Beginners will find this resort perfect for learning, with wide gentle runs located at lower sections within easy reach. There are also no runs merging into these areas, making it not at all intemidating for newbies.
Slow learners may struggle with the numerous drags but these are only at the foot of the valley. If you just want to give snowboarding a try then hike up the lower beginner slopes and save yourself some cash.
If you get fed up with drags then take the gondola and slow chair to the Vallandrea area and do loops of the 4-man chair.
READ NEXT: Village life, accommodation & nightlife
Resort Information
Location
Advertisement