Livigno
With an amazing park, open terrain, legal and accessible off-piste, a warm Italian reception, and prices far cheaper than most other resorts in western Europe, Livigno is one excellent Italian job.
Summary
Freeride - 70%
Some sweet off-piste
Freestyle - 90%
Very good terrain parks
Pistes - 70%
Wide crusing runs, good for intermediate
Beginners - 75%
Good dedicated beginner areas
Value - 90%
Duty free baby

Lift count : 4 x Gondolas 14 x Chairlifts 13 x Drag-lifts
115km OF PISTES (73 PISTES)

Pass (Low/High Season) : 28.00-33.00 Day , 115.00-150.00 6-day , 115.00-150.00 6-day linked area , 0 Season pass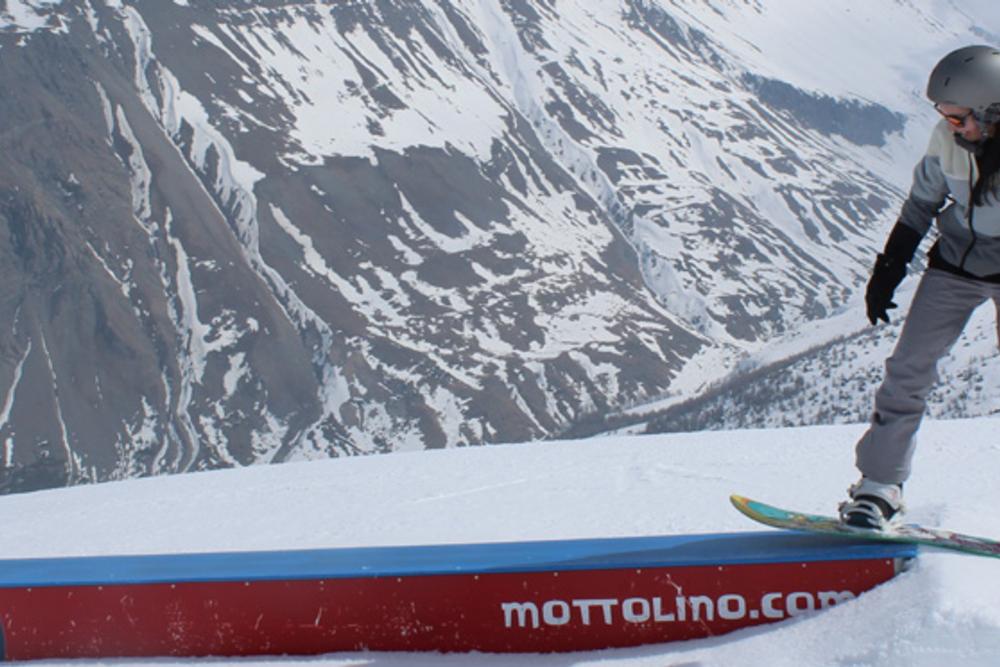 Mottolino Main Gondola / Michael Whittaker
Introduction
The Mottolino material promotes the resort as the 'fun mountain' it's a bold claim to make but those who decide to head here are guaranteed to find out Livigno is a resort that delivers fun in spades.
With amazing freeriding, Europe's best parks, perfectly maintained pistes and a lively après scene Livigno welcomes every level of snowboarder. Throw in a long season with a reliable snow record, plenty of sun drenched days, great prices on food and drink and a lively town with and you can see why Livigno is fast becoming a regular stop for snowboarders in the know.
Depending where you travel from getting here can involve a slightly longer than normal transfer but with cheap flights options from Milan and Innsbruck and good transfer options to get to the resort from it's worth taking the plunge and going the extra mile to discover the fun mountain for yourself.
Arriving in the northern Italian Alps, you can see Livigno is a place that is setup for snowboarders of all levels and disciplines. The town is essentially one long road (10km) running through a valley, with pistes on either side which are all linked by an excellent ski bus service. The pisted terrain is very open, with wide motorway runs overlooking spectacular vistas which make Livigno perfect for beginners and intermediates. For more advanced freeriders, there are easily-accessible off-piste areas, and if you are willing to break sweat and hike for half an hour or so, you can reach some beautiful open powder fields on both sides of the valley. A few years ago freeriding was not allowed in Livigno thankfully the ever forward thinking resort has seen the potential in the off piste area and it's now a lot easier and safer to go off piste thanks to companies such as freeride livigno operating in the area. Freeriders should also pay close attention to the daily avalanche bulletinwhich is constantly updated to reflect the weather conditions.
Back on the piste Livigno has nailed the freestyle scene offering terrain parks which you will have to look far and wide to match. There is a reason why pros such as Aimee Fuller and Billy Morgan willing spend their time here. The main park is situated on the Mottolino and is packed with some mighty wedges but also line for all levels, the other main park on Carosello is geared more towards intermediates and also has a boardercross. Beginners aren't left out with plenty of easy jumps & small boxes around the San Rocco area. Helmets are compulsory now on all of the terrain parks which is a good thing in our eyes, and they do enforce this rule.
Cost-wise, Livigno is dirt cheap. Being a duty-free zone means that everything from booze to boards is cheaper here than the rest of Europe. A 1L bottle of Smirnoff Vodka will set you back a measly £4 in the right supermarket, a half-litre bottle of beer is just 40p. BUT, don't be fooled, Livigno's low prices doesn't mean low quality like some other cheaper resort; far from it, this is a top-notch location with a real relaxed vibe. The prices in the Bars & Restaurants are not quite the same bargain, but for a ski resort they still fall well below the normal prices of most European resorts. They don't scrimp on the measures here either and spirits are nicely free-poured. Expect to pay around 4 euros for a large beer and 2-3 euros per shot.
The lift system is mostly modern, with high-speed quads and gondolas servicing the majority of slopes. Most of the early beginner slopes along the foot of the valley are served by poma-lifts but there is one chair in San Rocco to head for where you can cruise down some blue slopes.
Lift passes are hands-free, and free ski buses run up and down the length of the town every ten minutes or so getting around is easy and more importantly free,
Night life is pretty decent and not posy. There's a few bars that do après ski but things generally kick off a little later.