Livigno
With an amazing park, open terrain, legal and accessible off-piste, a warm Italian reception, and prices far cheaper than most other resorts in western Europe, Livigno is one excellent Italian job.
colwidth:6 firstColWidth:12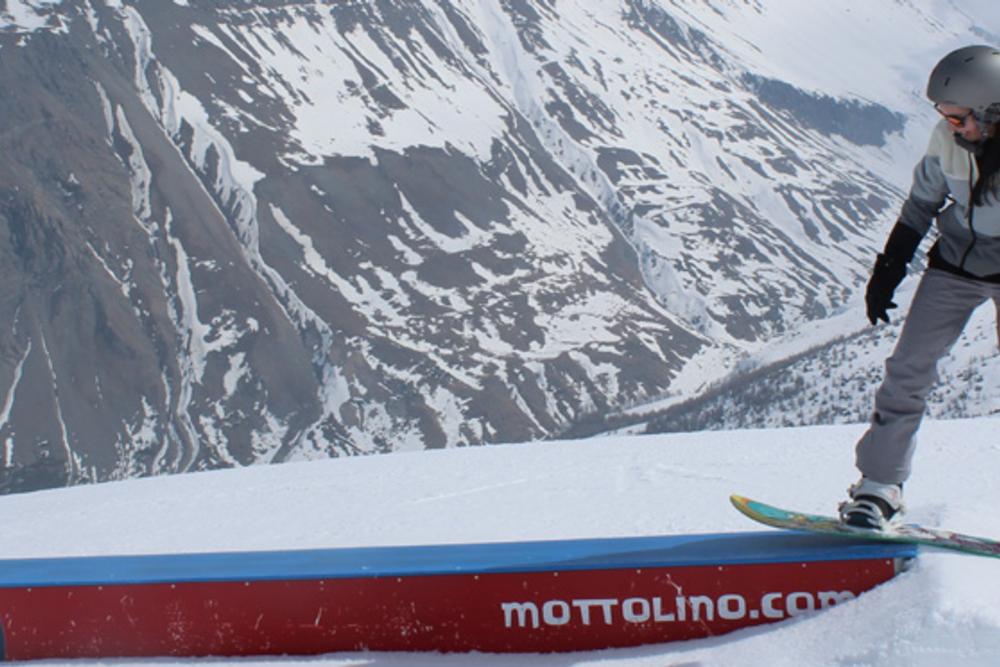 Mottolino Main Gondola / Michael Whittaker
Freeriding
Freeriders with some history are not going to be too tested here, although the black down from the Della Neve is worth a go and should appeal. There's some nice bowls to ride if you're prepared to hike for a little while, but some areas may take you a long way from the resort. There are some hikes and traverses from the Della Neve to the valley floor but for those new to the area we recommend hiring a guide who knows the terrain and can access the current snow pack.
There are  also plenty of stream and gulley lines that run into the lower forested areas, but the tree's do get tight quickly so be careful. Runs under the Mottolino gondola into the lighter trees can be fun, but you'll need to be careful crossing the road if you venture too far down.
If in doubt you should go to one of the specialist freeride companiesin the area who will be able to offer you guiding if needed.
If you haven't quite built up the nerve to conquer the off piste just yet the Mottolino Company are toying with the idea of offering lift accessed ungroomed pistes in future seasons. It's a case of watch this space at the minute but we will update you as and when this is happening. 
Freestyle
For the freestyling park monkey, Livigno should already be on your radar. It's has hosted some major events such as the Europa Cup, The Burton European Freestyle Open competitions and the Nine Knights contest where the parks have been out of these world. There is no doubt that to know these guys know how to build the most fun and sickest parks around, and the commitment they give to freestyle sets this resort way above the vast majority of European destinations, just take a peak in the trophy cabinet if you don't believe us.
The main expert park is inMottolino, and here you will find monster-sized cheese wedges that are really only for the experts, it's pretty fun to stop here and watch what the professionals can do but don't be intimidated as riders of all levels have  freestyle option for them in the Mottoliino fun parks.
A combination of small, medium, large and jib lines are available for you to play on so there really is something for everyone and on a good day the park promises to have over 50 features open. The parks are also backed up by a dedicated snowmaking system so lack of the white stuff is never a problem for these guys.
Mottolino are also hooking the next generation of riders with the recent introduction of the Yepi Snow Course for the kids, we have never seen something done on this scale for the kids before, it's a brilliantly put together course which features a mixture of fun obstacles including bumper bags, mini rollers and an obstacle courses it look a whole load of fun from the side and to be fair we were a bit jealous it was just for the kids. Perhaps we could sneak in after the lifts close!
Across at the Carosello side of the mountain is the beach snowpark situated near the lift Baby La-Salin . The park has plenty of features too and with deck chairs on the snow it is a perfect place to chill out on a bluebird day. In terms of features this is a more intermediate park with kickers and rails in abundance. On this side of the mountain you will also find the forest which is a park that sits just a few steps away from the middle gondola station at Carosello 3000.
One thing to note is the main parks require you to wear a helmet, no helmet and you won't get far. The park on Mottolino will lend you a helmet in exchange for your passport if you are wanting to try things and haven't got a lid.
Pistes
With 110km of pisted terrain, the place isn't as big as some of Europe biggest resorts but there is still plenty of mountain to keep riders happy for a week's holiday a good intermediate rider will probably need about three days if they are aiming to cover every run, however there are plenty of wide motorway runs perfect for cruising and you can easily spend a week here without feeling you are covering the same ground again and again.
On the Mottolino side there are a total of 27 slopes that are well serviced by 4 chairlifts a gondola and 2 ski lifts. This side of the mountain features a mixture of blue, red and black pistes that are nice and wide and will appeal mainly to early intermediate riders. The best way to access these is by either going from the main gondola stop at Mottolino 3 where you can also pick up your rental gear and lift passes or if you get the bus to the Alpen Village Hotel you can take chairlift one to the Camanel restaurant, from hear a quick ride down piste 26 will allow you to ride up chairlift 4 to the summit where you can plot your route down.
If you have the confidence to get up to the top once at the summit everyone has an option. Beginners can cruise down the whole mountain using blue piste 20 which will take them to the mid station and from hear a mixture of blue routes offer a route all the way down to the base station.
Intermediates have lots of red options from the top with piste 19 offering a long descent for those who like to make their legs burn. Also form the summit it is possible to ride a long black from top to bottom using pistes 24 and 26. Piste 26 has a few steeper sections but nothing that will phase a good rider. If you want some really steep slopes then head to the Della Neve area.
 Some of the slopes on the Carosello side of the valley are pretty undulating and it can be tricky to see over the brow when tanking it down the slopes, so keep your wits about you and watch where you stop on the pistes.
Beginners
Beginners will find this resort perfect for learning, with wide gentle runs located at lower sections within easy reach. There are also no runs merging into these areas, making it not at all intimidating for newbies.
The ski shop Dr Rent has some excellent board for hire and the staff dress code has to be seen to be believed it's just brilliant. The resort also has a range of excellent ski schools including the centrale ski schooland the madness snowboard schoolwhere you can get lessons from total beginner to pro level.
Total beginners can head to Campo Scuola it has 2 magic carpets and a number of installations and obstacles of various difficulties which make learning to ski fun and easy. Importantly access is free for children if they are accompanied by a parent or with a ski instructor so it will save some pennies too for those first day on the slopes. 
Slow learners have the option of using a variety of drag lifts at the bottom of the resort or a selection of two man chairs that access the lower slopes but these are only at the foot of the valley.
Although the Mottolino side is not littered with blue pistes the ability to ride from the top to bottom of the mountain on blue pistes is a definite bonus for beginners wanting to experience the whole beauty of the mountain. The blue piste on this side is quite long especially for a beginner so the ability to stop at the M'Eating point halfway is an added bonus.
Over in Carosello 3000 there are a few blues that will appeal to those in their first weeks piste 28 near the Costaccia restaurant offers some nice slopes to learn on where you can take a number of different paths so it never gets too boring. The restaurant has a great terrace and live music so is worth a stop too.