Mt Baker
"Legendary snowboarder's resort with ample diverse terrain to suit all styles and levels. You'll need a car to get around the basic but laid back town"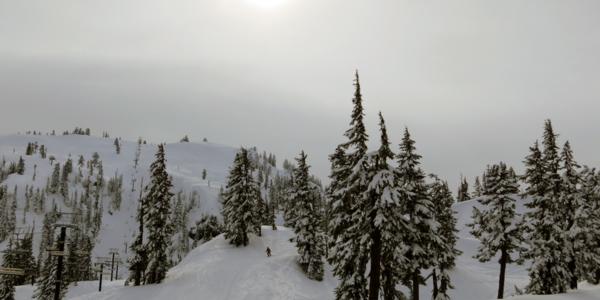 Mountain stats
Lift count : 7 x Chairlifts 2 x Drag-lifts
Ride area 1000acres
Longest Piste:
1.75miles (3km)
Pass (Low/High Season) : £35.66-30.38 Day,
If sex was a mountain, Mt Baker would be the orgasm. This treasure is pure snowboarding heaven, with a snowboard history that is written in big letters and a mecca for anyone wanting super gnarly terrain, balls deep in powder. In the early days when other ski resorts had their heads up their arses and were banning snowboarders, this amazing place took a far different view. That foresight has crowned Baker as one of the best unspoilt snowboard resorts in the world, and home to the legendary Banked Slalom race, which is held every year. Located in the far north of Washington State, Mt Baker was home to the all-time legend Craig Kelly, who liked riding Baker's terrain so much, he moved there.
Due to Baker's isolation, crowds are seldom seen and if you come mid-week you'll almost have the place to yourself. The resort is about 20 miles from civilisation in the form of the small town of Glacier, population 370, and just like the resort, the town has no hype or BS, just a laid back place to chill out after a day hitting one of the best snowboard destinations on the planet.
The slopes span two mountains - Mount Shuskan rising to 2,963m (9,720ft), and Panorama Dome with its more modest summit of 1,524m (5,000ft). Both mountains offer the opportunity to ride steeps and deep powder, with the majority of advanced piste set out on the Panorama side. The resort operates 9 chairlifts but you won't find a single one with a restraining bar, so just be thankful if you fall off you'll be landing into lots of fluffy pow.
Baker gets a lot of snow, a huge amount, back in 1988-89 it received an unbelievable 29m in a season, so don't be too disappointed if it can take a while to sometimes dig the chairlifts out of the snow or make some of the areas safe to shred.
Baker is a place for freeriders, and the only time you'll ever really hit the pistes are for getting to that next stash of pow, and in this age of luxurious base villages with stupid heated pavements, you should be thankful and embrace everything Baker stands for.
Resort Information
Location
External Links
World Ranking
Advertisement