Mt Baker
Legendary snowboarder's resort with ample diverse terrain to suit all styles and levels. You'll need a car to get around the basic but laid back town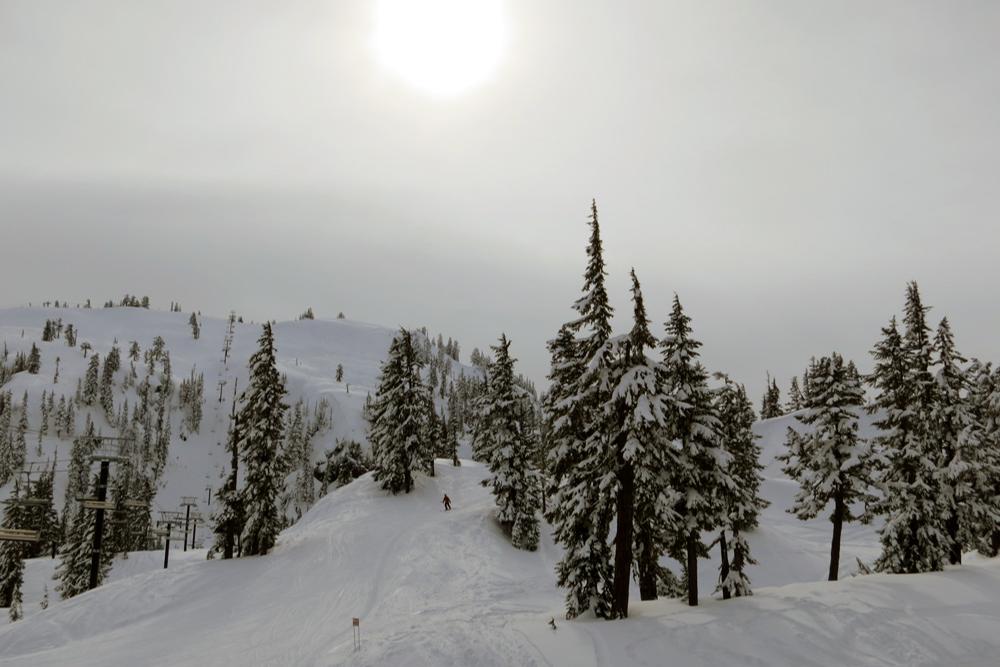 Mt.Baker / Photo: Steve, WSG
Town
Mt Baker has no accommodation at the base of the mountain, and only 3 little lodges on the mountain. The nearest civilisation from the resort is the small 'town' of Glacier, about 20 miles away. Turning up here might give you the impression you've stumbled onto the 'Deliverance' film set, but you'll quickly come to understand it doesn't pretend to be anything other than a simple laid back place with a cool vibe, with locals who are as unpretentious as you can get. The town doesn't seem to have changed in decades - mobile signal is limited and wifi hotspots are only just becoming standard.
There isn't a great deal to see or do here; a couple of restaurants and bars, the general store, a bakery, a few ski hire places and the almost legendary Mt. Baker snowboard shop. The shop is almost a museum to the history of snowboarding in Baker. On one wall are stacks of signed photos and commented magazine shots from the pros, and out the back in the workshop you'll find an array of snowboards from the ages including one of the original snow surfer boards.
There are a more facilities a further 10 miles away in the town of Maple Falls, including the nearest petrol station, but if it's a big town you want, then stay in Bellingham on the west coast which should only take you about 90 minutes to get to Baker.
Mt Baker itself is a winter-only resort although the dirt roads lead to some pretty spectacular summer hiking with amazing views across the North Cascades. These are views you don't often see in winter because the vis is low (read: its puking with snow!). Glacier has some good downhill trails, hiking, lakes and offers a secluded summer break in the forest.
Food options
For breakfast or just to grab something for the drive up, head to the Wake n' Bakery. It's just off the main drag close to Mt. Baker snowboard shop. They serve great coffee and homemade pastries, not forgetting their hemp cookies, perfect for those down days.
The locals favourite spot is Chair 9 which has alarge bar-style menu, draught beers and generously poured cocktails. Milano's on the main street serve pasta and pizzas, and directly opposite is Graham's which is both the general store and the main bar/restaurant in town. At lunchtime they run some great $5 specials and the fish taco's are some of the best you'll ever eat, the rest of the food is pretty good too. 
Up on the mountain, the first base you come to, the White Salmon Day Lodge, serving some good value food and drinks, and at the weekends the restaurant at Heather Meadows Day Lodge is open too. However the best place to eat is the beautifully built Raven Hut which opened in 2011, located at the bottom of Chairs 4, 5 and 6. Based on the 1940's Civilian Conservation Corps huts, it's the ideal place grab a coffee, beer, bite to eat or dry your goggles from powder around the huge log fireplace. The $10 burgers are excellent, as are the pulled-pork rolls, and you can save a few dollars going for the chilli bowls or the salad options if you're missing your greens.
Accommodation
You won't find any accommodation up on the resort, and the nearest places to stay are down in Glacier, and you'll still need a car to get around as things are very spread out. With current zoning there are no plans to develop a resort or even hotels so accommodation options are left to a handful of small locally-run businesses.
Blue T Lodge next to Chair 9 in Glacier offers simple accommodation with everything you need to rest your head at the end of a long day. With prices from $109 to $129 per night you're better off going with Luxury Getaways (stayatmtbaker.com).
Don't be put off by the fancy name and their list of amazing properties, the prices are still very reasonable ($109 for a 1 bed condo up to $499 for a 4 bed chalet), especially as they give you access to a property rather than just a room. Luxury Getaways have a number of properties across the road from Chair 9, and others around town plus a fantastically easy check-in/out process! In fact price-wise they even rival local B&B's and Air BnB properties. With fireplaces, hot tubs and one property even having its own dock and boat in the summer months, even paying a little extra or splitting the cost amongst your family/friends is worth it.
Maple Falls is another small town a further 10 miles down the road away from Mt Baker offering more accommodation options and the local towns of Bellingham and Sumas (on the US side of the Canada-US border) also have some good options. On a side-note, if you're crossing into or from Canada, Sumas is a good quiet option. Check out Bob's Burgers for both accommodation and food whilst you're there!
Nightlife
You won't find any of your typical après nonsense here. Things are laid back but a good crowd will ensure things can get as messy as you want. Grahams and Chair 9 have happy hours that finish at 5pm, a pool table, and host various bands and open-mic's throughout the week. Chair 9 is the more lively venue, and serves cocktails and numerous shots as well as a good selection of beers. Things tend to wind down around midnight but on a good night will only really close when the last person has had enough to drink.
Location