Mt Baker
Legendary snowboarder's resort with ample diverse terrain to suit all styles and levels. You'll need a car to get around the basic but laid back town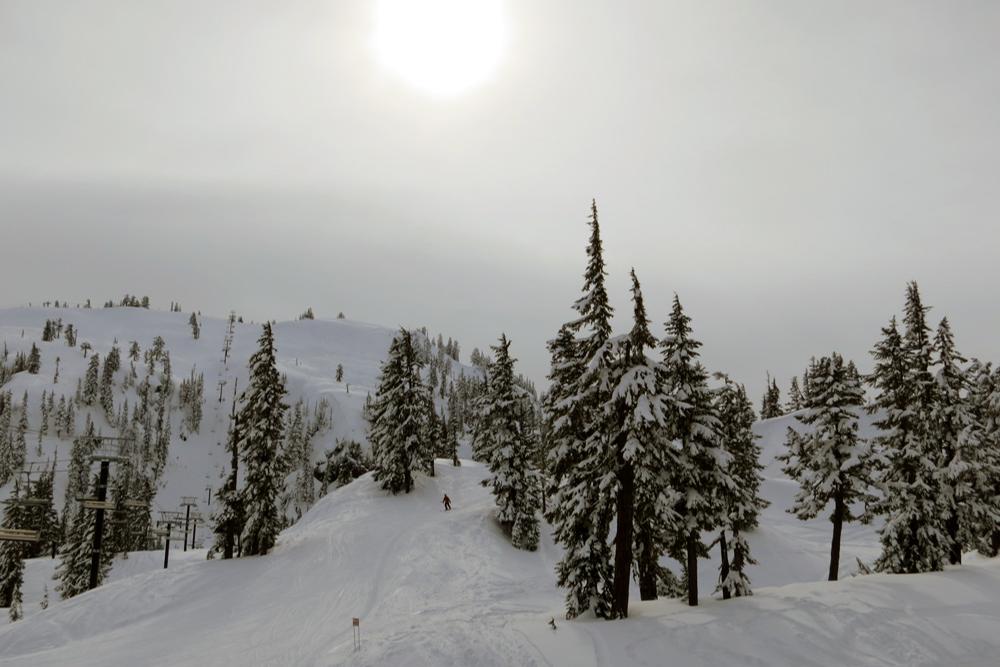 Mt.Baker / Photo: Steve, WSG
Freeriding
It doesn't seem to matter if it's the weekend when it's busy, or during the week when things are quieter, whatever resort you go to you need to be on that first lift if you want pure untracked freshies. Because of the standard of the riders at Mt Baker, by lunchtime everything inbound and much of what is out of bounds has tracks through it. Saying that, fresh stuff can still be found at 3pm and the snow is usually so soft it fills in the tracks you've put down in the run, unlike bigger busier resorts where everywhere turns to mogul runs by midday.
The resort is known for its fun inbounds terrain but has a very open policy to going off-piste and positively encourages it – providing you have the correct equipment, some experience and a buddy. It is important though that you read and adhere to all the signs; when the signs says cliffs, there are cliffs, and you really need to make sure you know where you're heading in the extreme danger zones, so scope things out before you launch off anything or your epic trip will be cut short, and it's a long and winding road to the closest emergency room!
The resort has 8 fixed-quad chairs, imaginatively named Chair 1, Chair 2, Chair 3 etc. You'll be wanting to spend most of your time riding Chairs 5 and 6 though, the latter of which has only single and double-diamond runs off of it. Chair 6 and 1 give you access to The Chute, a narrow gully between a huge cliff-band which can be one of the first lines to be shredded as it's right under Chair 1. Chair 5's equivalent is Gabl's, a steep pitch with a good fall-line and tonnes of features to huck off. Expect your audience above to be cheering and hollaing when you stomp it or wipeout though!
Chairs 1 and 6 also give you access to Pan Face, Gunner Bowl and The Canyon. The latter two can take a while to open due to avalanche risk from out-of-bounds areas above, but if you like it steep and deep then keep an eye out for when they flip the signs to 'open'. Resist the urge to duck the ropes before this though, you'll notice pretty much everyone respects the signage in that area, partly because it's the surest way to get into major trouble, and maybe face prosecution. Short runs but totally worth it.
Another fun area is right under Chair 6, Canuck'sDelux and the trees to riders' right which provide plenty of great and relatively easy powder opportunities and loads of little drops and hits. You can just lap these areas all day long.
Other notable mentions include the natural half-pipe off Chair 5 which they use in the Legendary Banked Slalom and the trees far riders right of Gabl's which can pack up pretty deep (lots of cliffs in there though).
The ski boundary markers are clearly signposted, but if you've got all the right equipment, and know the conditions then it's all open to you, hiring a guide or a finding a trustworthy local to show you the goods is your best option. Don't just follow someone's tracks, however tempting it is, as you can get into some serious trouble here. Cliffs really do mean cliffs!
If you're not feeling too hardcore then there's plenty of nice easy pow to find off Chair 8 which tends to gets ignored by the masses.
Freestyle
Freestylers who like their hits natural will find nowhere else quite like it; there are so many drops and things to launch yourself off, and some mighty cliffs for those with the balls and a death wish. The famous Banked Slalom course can be found just off the top of lift Chair 5 in the Shuskan area. This long natural halfpipe winds down the gulley alongside the piste and is super fun. The contest, held in February, is the longest running snowboard competition and dates back to 1985. It still attracts hundreds of competitors all shredding for a duct tape trophy and one hell of a party which follows. 
For those lacking the imagination of hunting out the epic hits and are looking for a terrain park, Baker will not deliver. Rumour has it there was once a small terrain park, called the Pinky Park, located at the top of Chairs 3 and 4 but there was no sign of this when we last visited in 2017. As its name might suggest, this wasn't really aimed at the hardcore park rat anyway and apparently featured a few kickers and okay rails; maybe it was just hidden under all the fresh pow!
Pistes
People don't come to Mt Baker for its pistes; it's not to say that they aren't particularly good, but the focus is firmly on freeriding. None of the double black diamond slopes are ever groomed, as are few of the regular black slopes. If pistes are your thing then loop the Shuskan area and Chairs 5 and 8, where you'll find a good selection of long well pisted groomers there, with absolutely no flat-bits or dodgy cambers to worry about, you'll also find things pretty quiet. Any nasty cat-tracks tend to have it in their name.
Beginners
Beginners won't be completely disappointed with Mt Baker, with the option of learning on plenty of easy runs that are spread out around the area, the best being located on Shuskan. The best place to start though is on one of the free handle tows and progress up to Chair 2 (discounted price). However, they can be a little flat and the closest base, Heather Meadows, is closed mid-week. There is a dedicated slow-zone that runs from Chair 7, and very few riders using these slopes to access other parts of the mountain. You won't find any tricky t-bars or drag lifts, and the run-offs from the chairlifts are usually pretty mellow. A note for nervous parents: the only chairs with safety bars are the shortest and mellowest on the mountain, the rest ride over some pretty gnarly terrain!