Axamer Lizum
A great resort that will appeal to freestylers and intermediate freeriders spoilt only by the weekends queues. Some might find a full week stay to long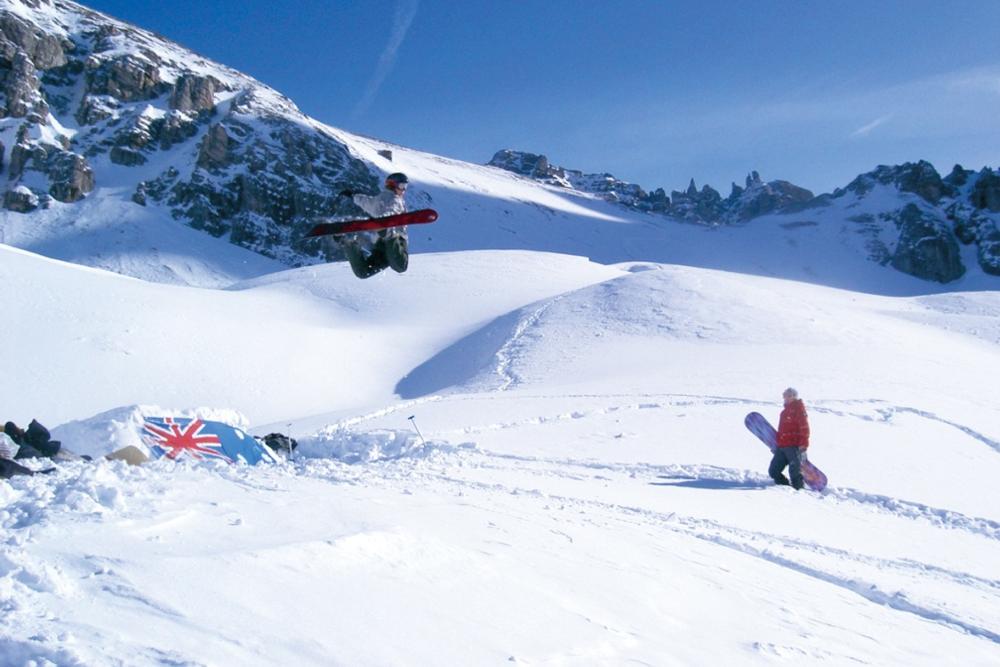 Axamer Snowboarders / Axamer
Freeriding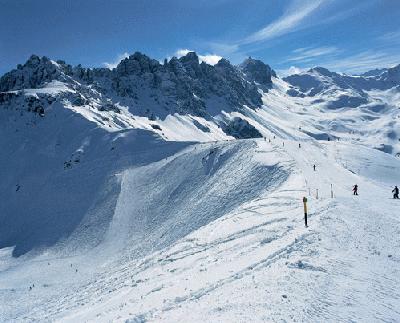 Freeriders wanting off-piste and trees won't be disappointed, although it should be pointed out that the resort management frowns upon shredding through the spruce since it kills off the trees.
Off-piste terrain is limited, but if you get the conditions, great powder can be ridden without a trek. There's a great area if you go right at the exit point off the funicular train, and follow the line of reds, Trail 4 and 3. Riders already past the novice stage and with a few bruises under their belts, will be able to collect a few more down Trails 5 and 5a.
Experienced riders can go for it down the blacks on Piste 10 where the trail is on a bumpy, steep run, and is not the greatest descent in the world. When snow permits its possible to board to Gotzens but you're going to need someone to show you the way.
Freestyle
Freestylers looking for the best hits should take the funicular train to the top, then follow the Number 1 blue run off to the left, which will bring you out onto a really cool mixture of red runs, with the best hits on Run 2. The terrain park and halfpipe are located at the base area and reached from the beginner's T-bars or by hiking up. The terrain parks been upgraded but still not huge, and the pipe is not up to much, but with such good natural terrain, you don't need man-made hits.
Pistes
Riders of the piste will look and feel a little out of place here, as this is not long, wide autobahn territory. Saying that, there is room to crank some big carves, especially on piste Numbers 1 and 2.
Beginners
Beginners having their first go at snowboarding can loosen up and get to grips with the basics, on easy trails located at the base area just up from the ticket booths. The only drawback is that the easy slope is serviced by two T-bars, which may cause shy ones a few problems at first, but not for long.