Fernie Alpine Resort
Excellent open bowl freeriding on crowd free slopes and a mountain with a good annual snow record. Good for beginners and ideal for natural freestlye riding.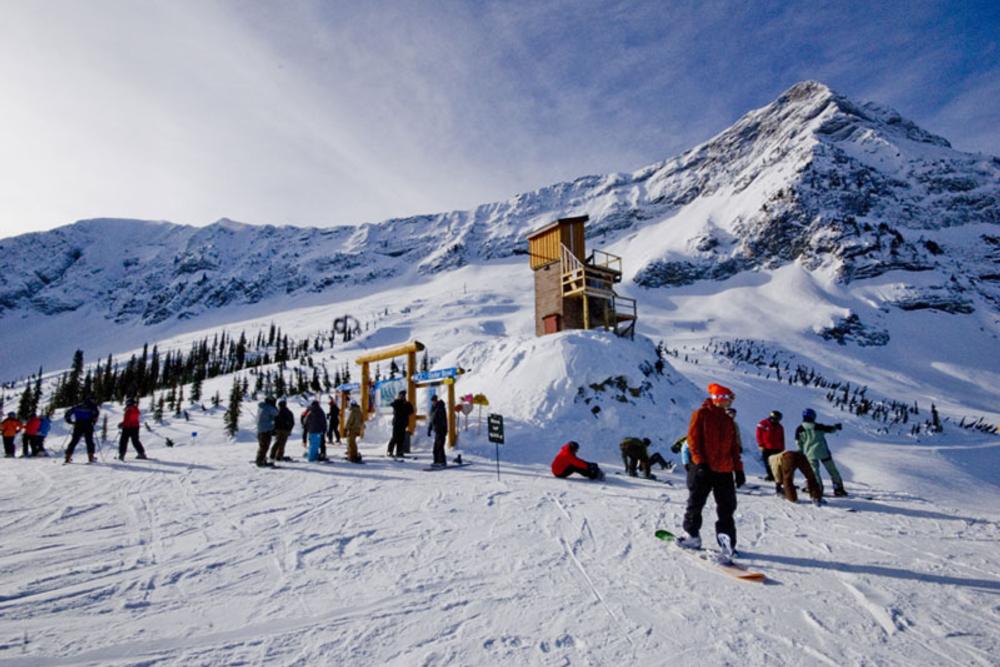 Fernie Mountain / Jamie Miller
Freeriding
Freeriders, this is what Fernie is all about. Advanced riders looking for steep tree runs could do worse than heading up to White Pass, then traversing around Currie Bowl to Stag's Leap and the surrounding area. Or, at the top of the Timber Quad, a quick two-minute walk will take you to the top of Siberia Ridge, where you can pick your line and charge through the well spaced trees. Unfortunately due to its increasing popularity you may have to fight for your fresh lines. Once the ski area is tracked out, there are a number of 30-40 minute hikes that are worth every lung-bursting step. Make sure that you are not the one to put the boot pack in. Head to Mongolia Ridge for more trees, Polar Peak for stunning panoramic views, top of the Face Lift for short powder fields or traverse around to the Currie and Lizard Bowl ridges for some serious double black diamond chutes like Corner Pocket or Lone Fir. Also worth checking out, if the avalnche danger is low, is Fish Bowl which is located just outside the area boundary just past Cedar Bowl. Make sure you have your avy gear!
Freestyle
Freestylers, you may be a little disappointed as Fernie no longer has a park or halfpipe, however management has put more money into developing the rail park, but it's not upto much. There are now six new rails. You don't have to hang out in the rail park to jib.....there's plenty of natural hits all around the mountain. In fact Fernie is one big terrain park! If you and your mates feel like getting away from everyone why not head to Lost Boys in Siberia Bowl or the area below the Face Lift traverse and build your own kickers to huck yourself off into deep, soft powder.
Pistes
For those of you who like to stay on piste, Fernie has plenty of wide open runs that are groomed regularly. After a fresh dump of snow, what is better than laying out some big carves on that packed powder corduroy. Try the Bear, North Ridge or Falling Star.
Beginners
Beginners will enjoy learning to ride at Fernie. Instructors are of high standard and will have you up and going in no time. Once you have enough confidence to leave the confines of the Mighty Moose beginner area you will find plenty of empty, tame runs off the Deer Chair, before trying the Bear and Elk runs which link together to give a long ride down to the Day Lodge.