Fernie Alpine Resort
Excellent open bowl freeriding on crowd free slopes and a mountain with a good annual snow record. Good for beginners and ideal for natural freestlye riding.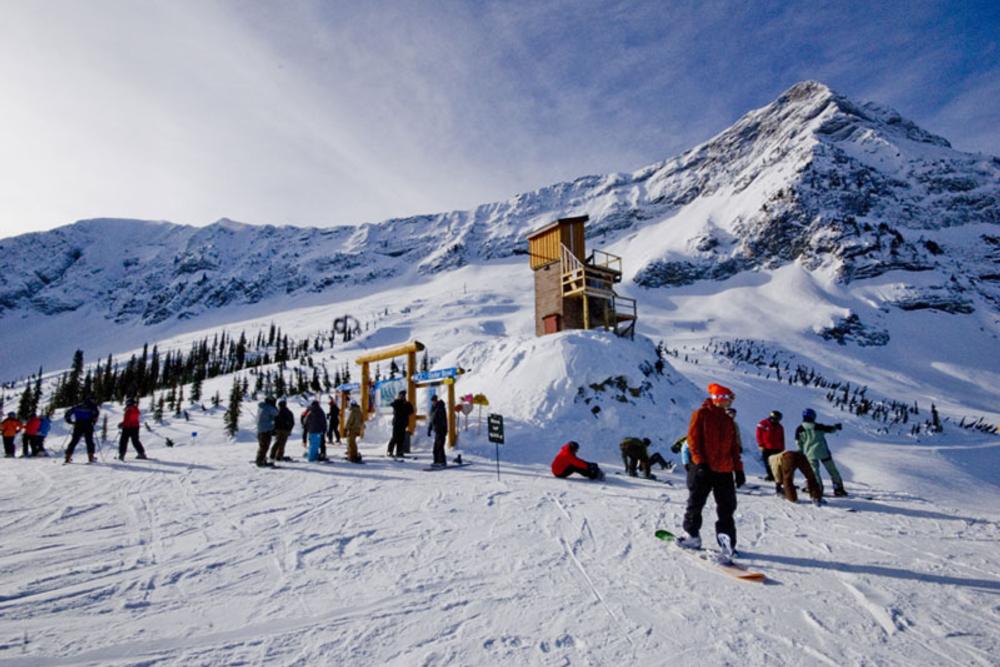 Fernie Mountain / Jamie Miller
Town
The town of Fernie has developed from the coal and lumber trade and is situated on the banks of the Elk River and beneath the impressive Lizard Range on which the ski area lies. Accommodation and local services can be found a few minutes down the valley in the old town of Fernie. Here plenty of affordable places to eat, sleep and drink are offered with a bit of a Wild West feel. Lodging is available at the resort base, but it is more expensive. There is a shuttle bus service that operates to and from the mountain on a daily basis, costing around $6CAD for a return trip. Fernie offers a high level of services with a host of attractions which include ice skating, a cinema, swimming pools and other sporting faciities. Fernie is also a top summer destination with plenty of fly-fishing, hiking and mountain biking. Mountain biking is huge here with several lifts running during the summer so people can ride down the snow free runs!
Food options
The choices for eating out are extensive and cater for every pallet and every price range. If you wish to dine out in style then you should check the Lizard Creek Lodge dining room. Gabriella's is the place for Italian dishes while Rip & Richard's is noted for its local cuisine. Smitty's Restaurant is noted for its pancakes, breakfasts and light lunches. By far the best down in town is the Currie Bowl but get there early.
Accommodation
There is plenty of budget accommodation to choose from. The Raging Elk and the SameSun are two conveniently located hostels downtown and there is any number of hotels and motels. On the mountain hotels and self catering apartments include The Wolf's Den (cheapish) and Lizard Creek Lodge (more expensive) but offer ride-to-your-doorstep convenience.
Nightlife
Night-life in Fernie is rather tame but still enjoyable. There are a number of bars but they all seem much the same. Check out Eldorados for live music, The Central or the imaginatively named The Pub which has pool tables and table football.
Location