Kicking Horse
Think you're a good rider? Come to Kicking Horse and get your ass kicked! Forget the trail map and your traditional way of assessing a resort by number of runs etc - this hill has 85 chutes alone and almost the entire area of the upper bowls is freeride terrain.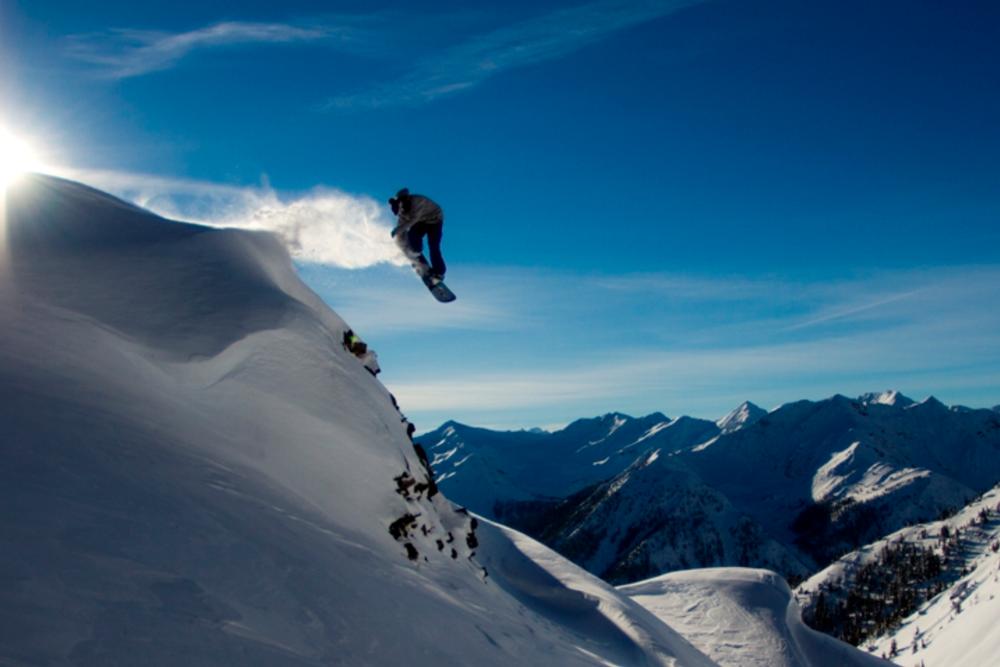 Kickign Horse Snowboarder / Andrew Mirabito
Freeriding
Freeriders will love Kicking Horse; it's one of a few BC resorts with wide-open Alpine powder faces. You can drop into Bowl Over and Crystal Bowl directly from the top of the Gondola and Stairway chair but on powder days these faces get schralped in seconds so ride down the ridge tops to find a clean line - either a chute to the north or a tree-dotted mellower face to the south. The piece-de-la-resistance of KHMR is the aptly-named Whitewall - the huge, steep backwall of Feuz bowl. Often a mandatory 10' drop-in off the cornice at the top you've then got to make sure you don't accidentally sail off one of the many cliff-drops - tongues get bitten a lot here.
Once out of the bowls you've got the choice of tighter trees, marked runs or a combo down the face of the resort. The 'beginners' run 'It's a Ten', an access road criss-crosses the mountain so you can throw together a multitude of combinations simply by dropping off it at different places each run - but watch out for hidden cliffs!! The 3 mellow runs to the south of the Catamount - 'Got your Goat', 'Wapiti' and 'Big 'Ol Bear' and the trees between offer powder stashes that last for days after the rest of the hill has been done. When things get packed, smooth and fast a favourite run is Crystal Bowl-Euphoria-Blaster-Wiley Coyote - a super-fast blast that'll blow away any hangover.
If you're properly equipped, trained, skilled and informed then head North or South out of resort boundary into the bordering terrain. Another beauty of this resort is that even 2 bowls north of the resort you can ride back to base - it's a gnarly ride but possible!
If you've got spare CA$, then why not consider a heli-boarding trip - a number of operators are based in or near Golden - see Guest Services at KHMR for more details.
Freestyle
Freestylers may be forgiven for thinking that Kicking Horse is not for them - freestyle is NOT what Kicking Horse is about. Its splattering of natural hits and the occasional log won't keep your attention for long. A park is slowly growing and evolving but is often closed, even at weekends. If you want big-air then go to Louise.
Pistes
Piste-bashing, or 'grooming' as it's known here, is generally limited to the bottoms of the bowls, the mid-mountain fall-line tree-cut runs and the base though the access road trail 'It's a Ten' is (usually) groomed top-to-bottom. Not every run gets done every day so make a note of which were done the night before (chalked on the main notice board every morning) - it's never much fun riding fast off the cat-track into a mogul-field!
Beginners
Beginners might look at the piste map and think that the place is made up of runs not suited to their ability - you're right. If you have to be here then you should start by heading up the Catamount chair where you'll be able to chose a number of well-groomed, very wide runs. If you can handle narrow, flat cat-tracks then head up to the top and check out the Crystal Bowl area but be warned, it's over 5 km's of the narrow stuff before you'll get back to the Catamount area.