Kicking Horse
Think you're a good rider? Come to Kicking Horse and get your ass kicked! Forget the trail map and your traditional way of assessing a resort by number of runs etc - this hill has 85 chutes alone and almost the entire area of the upper bowls is freeride terrain.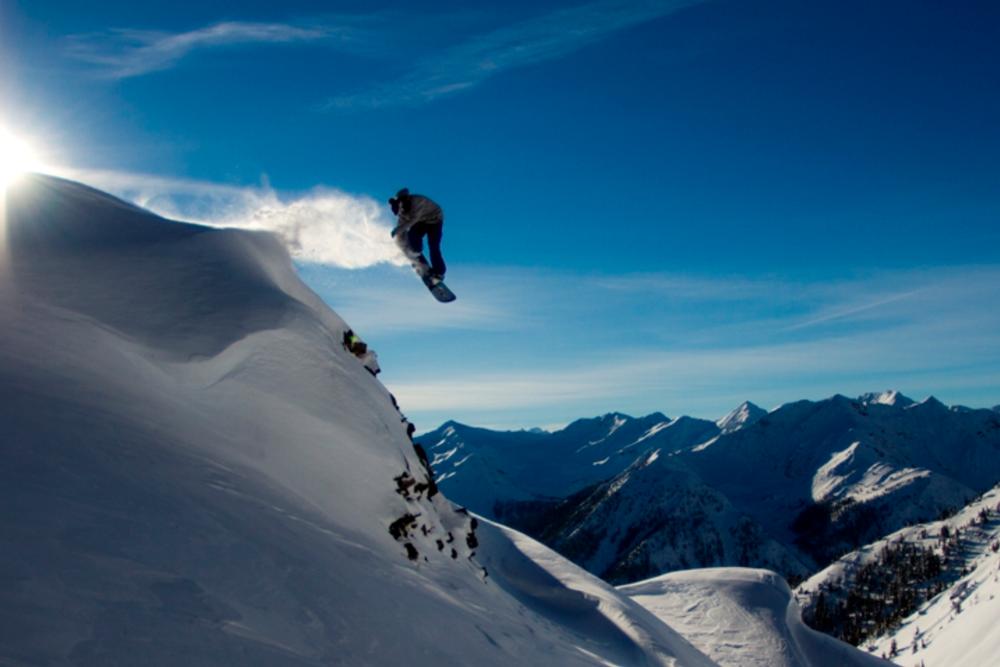 Kickign Horse Snowboarder / Andrew Mirabito
Town
Resort - At base, there is little on offer but all you need. Firstly, there is the Day Lodge housing all the usual facilities, Guest Services, the Whitetooth Grill (a canteen) offering cheap eats, space to picnic. Back outside there is the resort-owned Rental and clothing store, a small privately-owned gear store, a Sushi bar, coffee shop and Extreme Peaks bar offering pitchers of beer for $15 and HUGE plates of nachos for about the same (amongst other menu items) - this is THE place to hang out watching the stragglers ride in. There is also a General Store but the prices are generally 50% more than you'd pay for anything in town.
Golden - Town doesn't offer the same shopping opportunities as, say, Banff but you came here to ride not shop, right?.. There is a great board shop, Darkside, and a couple of other outfitters. 
Accommodation
There is slope-side accommodation available but is aimed at the Calgary weekender so is not usually cheap but deals can be had - $99 for a huge Queen suite on a w/e in Feb for example. Contact Guest Services or check out the official website
For those on a budget, there is the newly-opened Dreamcatcher Hostel in downtown Golden offering private rooms and dorm beds @ $30/night.
Also recommended is the Kicking Horse River Lodge, another hostel, though this is a little more expensive and a short walk out of town but perfectly positioned to hitch a ride up the hill in the mornings.
There is also the Kicking Horse Hostel but it's poorly located and reviews are not good.
Nightlife
Resort - A short walk away from base is Corks Restaurant and The Local Hero pub - a Scottish-owned bar that has a great atmosphere and a good menu.
Golden - A bunch of restaurants, a couple of bars (The Golden Taps and the Riverhouse are the locals hangouts) and a 'club', the Rockwater, makes up Golden nightlife - it's generally a sleepy place but Thursday at the Taps is a must-do for the open-mike night and the Rockwater gets some good talent in. Unfortunately, the days of the Roadhouse, a logging-truckers strip-joint, are long gone - an oft-mourned institution that is now the Dreamcatcher Hostel.
Location