Whistler/Blackcomb
Major riding for all styles and all levels, especially backcountry and amazing park and pipes.But take note: lift queues can be very long, especially at Easter and Christmas. Avoid major holidays if an option and Sundays are quieter than Saturdays, especially on Blackcomb. Great summer riding on Blackcomb Glacier.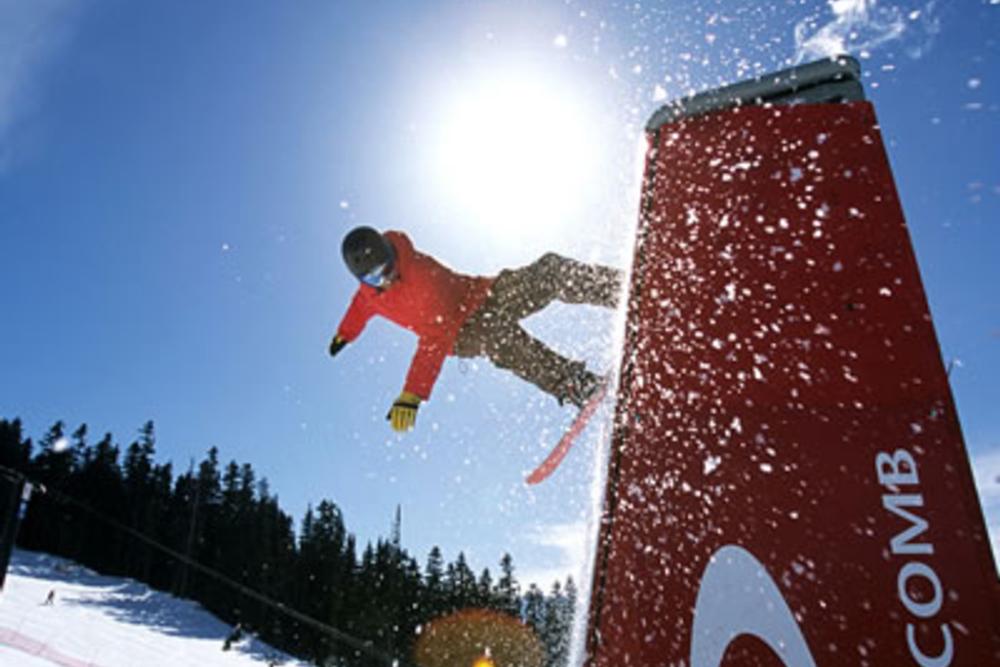 Wallride on one of Whistlers terrain parks / Photo: Toshi Kawano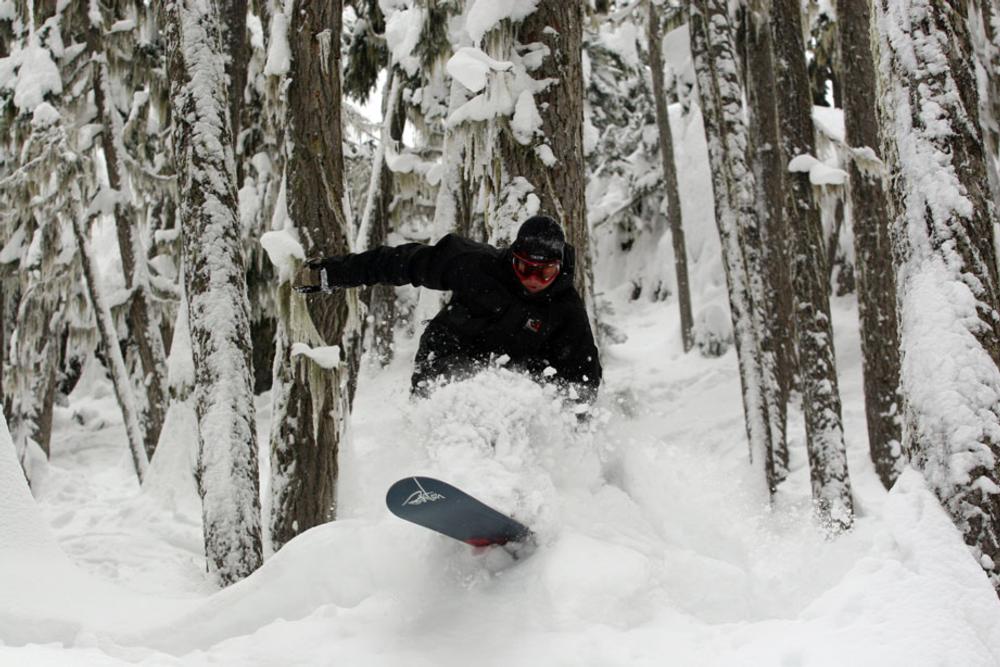 Whistler boarder 31st Jan 06 / WWW.COASTPHOTO.COM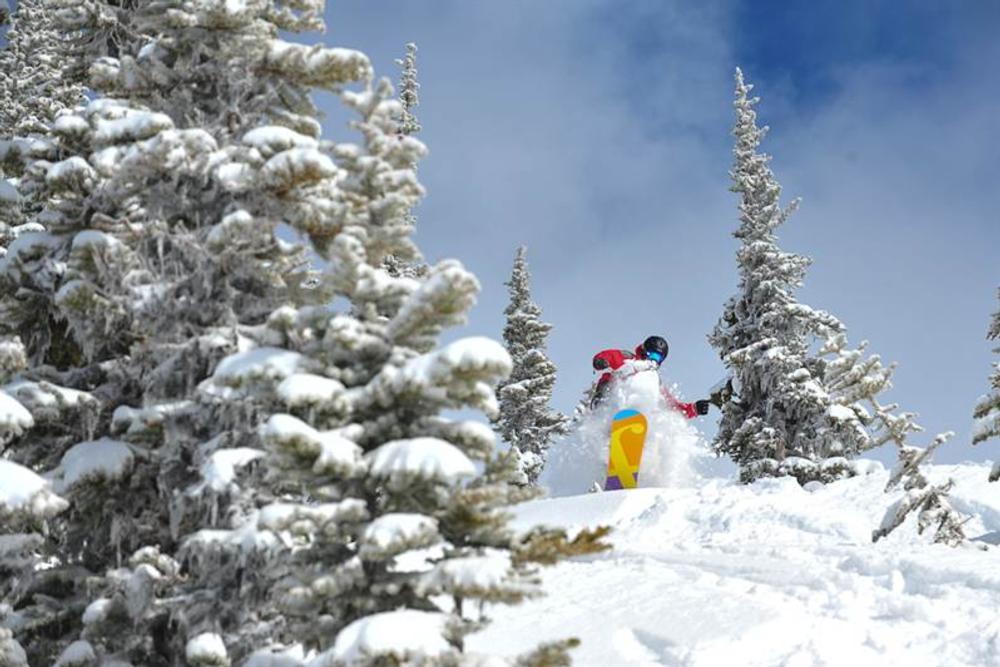 Whistler April 2012 / Whistler Blackcomb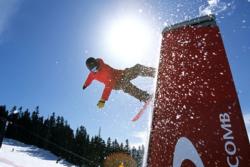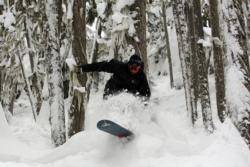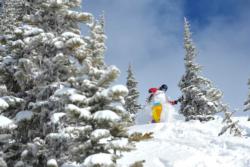 Freeriding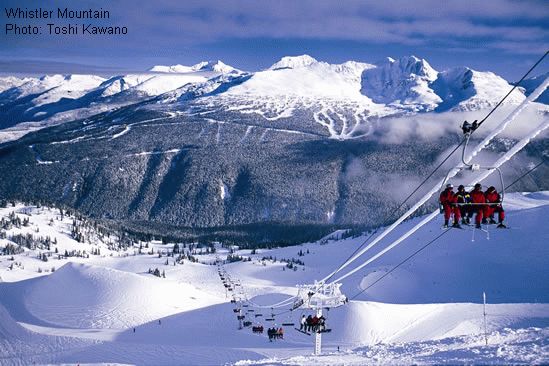 The resort is sheer powder heaven when it dumps, which is often with its Pacific Northwest climate. Natural hits spring up all over both mountains which both have amazing tree runs, marked and unmarked. On Whistler, try Peak to Creek via the Peak Chair and Bagel or West Bowl. Even better, get a local to point you to CBC trees, Million Dollar Ridge or Khybers for a 'Clearcut' BC forest experience.The whole Harmony area is awesome, with open bowls, cornices, chutes and pillow lines galore and backcountry hiking easily accessible via Symphony Chairlift (or Glacier Express on Blackcomb).
Blackcomb Glacier is a must - access it via Spanky's Ladder to drop into Ruby, Diamond, Sapphire and Garnet bowls or the Showcase T-Bar to encounter the infamous wind-lip. Seventh Heaven and Crystal Chair offer pillows, cliffs, tight trees and more. Remember, if it's raining in the village it's often puking up top - don't let the sometimes damp village conditions put you off. It often puts the majority of tourists off as a bonus, leaving the mountain nice and quiet!
Freestyle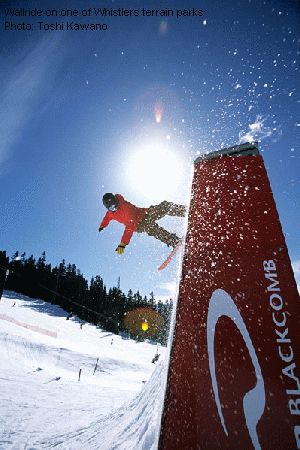 Both mountains have pristine terrain parks (Nintendo named and sponsored), with Blackcomb's beauty continually rated no. 1 in Transworld Snowboarding alongside Mammoth, CA (also Whistler-Blackcombowned). The park is split into 3 levels - pay an extra C$20 for unlimited use of the Advanced park and remember the mandatory helmet - most of the booters are an average of 40-60 ft. DJ's blast an eclectic mixture of tunes from a booth on the legendary shack booter, the first in a series of similar monstrosities which take you either to Catskinner Chair or continue through the superpipe to Solar Coaster.
The park also features a wide variety of technical rails, spine jumps, a gap jump and a boardercross course, with alterations throughout the season. 90% of Canada's pro-riders reside in Whistler so watch out for cutting-edge action and lots of filming.
The Intermediate park on skier's right has the same features on a smaller scale and beginners can try the Terrain Garden (off Easy Out)or a similar version under Emerald Chair on Whistler. The parks are rigorously maintained, and immaculately designed to flow. Don't be intimidated by Blackcomb's olympic size superpipe; cut with a 22 foot global pipe cutter the walls are a joy to ride. Get there early in the morning to avoid queueing. Avoid Solar Coaster chair (Blackcomb) and Emerald Chair (Whistler) at peak uploading times.
Pistes
Carvers and speed freaks will love the deliciously long, wide-open groomers of both mountains. On Blackcomb, Springboard, Rock and Roll and Ridgerunner are a must and Panorama on 7th Heaven features a set of of natural, groomed rollers that will boot you to the gods. On Whistler, cruise down to Creekside via the Dave Murray downhill. The Saddle, Tokum and Bear Paw are also immaculate groomers, ripe for early morning ripping but always check the grooming maps to avoid running into mogul fields! Whistler's legendary 'Peak to Creek' is a must, preferably as last run of the day and straight to Dusty's bar for a celebratory pitcher of the natives' tipple - Kokanee beer after!
Beginners
The enormous (1000 instructors!) and expertly-staffed Snowboard School caters for riders of all ages divided into age categories: 5-6, 7-12,  and teen programme Ride Tribe (13-17).  Lessons have a huge 'safety first' focus and all kids wear flaik GPS tracking systems to avoid any misadventures! Adults should try the 'Max 4' lessons for maximum learning. If having a Donald Trump moment, private lessons leave from all 3 bases, Whistler, Blackcomb and Creekside, and cater for every level. Beginners are well looked after on the Magic Chair (Blackcomb base) or Olympic Chair (Whistler mid-station). Whistler has the most green (novice) trails so is best for practicing riders. Freestyle programmes focusing purely on park and pipe are also available. Contact www.whistler-blackcomb.com