Pyha
A snow sure resort with plenty of powder opportunities and pistes for all levels!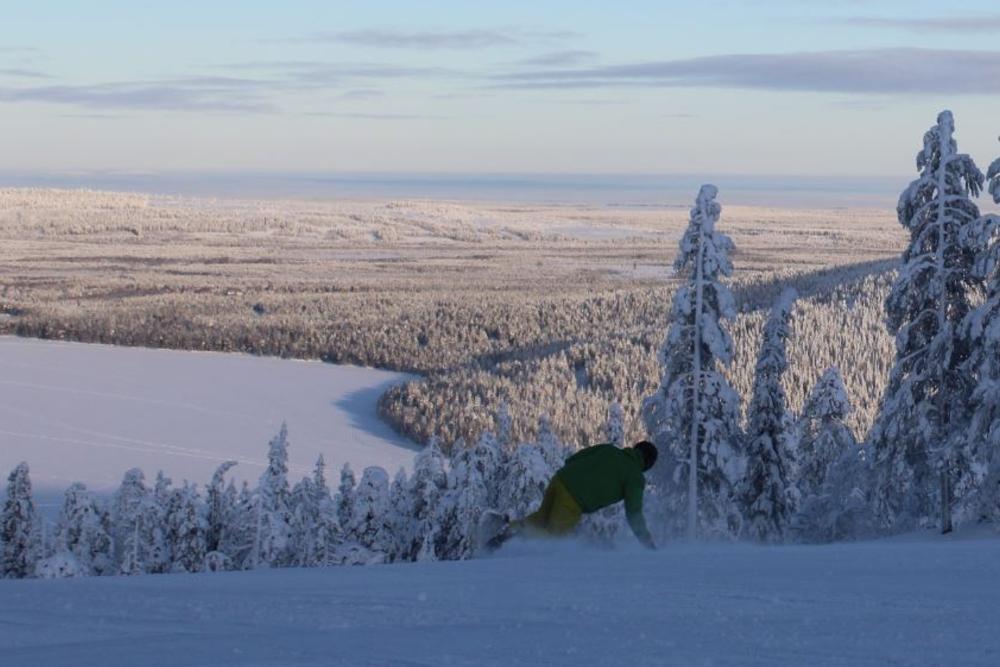 Pyha Carving / Michael Whittaker
Freeriding
Freeriders looking for fresh and easy accessible powder will be in their element in Pyhä, finding a fresh untracked stash of snow in no problem here. Those wanting to get some easy powder turns will find fresh lines located off most of Pyhä pistes. The black pistes Huttu Ukko and Palander are surrounded be some steep terrain and offer good deep powder for the intermediate to advance rider.
For riders seeking gentler terrain we recommend heading into the trees on the northern slopes around the Pohjoisrinteet area the powder here is relatively untracked with a gentler profile and longer descent. It's an ideal area for building confidence in the powder with quick access back onto the pistes if you come unstuck. The northern slopes are serviced by a long T-Bar that will take you back to the summit so you can do it all again.
Those wanting to do a little more to earn their turns will not be disappointed in Pyhä., a good pair of snow shoes is all you need to get away from it all and really out into the wilderness. Around an hours hike will see you reach the top of many of the surrounding hills including Ukonhattu, Laakakero and Peurakero. It's always a good idea to take a guide if you plan on heading into the backcountry and the Pyhä ski school can arrange backcountry trips suited to your needs, they are also trained to monitor the local weather patterns and avalanche levels before setting out. For those wanting a real challenge they offer an advanced freeriding day that last 5-6 hours where you can ride three hills in one day. If you are prepared to step out of your comfort zone and try something totally unique we recommend visiting Lucky Ranch where we ditched the bindings entirely and tried Snow surfing with Antti Keskitalo. Riding without bindings in the fresh waist deep powder of Pyhä is something we will never forget and definitely recommend especially with Antti's corgi dog in tow.
Freestyle
Pyhä has some features for freestylers around the blue family piste (5) consisting of a few kickers and rails but it is not a massive park by any means. It should keep freeriders entertained for a while but a few extra features would not be a bad investment. Higher up the mountain around the SininenRinne pistes there are some fairly large kickers that will offer a big air challenge for experienced freestyle riders. Overall Pyhä has enough for a casual freestyle rider but its sister resort of Ruka offers a lot more choice if you are a dedicated freestyle rider who is not concerned with piste riding and backcountry. 
Pistes
Pyhä has a good variety of pistes that will suit riders of all levels from long and wide confidence building blue pistes to more challenging black runs for the advanced rider. For those looking for nice long runs to cruise on head to the Northern slopes of Pohjoisrinteet where pistes (6), (7) and (8) can be found. These pistes offer a mixture of uncrowded red and blue slopes where nothing is too challenging, we were out here at lunchtime on a bluebird day and were still finding corduroy tracks on freshly groomed pistes amazing!
The only thing to be aware of here is that access back up the mountain is by a long T-Bar so be prepared for a bit of leg ache by the top, its well worth it though. Also in this area you can find the Rosa and Rudolph Tree run, aimed at beginners this track is great fun when taken at speed with a winding tree lined track that is entirely different to the wider pistes on the northern slopes.
For something a little more challenging than the cruising blue runs the Polar Rinteet area offers top to bottom riding on a mixture of steeper red runs with optional blue routes. Pistes (1) and (3) are a slight step up from the terrain on the northern slopes but this steeper terrain here will be fine for an intermediate rider. These slopes run to the bottom of the mountain where you can hop on a fast six man chairlift which gets you quickly get back to the top of the mountain.
Those looking for more of a challenge can ride down from the six man chairlift to the black slopes of Huttu Ukko (10) and Piste Palander (11). This area provides the steepest terrain in the resort a fact that is backed up the Finnish downhill ski team choosing this as a training base. Huttu Okko is pretty steep piste but a good intermediate rider should be able to get down here without too much of an issue, Piste Palander is the only ungroomed slope in the resort and after a snow dump has some good powder that is surprisingly not too mogulled. This area leads straight back down to the family learner slopes so you can get your breath back and recover on a gentler profile.
Beginners
The Family slopes at Pyhä are some of the best learner slopes we have seen, they are long, wide and empty featuring gentle profiles that should see even the most nervous of riders confidently linking turns by the end of a week. Another massive bonus is that they are just a stone's throw from the majority of hotels and apartments in the resort so getting on and off these pistes is a doddle.
Although the family area is connected to other areas of the mountain it still feels like a separate piste where beginners can progress in peace before stepping up to the steeper terrain. The Pyhä Ski School also have some very experienced instructors who will quickly be able to build your confidence and get you down these pistes before taking you to some more testing terrain.
When you have got your turns linked we recommend riding from the beginner's area down pistes (4) and (4b). These pistes are still pretty forgiving and beginners will enjoy the challenge of riding over the bridge and the twisting gentle slopes that leads to the base of the resort. From here  confident riders can either take a quick button lift back to the mid-level accommodation or the six man chairlift to the top of the mountain.