Pyha
A snow sure resort with plenty of powder opportunities and pistes for all levels!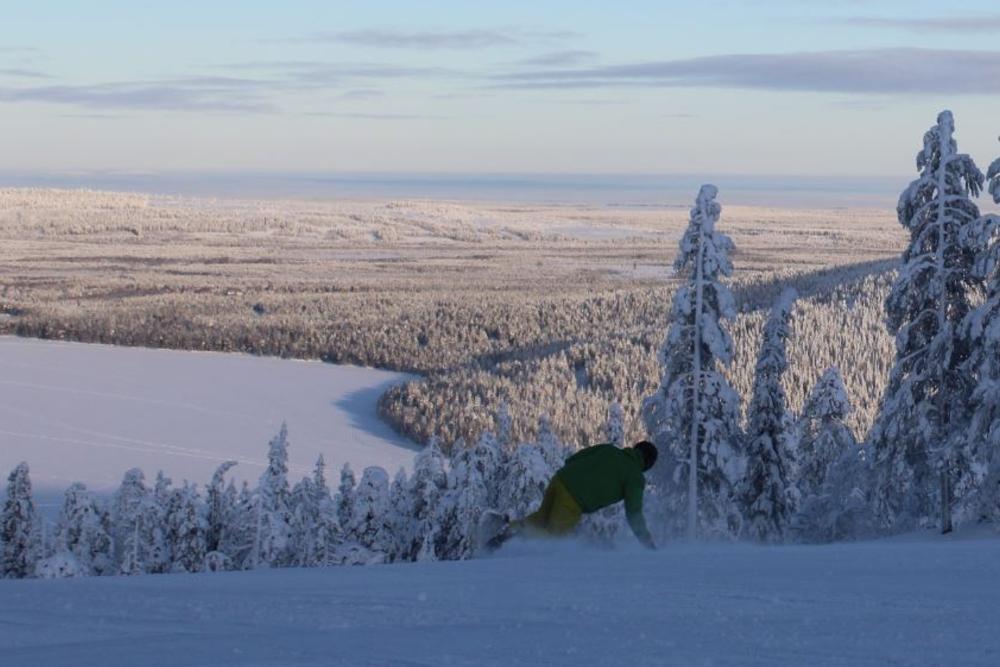 Pyha Carving / Michael Whittaker
Town
Truth be told if you are coming to Pyhä to just snowboard you will be missing out on an awful lot. Whilst we were here we tried out Fat Biking and Ice Climbing with Bliss Adventures both things you will be highly unlikely to see in most resorts. We also headed out for a trek into the backcountry on snowshoes, spent an evening in an aurora hut did a northern lights snowmobiles safari. Families and couples will also love the local husky sledding and reindeer safaris organised by the Artic Husky Farm and Reindeer Farm Kopara.If you feel like you are ready to head out into the backcountry you should also try out the snow surfing tour ran by Lucky Ranch the half-day session costs eighty euros (80 €) and is totally unique.
If you get tired of all those adventures and want a rest from the pistes Pyhä offers an very interesting visitors centre and café where you can chill out and learn about the surrounding nature, folklore and the Suomi way of life. There is also an excellent selection of pubs and restaurants and a well-stocked supermarket for those planning a self-catering trip. If you are a fan of liquor the resort also run a delivery service for your favourite tipple as normal supermarkets will not sell any alcohol above 4.5%.
Regards getting around most of the accommodations options can be found at the mid-level of the resort where you can get on the pistes within minutes. The Ski School and Bliss adventures are also based out of the Pyhätunturi Ski Inn hotel here so excursions can be arranged with ease. At the bottom of the mountain you can find the tourist information, snow safari centre and supermarket.
Food options
Pyhä has lots of options for eating out to suit all budgets. If you after something truly unique head to restaurant Tsokka at the top of Kultakero fell where if you are lucky enough to book a seat you will get to travel in style up the fell via a snow cat.
The restaurant is open through the day but only opens two evenings a week in winter so booking is essential, guests are picked up by the snow cat from outside the Carlsberg House bar and transported up the hill. Given the numbers involved the restaurant wisely runs a set menu that alternates through the week. Depending on the night you choose you will get to sample some fresh Salmon or be able to tuck into some reindeer with mash potatoes and berries, starters and desserts are also included in the set menu.
At the base of the resort is Huttu Uula where you can head for either the slope slide restaurant Rinneravintola which serves quick and tasty food pub style food. .Or for something a little more special within the restaurant there is an amazing À la Carte area serving the best dishes from Lapland including fish, reindeer steaks and even Bear.
The high quality of the cooking is also acknowledged by the Chaîne des Rôtisseurs an award that confirms that the restaurant meets the international Association of Gastronomy standards, impressive indeed!
The Ski-Inn Pyhä Hotel should not be overlook either as it has a really good restaurant with tables that offer absolutely amazing views. They do an a la carte menu and also offer excellent pizzas and burgers. If you don't want to eat here you will be welcome to sit and have a drink looking out of the windows at the beautiful snow-capped scenery.
For those wanting a bite on a budget head to the Ravintola Huttuhippubar next to the family slopes here you can get a good sized pizza for around 12 euros and a beer for around 6 euros. The food is served quickly with no fuss and is filling, hearty and really tasty
If you doing a self-catering trip the Pyhä supermarket provides everything you could need and is much larger than many resort supermarkets, based at the bottom of the resort a ski bus comes at regular intervals to ensure you can get you shopping back to your accommodation. Or if you just want to take the DIY approach on the slopes the Finns will think nothing of you firing up one of the local fire pits and grilling some local sausages and brewing up some coffee.
Accommodation
Most of the accommodation in Pyhä can be found at the mid-level of the resort and there are options to suit all budgets. Everything is well equipped especially the Pyhä suites which are really nice and available as either self-catering or you have the option of upgrading these rooms to include an additional breakfast or evening meal at the Pyhätunturi Ski Inn hotel which is just a minutes walk away.
The suites also have private sauna, excellent Wi-Fi connection, cooking facilities and balconies with amazing views
The hotel itself has a number of twin and double rooms to suit a variety of needs. The breakfast and evening meals here are really good so it might be worth adding a half board option if you want hassle free meals. The rooms don't have private saunas but the hotel has excellent sauna and fitness facilities as well as ski to the door access.
Another option that can be booked in the resort are the Pyhä log cabins these have private sauna, cooking facilities and lounges with a fireplaces. To book these you can contact Crystal Ski directly
A trip to Pyhä can be booked through Crystal Ski Holidays with packages starting from £446 per person (based on four sharing) for a week's stay at the four-star Pyhä Suites during January 2017 including direct flights from either Gatwick or Manchester and transfers.
www.crystalski.co.uk or call 020 8939 0726
Nightlife
Pyhä is not a place for totally wild après ski but it has a number of cosy bars where you can happily wind away the hours. A good place to head after a day on the slopes is the Carlsberg house things get going earlier hear as it is directly next to the slopes. It's a pretty cool bar with a laid back atmosphere and music where you can warm up after hitting the slopes.
If you want a lively night through the week 9pm Thursdays should be penciled in your diary as its bingo night down at the Huttu-Pub Ravintola. Don't worry it's not full of the blue rinse brigade instead it attracts a good crowd of locals, seasonaires and instructors all chilling out after a day on the hill, it does gets pretty busy so you should head down well before 9pm to ensure you get a seat. The prizes are pretty bizarre so don't be expecting to win big money but playing bingo in a Finnish resort is something not to be missed.
One place to go for a few beers on a night is the Pyhätunturi Ski Inn hotel, the bar area here is pretty cool with bar games and some amazing hammocks which are pretty hard to get out of after a few beers. Price wise you are looking at paying 6-7 euros for a beer in most of the bars which is pretty comparable to most of the major resorts in the French and Swiss Alps. The supermarket sells beer crates for around 20 euros which is not too bad for in-resort prices.
Location