Salla
Salla is located in the Artic Circle and gets buckets loads of snow as well as regular appearances from the Northern Lights. It's a small resort but you will ride uncrowded slopes all week and be able to find fresh powder between the lifts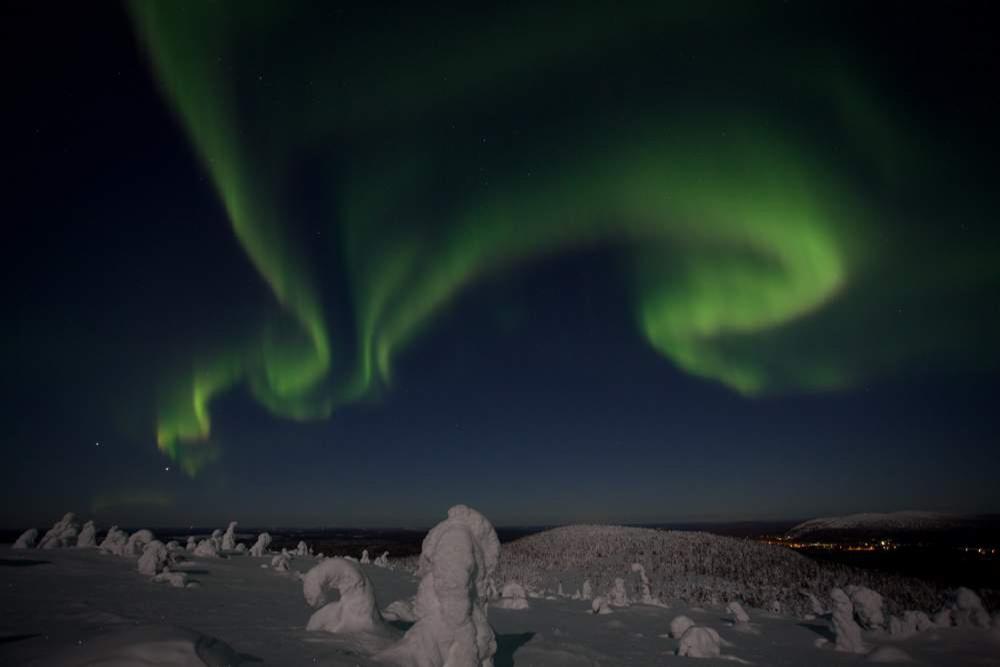 Salla Nothern Lights / Salla
Freeriding
The pisted terrain in Salla is not huge but it offers something for everyone, especially intermediate riders who are  happy to ride a mixture of blue, red and a black pistes. Drag lifts run from various sides of the mountain take you to the top of  Salla fell where you can choose which side of the mountain to head down before coming straight back up for more. You will need to be comfortable using the long drags as these are the only way to get to the top of the mountain, providing you can stay on these you will get many runs in per day as there are never any queues to get on the slopes. According to the local ski instructors permission is also been sought to develop another area of the mountain and build a chair lift. If this is passed it will certainly enhance and increase the area whilst making it more beginner friendly.
Freeriders looking to find relatively safe powder will also be pleased to know there are some good stashes in Salla. These are all accessible between the pistes and you can find some nice and deep stuff without ever venturing far off the beaten path. As the slopes are not as high as in other areas the avalanche risk is also very low so this place is ideal for those wanting to earn some easy powder turns for the first time or without the dangers faced in higher resort.
On Tuesdays and Fridays the slopes are also open till 7pm with a special price on the 3 hour lift pass, so those doing activities through the day and not wanting to miss out on the pistes will be able to experience some cheap snowboarding on those evenings.
Freestyle
Freestyle riders can find a few park features by riding down blue piste no4, this pise contains of a variety of rails, gas pipes and kickers. There is no dedicated park area as such so those looking for all out freestyle riding may need to look elsewhere. Around the mountain you can also  see a number of kickers built by the locals these offer a bit of fun on top of riding the pistes. There is also a gas pipe on the beginner slope so freestyle novices can have a go at freestyle without venturing too far up the mountain.
Pistes
Intermediate riders will get the most out of  the pistes in Salla, the reds are wide and not too steep and the blue pistes follow the same pattern. Everything here is linked from the Salla peak and is accessed by a variety of T-Bars. It is impossible to get lost so hit a slope and get a lift back up to the top before taking another route down. Red piste 1 is accessed from the main ski area and offers a nice challenging run with a few differnt lines to choose and offers a slightly steeper gradient than Blue run 4 which is a dream piste for making wide and fast turns.
The biggest challenge in the resort is steep black piste no3. This piste is used for international slalom competitions, where the maintenance team spend time icing it to make it faster, so be sure to sharpen your edges if you come on the wrong week. This is the most challenging piste in the area and will provide a short steep challenge for those after something a bit more extreme.
Beginners
Beginners have a dedicated area at the bottom of the mountain which is accessed by a short and easy button lift, the slope is not a bad length for beginners and certainly long enough to make a few good turns. The ski school is right next to the slope so beginners can also take lessons here without going too far out of their depth.
To the right of this there is also a rope tow that is free to use and total beginners may want to start before progressing onto other areas of the mountain. The local ski school normally head to blue piste no4 with riders who have mastered the art of turning. This slope is wide not too steep and never crowded. The only real issue here is that everything is accessed by drag lifts which could prove off putting for some novice riders.