Salla
Salla is located in the Artic Circle and gets buckets loads of snow as well as regular appearances from the Northern Lights. It's a small resort but you will ride uncrowded slopes all week and be able to find fresh powder between the lifts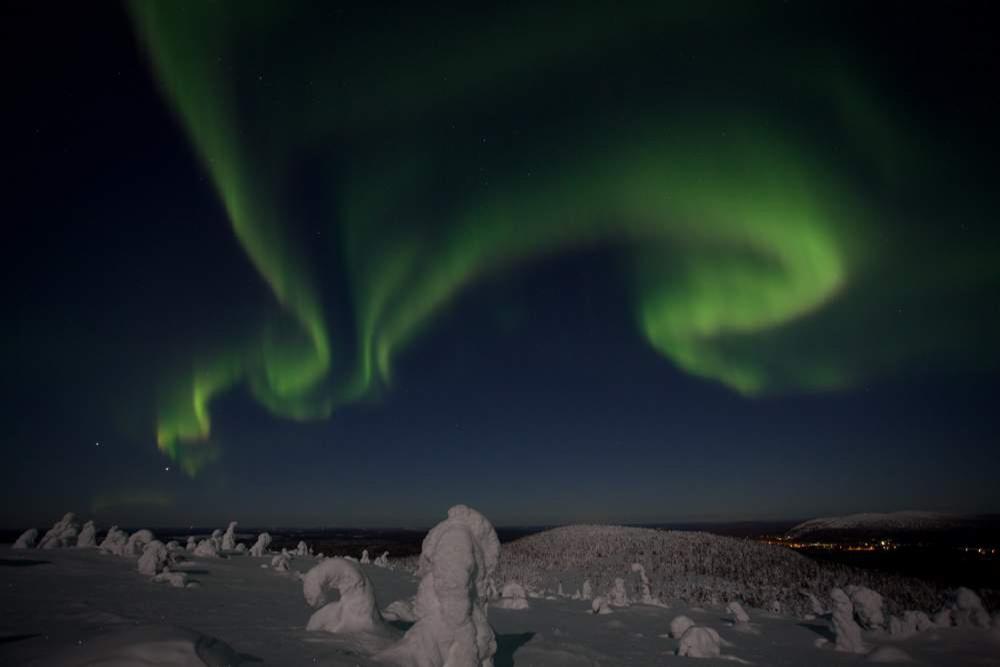 Salla Nothern Lights / Salla
Town
The resort itself is not the wildest of places and if you were here just for snowboarding you may find the terrain a bit limited after a week or so. However walk a few hundred metres in either direction out of the resort and you will find plenty of activities to keep even the most extreme sports fan happy. With so much else going on off the slopes you would be foolish to come all this way here and not to try the other activities available in Salla. The snow mobile excursions ran by (Arctic Circle Safaris) should be on any snowboarders checklist and will have you racing through the snow capped forest whilst grinning ear to ear.
Another must is the husky rides which are also great fun and will provide an ideal day out if you intend to have a rest from the slopes. For the child in you head to the Reindeer Safari in Salla Reindeer Park where you can take a reindeer sleigh through the forest. It is hear where it really hits home that you are in Lapland, the journey stops halfway through in a Lappish hut where you can grill sausages and get some coffee heated on a fire, this is one thing you will see a lot in Finland and feels like a real return to nature when you are sitting by the fire.
One thing many flock here for is also the chance to see the Northern Lights if you head here for these there is also an interesting multimedia show night ran by Bart Braafhart  (B.Art) who tells you all about the phenomenon and how best to see them for real.
Food options
Salla
has a few local eateries and restaurants that are worth checking out. A few we can recommend are the a
la'carte
restaurant
Kiela

(

Sallatunturin

Tuvat

)
this is a very modern restaurant that also has a good sports bar inside the building that hosts local bands.
For something a little different you should head out to the
Lappish
evening in the Starry Sky Hut (located in the
Salla

Reindeer Park
). Through the evening is a you will get to try traditional
Lappish
food and hear the stories and traditions of the
Lappish
people. Within the resort a lot of guests take advantage of the breakfast and half board options at the Holiday Club
Salla
these options are available through Crystal Ski. 
Accommodation
Accommodation resolves around the Holiday Club Salla which own a hotel and a variety of beautiful self catering and half board lodges. The lodges are stunning and perfect for couples, small groups and families looking for an amazing place to get away from it all. Each is very well equipped with a drying locker, kitchen, private saunas and log burning stove. The hotel and the lodges are all within a few minutes walk of the lifts so getting to the slopes is a breeze and  nothing here feels crowded so everything has a laid back and relaxed feel. 
Nightlife
As you can imagine situated in the middle of nowhere in the Artic Cirlce Salla is not renowned for it's nightlife but there are still a few options for après drinks including a nice slopeside bar Sallatunturin keloravintola where you can sink a few cold ones.
The main hotel has a bar but this closes early 9pm or soon after. It may be worth heading to the sports bar in the Sallatunturin Tuvat restaurant if you want the night to last a little longer, the bar often has live bands and sports on.
With the chance of the Northern lights making an appearance a lot of people come here not to party but to observe the skies so it is always worth taking an evening stroll around the local lake to clear the head if you have had too many. Beers will set you back around 5-7 Euros so prices are comparable to the popular resorts of France and Switzerland.
Location