Tignes
Snow sure, true boarders' moonscape Great all-round resort with something for everyone, no matter what your ability. However, watch out some for long lift queues and crowds during school holidays and weekends.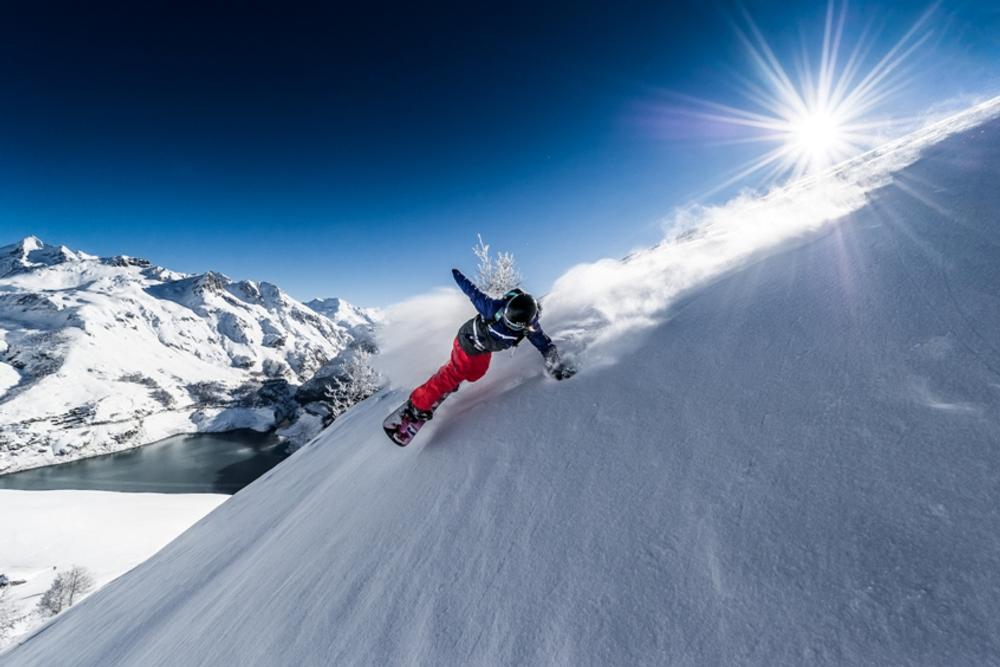 Tignes Rider / andyparent.com
Freeriding
Freeriders have loads of choice in Tignes. There are some really long off-piste runs, some great reds and blacks and the wide Grande Motte Glacier is great for cranking out those turns. If you are lucky with the snow there's a 1200 meter decent from Aiguille Percee to Tignes Les Brevieres on a choice of runs and with expert help you can find some very long off-piste routes, to the side of Les Lanches where you can find good little rock shoots and bowls but watch out for crevasses and as always get a guide especially if you don't know the area.
As Tignes is set in a wide, open valley you can see all the lines you'd love to take, it's just working out how to get to them. From the Toviere area there's some great spots of snow between the runs and the two long blues into Val Claret. The Funicular and cablecar take you to the Glacier at 3456 meters for more or less guaranteed good snow.
For an interesting side trip head to the Vallee Perdue in the Val D'Isere valley, just make sure you have an Espace killy lift pass and you make the last lift home or it could be a very expensive day. A word of warning take it easy in Tignes, especially after a fresh dump, as it doesn't take much to trigger avalanches heed the snow warnings and if you are new to the area and want to go off-piste take a guide, eg. Snocool offer freeride and freestyle lessons. If you've got the cash and a group of four, they'll drop you and a guide out of a helicopter in Italy, drops start at around £350 per person and  they go in groups of four.
Freestyle
Freestylers arriving in Tignes should head straight up the Grattalu chairlift where they can lap the park using this high speed chairlift. The park here is more suited to the beginner / intermediate with a range of kickers that are not too daunting for those finding their freestlye feet. As well as kickers to progress on the park has a free airbag so you can go big without going home on a stretcher.
For the voyeur inside check out the Swatch 'Shoot my Ride' system which allows you to film your run simply by scanning your lift pass, this is then available to watch online till your hearts content, just don't stack it!
To access to The Swatch Snowpark: take the detachable 6-seat Grattalu chairlift (the rotation takes about 6 minutes) or the Merles chairlift.
Also impressive is the halfpipe at the bottom of the Les Lanches chairlift, it's a rarity to find one of these in France and Tignes pipe is a beauty. There's always a bit of French hiphop blasting from the bottom of the pipe, and when the locals are there it really goes off.
For a bit of variety form the normal kicker and rails the top of TS Mont Blanc chairlift offers a junior boardercross area and further park obstacles.
It has to be said Tignes has a very high standard of freestyle boarders, even the purest freerider will be impressed, but don't be put off, just get down there, check out the small hits and move on up in size as your confidence improves.
Pistes
To start with it can be hard to know where to head in Tignes as it's a vast ski area but riders of all abilities could do worse than start on the The Grande Motte Glacier the snow sure  glacier offers slopes of various widths and pitches so nobody should feel left out here.
The Glacier although sometimes windswept and cold, is normally pisted flat so it's great for cranking it over at full speed and its long enough to give even the hardest boarder leg burn. To get hear you want to head up the funicular or hop on the Les Lanches chairlift and then the Vanoise chairlift form Val Claret. Once here you have access to a range of superb pistes. On a powder day head straight down from the Les Lanches chairlift keeping to the sides for some epic turns.
Beginners
Tignes is really looking after it's beginners these days with a number of slopes to learn on. A number of free to ride lifts scattered around the resort should keep newbies happy for the first few days. As well as building confidence you can save money on lift passes as buying a pass for the full area or one at all may not be necessary in those first few days. Till you have mastered the free slopes keep your money in your pocket.
To find these lifts depending on where you are staying you can head to either the Claret tow lift and Bollin chairlift (Val Claret); Rosset chairlift (Tignes Le Lac); Lavachet tow lift (Le Lavachet); and Tow-lift Pitots (Brévieres). 
Beginners who have made it past those first few days have plenty of blue runs to step upto and loads of schools to choose from. Although not as good for the complete novice as Val DIsere, for someone with a few week under their belt they will be fine and you can always head out of the valley to ride the runs under the Marmottes chair.