Tignes
Snow sure, true boarders' moonscape Great all-round resort with something for everyone, no matter what your ability. However, watch out some for long lift queues and crowds during school holidays and weekends.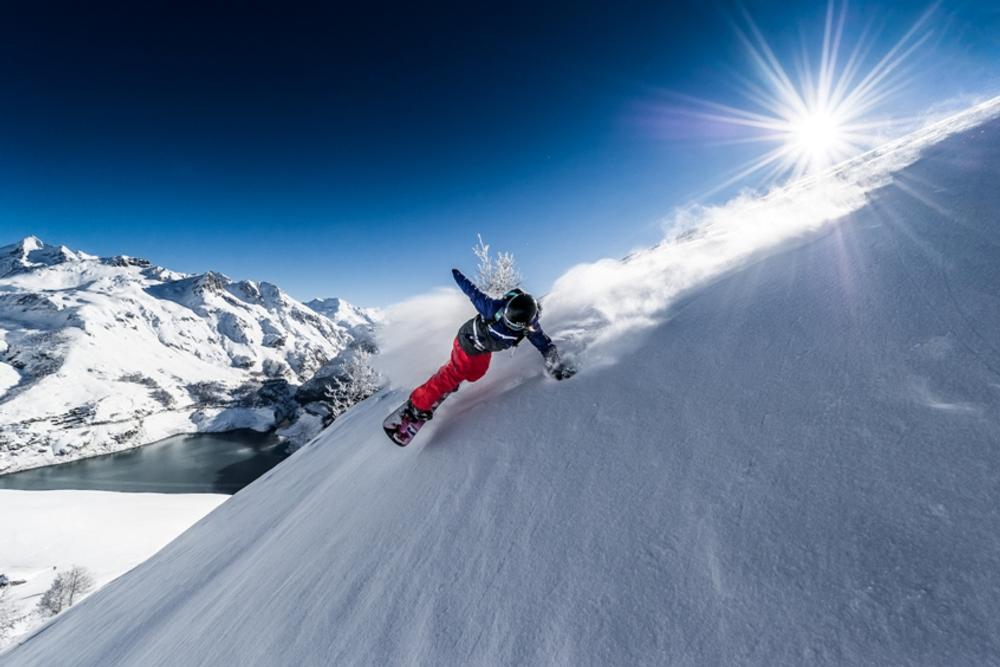 Tignes Rider / andyparent.com
Town
Tignes consists of two main areas Le Lac which is the main hub and Val Claret, a split-level town joined by a lifts and a free ski bus. Le Lac is, strangely enough, next to a lake which is normally frozen over. The area's mobbed with apartment blocks, hotels, and an array of bars, restaurants and shops - all of which are expensive.
At the head of the valley, within an easy walk of the funicular, is Val Claret, which is smaller than Le Lac but of a similar ilk. It has better slope access and good parking next to the slopes if you're on a day trip, and has a few piste-side cheap eats.
One place to head after a hard day on the slopes or a hard night on the apres is Le Lagon the Swimming pool and wellness complex is the ideal place to wind down or wake up, with two indoor pools and a gym you can keep up the fitness regime, or instead hit the fun slides and a range of saunas, steam rooms and hot tubs which will leave you feeling very relaxed after a hard day on the slopes.
Food options
If you are coming to tignes and want to eat out you will end up spending a pretty penny so from the off you might be best looking at one of the many half board option available. We chose to stay at hotel 2100 a modern hotel offering food with a twist. Run by a Swedish company the Alpine Kitchen restaurant varies from the normal half board buffet style options that you get throughout the alps. We dined out on Swedish dishes a little odd when in France but it worked well.
For food out and about on the hill those after a filling meal which won't break the bank could do worse than head to one of the many burger joints around where you can get full for a lot less cash.
These full on burgers topped with an egg won't leave you hungry but they may leave you loosening the belt on your boarding pants. It you fancy combining a beer and a bite the Marmotte Arms is a great place to head especially around the time the slopes shut as you can grab a bit here and a beer at a very reasonable four euros. The happy hour seems to last a while too so make the most of it.
Those thinking about doing the self catering option have two supermarkets at 2100 a spar and the Carrefour which if anything is slightly cheaper.
Both options offer a wide range of good food and moderately priced alcohol. If you are driving out yourself rather than arriving on a coach stocking up at a supermarche before hitting the resorts is always going to be the best option.
Accommodation
With over 28,000 visitor beds, this place has something for everyone... except there is not a wide selection of cheap accommodation. However, there are plenty of apartments for self-catering groups.
If you fancy something a bit different the hotel 2100 at Tignes 2100 has been refurbished to a high standard offering Scandi Chic with great views of the mountains.
Crystal Ski Holidays (crystalski.co.uk; 020 8610 3123) offers a week's half board at the Hotel Tignes 2100 from £540 per person including flights from Gatwick and transfers (this price is for departure during January 2019). The ski season starts from 15th December 2018 and departures from all major UK airports available (at a supplement starting from £25).
For those heading out on a budget the UCPA hostel in Tignes offers a great value place to stay.
The Tignes website www.tignes.net has a good listing of accommodation. Tour companies use this place big-style, which means last-minute package deals are always available at budget prices.
Nightlife
Nightlife starts early and ends late - in fact, for some hardened riders it never ends. This is after all is a major party resort, with a wide choice of English and French bars,
However Tignes doesn't come cheap especially for those wanting to party hard a typical beer will set you back around 7 euros. So if you are planning on experiencing the après head out early when the slopes close you can get a good few hours drinking at a cheap rate we liked to sneak into the marmot arms around 4 where you can find a reasonably price €4 pint.
Another thing to do is tank up on supermarket carry-outs or the cheap plonk they give out with your chalet dinner. After that Le loop and the Angel bar in Le Lac are pretty good bars to carry on the fun.
Location