Val d'Isere
Great mountain, expensive town. Overall, Val d'Isere has something for everyone. There's varying terrain for all abilities, some great off-piste and a good snow record but be ready to pay for it. They take card and cash, don't you worry.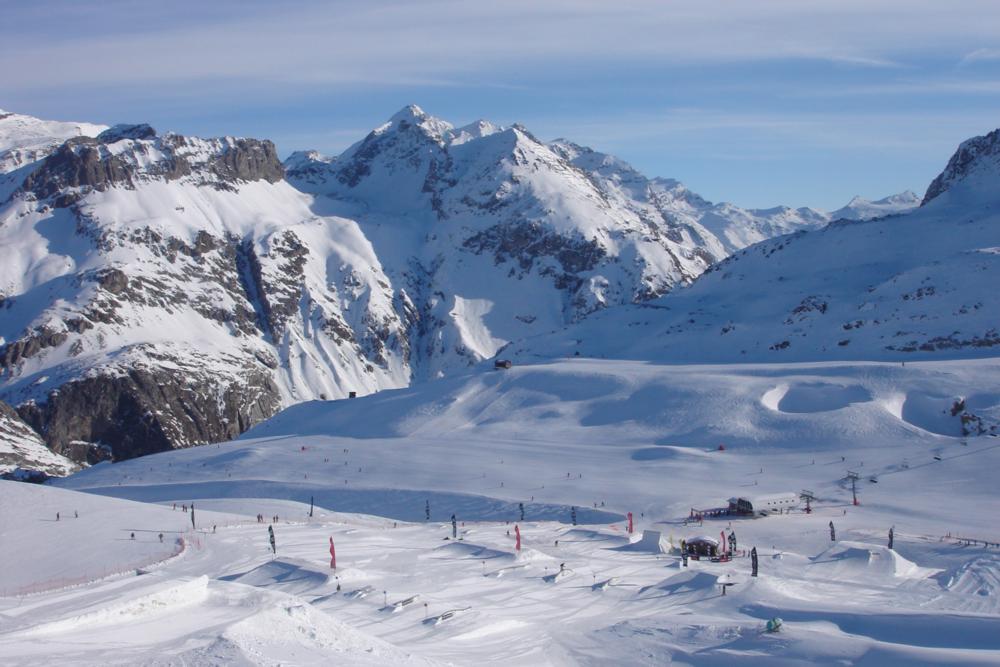 Val d'Isere Terrain Park / Photo: Pete Coombs
Freeriding
Freeriders will want to come back again and again as there are miles of piste (200 in fact, including Tignes) and more off-piste than youll be able to do in a week. Theres terrain here for all, from motorways like Ok and Orange to the steep and tight off-piste S.
After a dump its an off-piste playground, with fresh tracks to be had all day on the Les Marmottes face, or try the Vallee Perdue which is a mad track only a few feet wide in places with blind bends and a couple of board off scrambles.
In poor visibility, head for the trees of Le Fornet. Warning: you want to be on that flight home so follow resort advice on avalanche risk and if you're not sure, dont do it. Worth mentioning are the guides who are excellent and very affordable between a group of 4 or 5. The better your ability ,the more you will get out of them.
Freestyle
Freestylers can find endless natural hits. The funpark under the Mout Blanc chair is smaller but now far superior to the one in Tignes, and well worth a visit.
Although there are clear influences from our American friends, there is still a long way to. To begin with, a dedicated lift to the snow park would make things easier.
Pistes
Riders who dig the piste can tear the place up in between hits, and those of you in hards will be well in with the French Eurocarvers who lay it over whenever they can.
Beginners
Beginners on their first ever day will find the two free slopes, located in the centre of the village, perfect. Once confident of putting together a few turns, there are plenty of easy slopes to enjoy. As most of the runs into resort are steep and packed at the end of the day packed, you can always get the bubble down.