Val d'Isere
Great mountain, expensive town. Overall, Val d'Isere has something for everyone. There's varying terrain for all abilities, some great off-piste and a good snow record but be ready to pay for it. They take card and cash, don't you worry.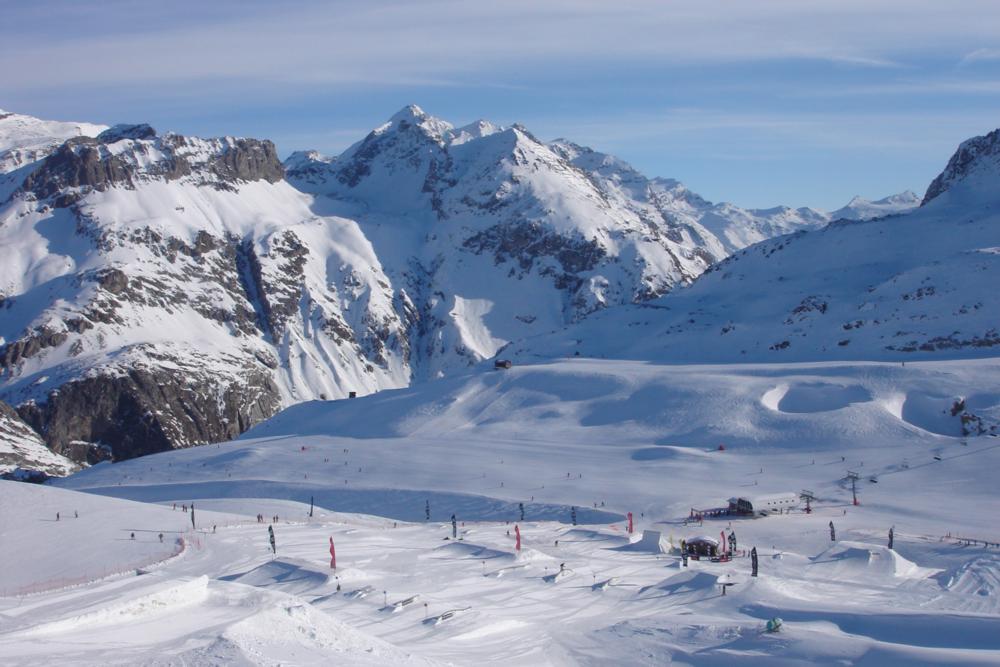 Val d'Isere Terrain Park / Photo: Pete Coombs
Town
Off the board, theres husky dog sledging, ice climbing, ice karting, snowmobiles, paragliding, cinemas and loads of bars full of merchant bankers and red-faced blonde Swedes plus maybe a few French.
Like many top French resorts, the main drawback is the cost.
Food options
For a fry-up breakfast go to the Billabong Café, and if you want a meal in the evening, take a stroll with the fur-clad poseurs along the main street and choose anything from sausages to sushi, or try some of the exclusive hotel restaurants.
Accommodation
Most of the accommodation is of a good standard and situated close to the slopes. This inevitably means cold walks home after you have had a skinful, so there is a free bus service which becomes less frequent has the night goes on.
Nightlife
Val d'isere is like the St Tropez of the French Alps, Full of good-looking people spending a lot of money (and most of it daddy's). Cafe Face oozes cool and chic. This is a posers paradise, you'll find them sipping champagne listening to live music being mixed with silky house tunes. Bananas has a good vibe but can get packed, and if you are on the pull, check their ID before leaving.
Lowering the tone is the Pacific which is great for watching all premiership games, and you can imagine the rest.
Location