Courmayeur
Not a bad place, with some good carving but basic freeriding. Great for beginners apart from overcrowded novice slopes. Good local services.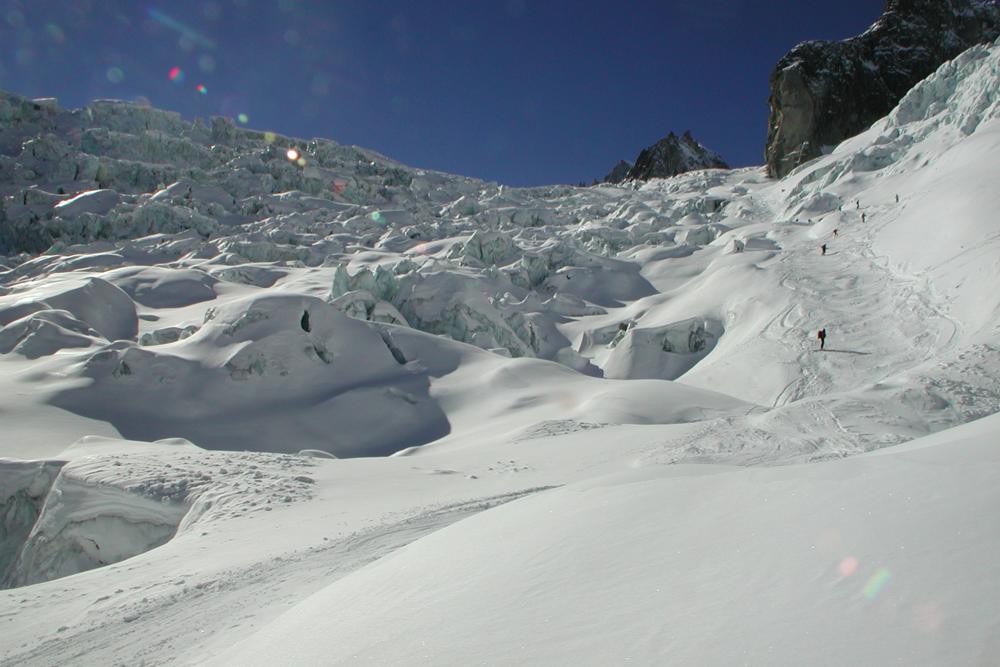 Courmayeur Vallee Blanche la seraccata / Photo: Jacquemod Attilio
Freeriding
Freeriding here is pretty damn good, with some cool terrain to hit and the possibility of some trees to cut at the lower section. If it's powder and off-piste riding you want, then Courmayeur is not the mega outlet like its close French neighbour, but there is some good stuff to be had on steeps and trees down from the Cresta D'Arp. If you take the Mont Blanc cablecar, you can gain access to the Vallee Blanche and ride into Chamonix. Although you will need to get the bus back, it'll be worth it.
pic: Vallée Blanche
Freestyle
Freestylers here make do with the natural hits as there is no park or pipe to ride. You can however, get big air and find there's enough to jib off, eg. snow cannons, logs, stair rails, ski instructors - there's plenty. You'll also find snow builtup in lumps pushed to the side of runs or covering small trees and small mounts, etc.
Pistes
Boarders who like to stay on the pistes will find loads of well-pisted runs to content themselves with, especially the areas under the Bertolini chair lift.
Beginners
Beginners who decide to give Courmayeur a try won't be disappointed; it's a perfect place to learn, although the slopes can often be far too busy, leading to a few collisions.
Novices should head for the runs off the Checrouit cablecar, where you'll find some nice easy slopes to try out your first toe- and heel-side turns amongst the ski crowds, taking out the stragglers as you go.