Courmayeur
Not a bad place, with some good carving but basic freeriding. Great for beginners apart from overcrowded novice slopes. Good local services.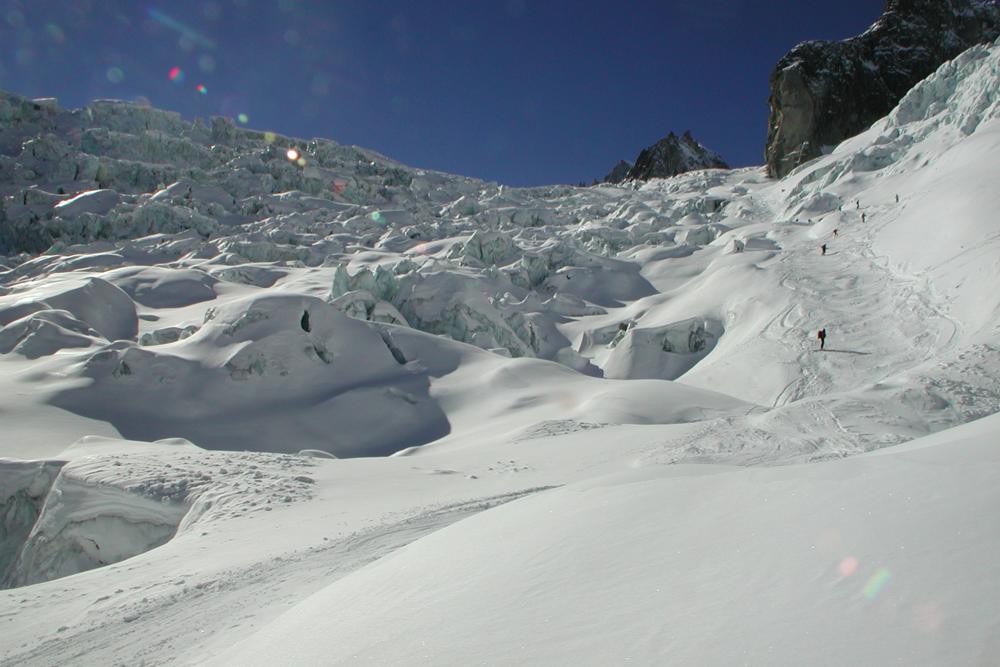 Courmayeur Vallee Blanche la seraccata / Photo: Jacquemod Attilio
Town
Off the slopes, Courmayeur is a busy, stretched out place, with a lot going on. Most of the time the village plays host to package tour groups and although this helps to keep prices realistic, it does mean you have to rub shoulders with a lot of idiots.
The village has a host of sporting attractions with the usual resort-style swimming pools, ice rinks and fitness outlets. There is also an overdose of Italian style boutiques selling expensive designer wear, but alas, there are no decent snowboard shops.
Food options
Food-wise, Courmayeur does a good job fattening up its visitors with the usual option to pig out in a few pizza restaurants. There is also a number of basic holiday tourist-style eateries, offering funny-sounding traditional Italian dishes. However, you can eat reasonably if you stick to the lower-end pizza joints such as La Boite, but if you're feeling flush and want to dine, check out Pierre Alexis.
Accommodation
Accommodation is very good here. The town can sleep 20,000 visitors with lodging close to the slopes and in the town centre. You can choose to bed down in one of the hotels, or stay in one of the self catering apartment blocks which can accommodate large groups of riders. There is also a number of reasonably-priced bed and breakfast homes to choose from.
Nightlife
Night life in Courmayeur is late, loud and very boozy. Italians party hard here, but unfortunately so do a lot of apres skiers, who give the place a rowdy and lowlife feel. Popular places to check out are the Popas Pup, Bar Roma or the Red Lion, all of which are lively watering holes with a young party crowd.
Location