Anna Gasser's Sister Action 2018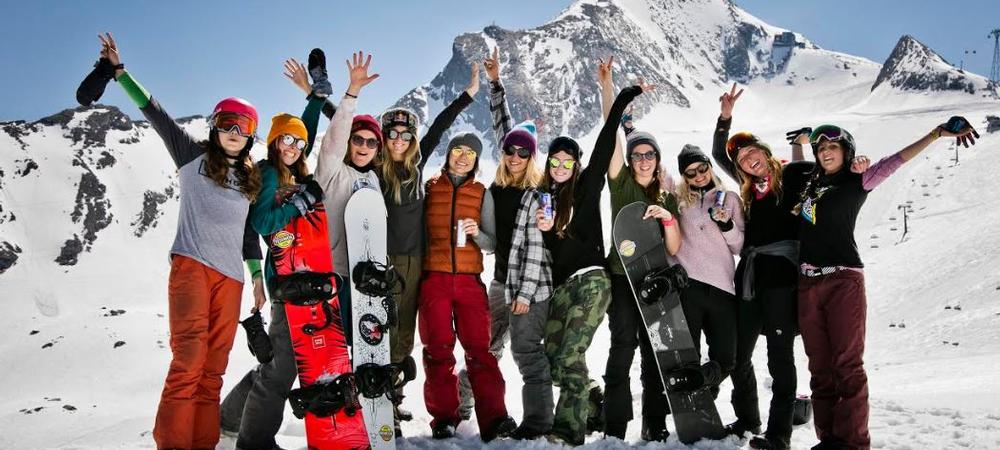 Anna Gasser and her sister Eva invited ten female sports enthusiasts to Kaprun last weekend (April 20th – 22nd) for the first ever "Sister Action" sports camp.
Action-packed days were on the agenda in summer temperatures with snowboarding at the Kitzsteinhorn Snowpark in the morning followed by acrobatics sessions in the afternoon.
Big Air Olympic Gold medallist, X-Games winner, World Champion, Austria's Sportswoman of the Year 2017: Anna's list of successes is long. A long season comes to an end, a season Anna wrote history with winning the very first Olympic Gold medal for Austria's Freestyle riders. Partner Red Bull took this as reason to dedicate her a Red Bull can. Now the time felt right for Anna to give something back to her fans. It was obvious that she wanted to give an insight into her two passions - snowboarding and acrobatics. Anna had family support on her side with younger sister Eva, who is one of the best acrobats in Austria and also Anna's acro-yoga partner, when times allow. Anna said about the camp: "I am really surprised and happy to see how motivated the girls are. I hope they had a good time. I really wanted to do a girls-only event. Having Eva on my side is a great experience, as we are very close." Anna's sporting roots were in fact in acrobatics. This important part of her past still takes a lot of space today. Eva talked about the beginning: "We were in the gym already with 5 or 6 years. Our mom, a PE teacher, wanted us to learn the floor and apparatus gymnastics as foundation. Later on acrobatics followed."
Daily acrobatics sessions were offered during the camp and all girls were into it with a lot of motivation, enthusiasm and support by Anna and Eva. Blue skies and T-Shirt temperatures accompanied the girls while riding the Snowpark Kitzsteinhorn. They practiced and improved their tricks and all left the mountain with the satisfying feeling that they learned something new. Despite an ankle-injury Anna gave precious advice and tips to all of them.
In the middle of it all Anna didn't show any fear of contact - authentic, pleasant and being herself, Anna was available and approachable for the girls all weekend long, who were all very enthusiastic. Evey, one of the participants, said: "It is very exciting to meet Anna personally. I never expected her to spend so much time with us. It all feels very familiar and personal." Anita added: "We are all here for the same reasons: To have a good time, learn something new on the snowboard and to improve our acrobatics skills. Additionally we leave this place with new sisters. We decided already to keep in touch and to go snowboarding together next season." "I have so much fun here and I'm thankful to be a part of it", said Babsi.
An exciting weekend lies behind Anna, her sister Eva and all participants, loaded with snowboarding, acrobatics sessions and a lot of fun. An unforgettable weekend for all involved.
---
Related Pages