CHILL FACTORE 'BRING YOUR DOG TO WORK DAY'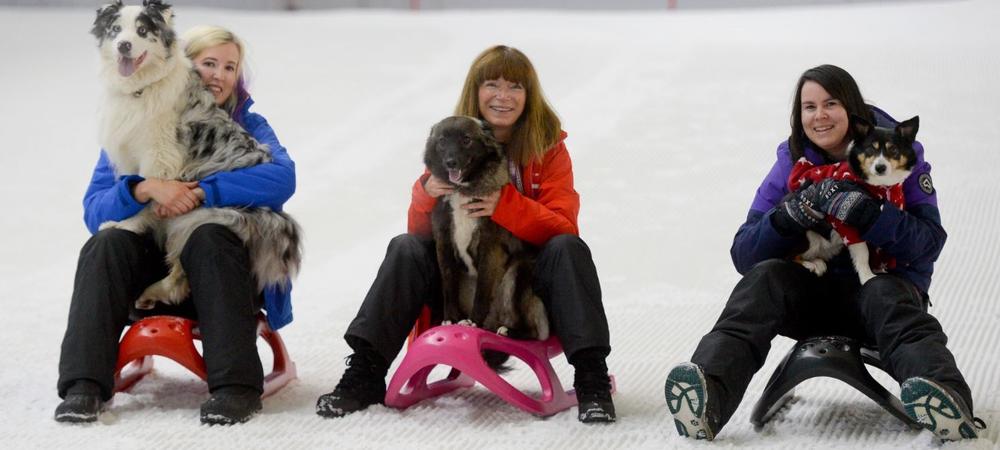 Chill Factore, the North's premier indoor snow destination, has opened its doors to man's best friend to celebrate 'Bring Your Dog to Work Day' (Friday 23rd June).
Home to the longest indoor real snow slope in the UK, Chill Factore supported the national awareness day by welcoming dogs to join its employees to gain work experience at the iconic leisure attraction and enjoy its famous snow.
Earlier today, the pooches were assisting the Chill Factore team with lessons on the beginner's slope, offering a helping paw on the guest services desk and even fetching guests their ski gear in the changing village.
Tegen, one year old Collie cross rescue dog, was a natural at welcoming guests and booking them into Guest Services with a bark and a lick, while Loki, two-year-old Australian Shepherd, took his role of fetching snow boots and ski gear very seriously.
The eldest of the group at eight years old, Winnie, a Corgi cross, was Chief of Fun, checking the fluffiness of the snow and teaching the snow crew how sledging should really be done. It wasn't long before Tegen and Loki went barking mad for the fresh snow, joining snow crew member, Hannah Lockwood, and operations team member, Jo Leyden, in the Snow Park for a ride on the Luge Slip 'N' Slide and a spot of snowboarding.
Morwenna Angove, CEO at Chill Factore, comments: "We're very excited to welcome our canine companions to Chill Factore. They have really taken to their new roles and it has put a smile on the faces of instructors and guests alike. I must say bounding around on the fresh snow slope was the most popular activity, I expect we'll be overrun with applications from our furry friends to join the snow crew!
"At Chill Factore, we are passionate about providing fun for all the family and Bring Your Dog to Work Day meant that truly everyone could make the most of our attraction."
The event takes place following a trial run in April when Buddy the Newfoundland became the destination's first snowboarding dog. Watch his experience here.
Chill Factore would like to give a special thanks to Samantha Capp of Dogwarts Dog Walking and Training for supporting the Bring Your Dog to Work Day activity - find out more about Dogwarts at www.dogwartsdogs.com.
---
Related Pages