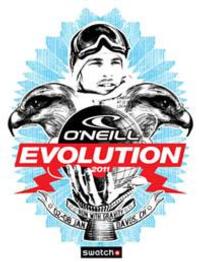 Once again the O'Neill Evolution saw a spectacular day of snowboarding under clear blue skies for the Women's Slopestyle qualifications.
You can watch the finals live on the World Snowboard Guide, just head over to /articles/video/evolution2011.cfm
Topping the qualifications on the progressive course at this Swatch TTR 6Star World Snowboard Tour event, with a clean run off the big kicker was Sweden's Mimmi Sandstrom.
The 21 year old pulled out a high 180 melon grab before heading onto the box on the bottom section and was awarded the top score of 89.33.
"It's a great jump," said Mimmi. "It's not scary in the air, but going into it you have to go really fast so that is actually when it is the most scary."
"The landing is good if you manage to reach it. It's the perfect landing for that jump. On the first run I did a backside 180, but I fell on my 360 on my second run. I hope to go for it a bit more in the semis. I have to try more spins for sure. You get so many days practice here which is great so you have loads of time to practice on your jump."
Talking about the selection of obstacles to choose from at the bottom of the slopestyle course she said: "I went on the box this time. I haven't tried the other ones. The rail has that gap between the rail and the kicker so I'm not sure about that one, but we'll see. Right now I am just really hoping to make it through the semi-finals."
With the men's Halfpipe qualifications ready to start tomorrow morning, all the stars of the Swatch TTR World Snowboard Tour are in Davos and getting in their practice time.
"I think it's going to be fun," said Janne Korpi. "I just got here and had a little practice session on the halfpipe as well as the slopestyle. The jump is really good. I think it's something you can push yourself on so I am looking forward to it, he said.
The Men's 6Star Halfpipe qualifications are on tomorrow, January 4th, from 10.30am followed by the women's Halfpipe semi finals.
10:30 11:30 HP Men Qualification Heat 1
11:45 12:45 HP Men Qualification Heat 2
13:00 14:00 HP Men Qualification Heat 3
14:15 15:15 HP Women Semi Finals
RESULTS: SLOPESTYLE QUALIFICATION WOMEN
1. Mimmi Sandstrom SWE
2. Jordie Karlinski USA
3. Helene Olafsen NOR
4. Elena Konz SUI
5. Isabel Derungs SUI
6. Diana Sadlowski POL
7. Aimee Fuller GBR
8. Diana Augustinova CZE
9. Danika Duffy USA
For more information visit www.oneill.com/evolution